10 Must-Do Outdoor Adventures In and Around Rogers, Arkansas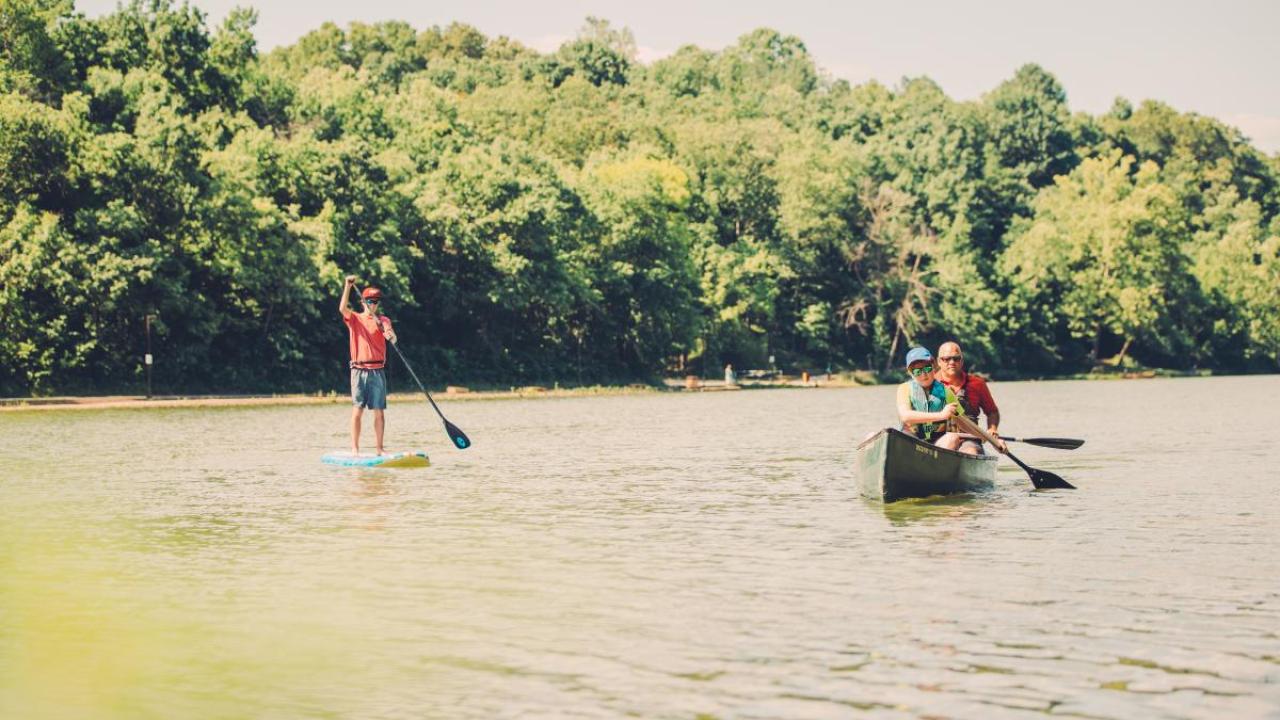 Enjoy everything from mountain biking and hiking to swimming and cave exploring in Rogers, the gateway to outdoor fun and adventure in Northwest Arkansas.
In a town like Rogers—full of outdoor-minded folk who love where they live—it's easy to find the local beta needed for an epic adventure. It might be hard to avoid as just about every restaurant, bar, and shop owner is an outdoor enthusiast. Luckily, they love to share their knowledge. Whether you're exploring miles of singletrack mountain biking that start right from town, casting into a wealth of fishing, swimming in the crystalline waters of Beaver Lake, or hiking and camping in the Ozarks, Rogers is a portal to outdoor fun and adventure in Northwest Arkansas.
1. Mountain Biking the Upper Buffalo Trail System
Let's start with the creme de la creme, one of the five IMBA Epic rated rides in Arkansas. The mountain biking at Upper Buffalo Mountain is the best riding northern Arkansas has to offer. Only about 2 hours from Rogers, there are 40 miles of singletrack winding through the Ozark National Forest. There is something here for everyone, from novices to world-class shredders. Sweeping vistas, towering cliffs, gnarly descents, and lots of wildlife will be sure to convince riders this trail does indeed live up to its "epic" title. Also worth mentioning: this is also a wonderful place to get some photo-worthy, heart-pumping hiking in as well. Oh yeah, don't forget Bentonville and Fayetteville are both IMBA designated Ride Centers, so there are plenty of trails to shred.
 
2. Backpacking Along the Pigeon Roost Trail at Hobbs State Park
Hobbs State Park-Conservation Area is a 12,056-acre natural park with limited development and unrivaled options for exploring the mixed hardwood, pine, and rocky granite terrain—classic Ozark topography. Backpacking the Pigeon Roost Trail, a 9-mile loop with primitive camping, is the best way to experience all the park has to offer. There is lake access and if you're lucky, you may spot a golden eagle soaring overhead. White-tailed deer romp through the forest. Anglers will enjoy casting a hook and sinker in this picture-perfect pastoral setting.
3. Spelunker Cave Tour at War Eagle Caverns
Walk in the footsteps of Frank and Jesse James and other notorious hooligans on a tour of War Eagle Cavern. Known for its history, the population of 100,000 bats who call it home, and steady, cool 58-degree temperatures all summer long, it's one of the most popular destinations in Northwest Arkansas. For those with a sense of adventure who are willing to get wet and muddy, explorers can go beyond the guided public tour with the Spelunker Tour. Going deep into the cave with a knowledgeable guide is the best way to truly understand the cave system. The tour offers 2.5 hours of creepy, crawly, up, over, under and around fun.
 
4. Fishing on the White River
For trout fishermen, the White River in north Arkansas is treasured water—the weather and water temperatures are excellent for angling trout all year. The Twin Bridges area in Goshen on Highway 45 is a popular spot for bank-fishing and wade-fishing, especially in the spring when the white bass are running.
5. Off the Beaten Path: Paddling at Kings River
How does almost 8 miles of crystal clear Ozarks water with amazing gravel bars, family-friendly terrain, and excellent fishing sound? Only about an hour from Rogers, the Kings River is an idyllic fishing destination. Most days you'll have the place to yourself and even on "crowded" weekends, there won't be much traffic. Put in at Rockhouse Creek and take out at Trigger Gap, and to add a little adventure, the three-mile drift can even be run or mountain biked without too much effort. Kings River Outfitters is the best source of local river updates, as the USGS gauge is too far downstream to give reliable data.
6. Cycling the Razorback Greenway
Grab a road bike and pedal through pastoral greenways, historic downtowns, and check out the area's historic sites (or retail therapy). The Razorback Regional Greenway is a 36-mile shared-use trail that extends from Bella Vista to Fayetteville. Perfect for families on a leisurely Sunday outing or a convenient way to explore Rogers and the surrounding area on a day trip.
7. Go for A Run at Lake Atalanta
Located just east of downtown Rogers, Lake Atalanta is a public park with approximately 4 miles of hard surface trails and over 10 miles of soft-surface, multi-use trails, perfect for that early morning run and a popular choice with the locals. Bring the family for a casual hike and stop at one of the lake's numerous pavilions or fishing piers. Lake Atalanta embodies the best of the region's wilderness, all with easy access and a variety of activities.
8. Spend A Day (or Several) at Beaver Lake
Pack a picnic or the camper and head out to Beaver Lake. Visitors can explore 28,000 acres of pristine water, replete with boat docks, camping, parks, swimming, and fishing. Beaver Lake offers great paddling. Kayaks or SUPs can be rented from numerous marinas servicing the lake. Or, rent a motor boat for skiing and tubing fun. Whether you're in it for the thrills or to chill, Beaver Lake will accommodate your outdoors ambitions.
 
9. Plan A Family Fun Day at Rogers Aquatics Center
Rogers Aquatics Center offers three acres of water activities to keep old and young alike entertained for hours. Enjoy exciting water park activities such as speed slides, a plunge pool with a rock climbing wall, flumes, and waterslides of all kinds. A 500-foot lazy river meanders through the center, perfect for those who want to work on their tans. There are full amenities and food concessions, so it's an easy choice for a can't-miss day of water-based fun.
 
10. Sign Up for the Rogers Cycling Festival
The Rogers Cycling Festival is unique in that it offers competitive, USA Cycling-sanctioned road cycling events, competitive mountain bike events, and casual, family-friendly rides. The event brings together cycling enthusiasts from across the central United States—united in their love of bikes! For less competitive folks and non-riders there are also a variety of events planned to amaze and delight spectators, such as biking skill displays, kids' races, a cruiser bike race, and parties at sunset.
Originally written by RootsRated for Visit Rogers, AR.
Featured image provided by Dan Davis.