10 Reasons to Stay and Play in Fairfield Bay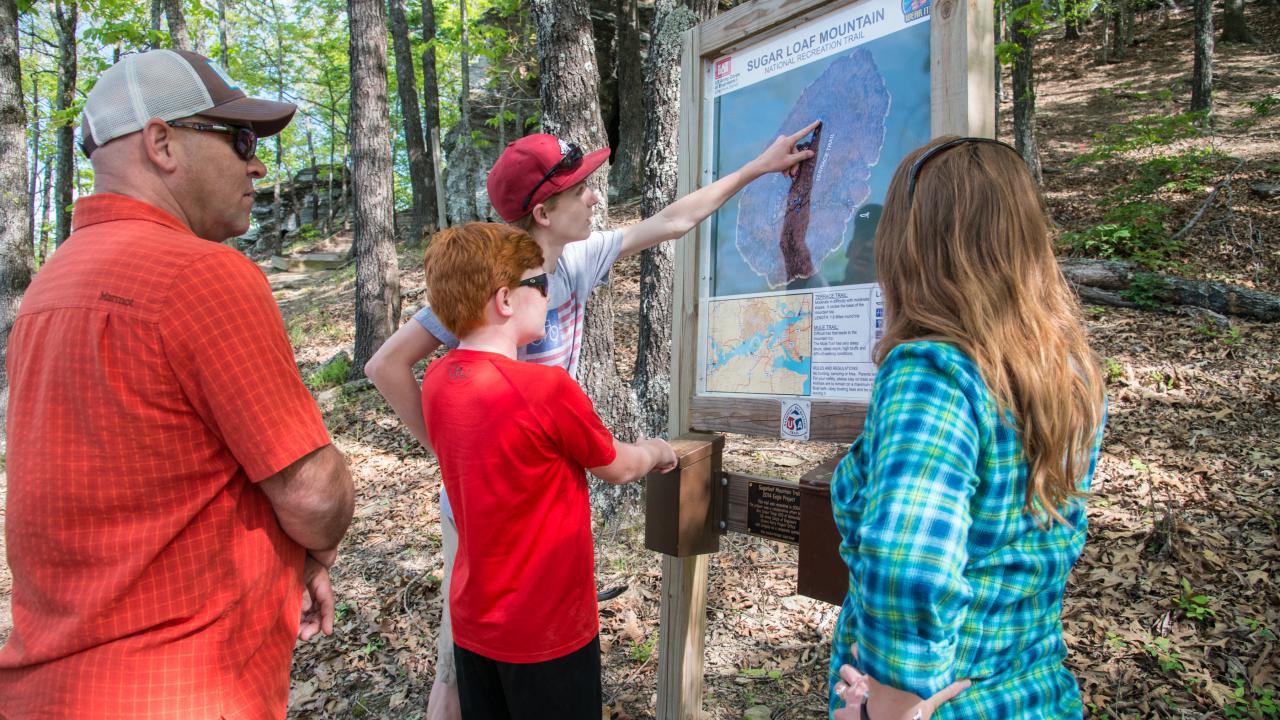 Fairfield Bay just feels like a vacation. Sun, water, condos, food, and drink, and time standing still while you play the day away. This resort town screams free time for leisure and outdoor activity. Here are 10 reasons Fairfield Bay is a perfect family recreation destination for all ages.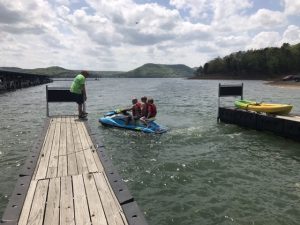 Sugar Loaf Mountain - Getting to Sugar Loaf Mountain in the middle of Greers Ferry Lake is half the fun via a shuttle from Fairfield Bay Marina. Then take the short trek (1.6 miles roundtrip) to the high point for panoramic views. Another trail circles the base of the mountain top. Along Arkansas's first designated National Scenic Trail, you'll see wildlife, bluff formations and native flora and fauna. A series of wooden stairs at the southern end lead to the top for amazing vistas from 500 feet above the surface area of the lake.
Greers Ferry Lake - This 40,000-acre lake, formed by Greers Ferry Dam, was completed in July 1964. Both were dedicated by President John F. Kennedy, his last public appearance before the fateful trip to Dallas. Greers Ferry Lake is noted for its pristine shoreline of rock outcropping, trees and wildlife, and deep crystal clear waters for boating, fishing and scuba diving. There are vast stretches of water for sailing and other water sports. Excellent camping and hiking facilities are available.
Fairfield Bay Marina - If you're looking to play in the water, this marina has a toy for you: kayaks, pedal boats, stand-up paddle boards, Eclipse SUPs, pontoon boats, ski boats, jet skis, tubes, kneeboards, wakeboards, fishing boats and more. In addition the shuttles to Sugar Loaf Mountain that are offered year round, the marina offers scenic cruises aboard The Belle of the Bay. Enjoy a two-hour narrated cruise in the climate-controlled cruise boat. Passengers are seated at tables and chairs inside and are welcome to bring food and drink or pick up a snack at the marina. Call 501-884-6030 for rentals, shuttle service or to reserve a spot on a cruise.
Fishing - Every game fish native to the state has been stocked in Greers Ferry Lake by the Arkansas Game & Fish Commission but this fishery is known for valley and striped bass. The Little Red River that runs out of Greers Ferry Lake offers additional challenges for rainbow, cutthroat and brown trout. The river and the lake are stocked from a fish hatchery located just below the dam. Fishing guide services are available for both lake and river.
Indian Rock House Cave - Nestled under a hillside and beside a golf course green at Indian Hills Country Club, this natural sandstone grotto was home to Native Americans. Today, it's a cool place to explore and see petroglyphs. Historians say many of the petroglyphs were made during the difficult winter of 1776, when the cave was used as a refuge during 16 days of freezing weather. Large groups encamped there, including Quapaw, Osage, Cherokee, Shawnee and Delaware nations. The cave opening is 100 feet across. The ceiling is 50 feet high and the cave is 97 feet deep. Just follow the wooden stairs from the Old Log Cabin to get there.
Old Log Cabin and Museum - Providing a glimpse back in time to home life in the late 1800s, the cabin features a variety of tools and household items as well as clothing and toys, a loom and a yarn winder. Additional contents include antique jewelry and furniture, taxidermy local birds and animal specimens, a colonial American flag and more.
Golf - Two 18-hole golf courses, Indian Hills and Mountain Ranch, challenge you to play. There is also a new foot golf course, where you kick soccer balls to giant holes on the golf course. Traditional golfers can play alongside their kids or friends that want to play foot golf. Miniature golf and disc golf round out the fun.
Tennis - Bring your own equipment or rent some rackets and hit the eight championship tennis courts.
Parks and Pools - Three resort-style pools and a spray pool are available throughout the community. Plus, parks offer shuffleboard, volleyball, basketball, picnic pavilion and grills and horseshoes.
Extras - As if that weren't enough, you can feed the fish and take your picture with your head sticking through the Fish Feeding Frenzy sign at the marina. And a fish feeding frenzy it truly is with a huge school of carp splashing around for food you throw to them. Also look for all three hand-carved totem poles and find out the story behind each one. Plus, there are thong trees. Native American tribes used to bend trees to point to water and shelter, burial sites and hunting spots. The Indian Thong Tree at Woodland Mead Park has been officially authenticated by the Mountain Stewards of Georgia. A fitness center, library, country club with causal and formal dining, conference center and art gallery also can be found in Fairfield Bay. And, if you're into ATVs, there are more than 90 miles of trails of varying skill levels to ride.
Established as a resort and retirement village, Fairfield Bay is full of weekend retreat opportunities with a hotel, condos, luxury residents and lodgings with resort-style amenities. Popular events throughout the year include Bloomin' in the Bay (April), Surf the Bay (June), fall festivals holiday festivals and music, plays and more a the outdoor amphitheater.
Located 75 miles north of Little Rock, the Bay is along AR 16, east of Clinton. Find more information online at VisitFairfieldBay.com.