2013 Live Racing Season at Oaklawn Starts January 11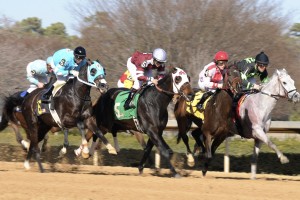 Attention racing fans: the start of the 2013 live Thoroughbred horse racing season at Oaklawn Racing & Gaming in Hot Springs has been set for January 11.
Oaklawn is one of the premier race tracks in the country. Best known as the home of the Racing Festival of the South and Arkansas Derby, the track has played host to some of the biggest names in the sport including champions Zenyatta, Rachel Alexandra, and Smarty Jones.
According to information from a news releases sent by Jennifer Hoyt of Oaklawn, highlighting opening weekend will be the traditional 50-cent corned beef sandwiches Jan. 12 followed  by an Oaklawn baseball cap giveaway the next day on Martin Luther King Jr. Day Jan. 21. The track celebrates Presidents Day, Feb. 18, with the Southwest Stakes. Fans attending Rebel Stakes Day, March 16,  can get a glimpse at some of the country's best 3-year-olds, but could also leave with a new boat and truck, courtesy of Bradford Marine since there will be a giveaway that day too.
New in 2013, Oaklawn is planning to open its Infield, complete with a Beer Garden, live music and family-friendly events every Saturday from Rebel Stakes through Arkansas Derby. The popular "Dawn at Oaklawn" program returns Saturday, Feb. 16 and will allow guests to get up close and personal with the horses and top racing personalities from 8 – 10 a.m. every Saturday through the end of the meet. Visitors can also take barn tours as part of the Saturday morning program.
Oaklawn's 3-year-old stakes program is one of the most successful in the nation when it comes to producing Triple Crown hopefuls. That program should get even more competitive in 2013 with 289 points available based on the new qualifying method for the Kentucky Derby and purse increases for the Smarty Jones, Southwest (G3) and Rebel (G2) Stakes. The $150,000 Smarty Jones and $300,000 Southwest anchor the two holiday Mondays in January and February, respectively, while the $600,000 Rebel will be the marquee event of March.  April 10-13 is the Racing Festival of the South. The racing action culminates Saturday, April 13 with the 77th running of the $1 million Arkansas Derby.
Post times will be 1:30 p.m. Central on weekdays and Sundays and 1 p.m. on Saturdays. Some exceptions include opening day, Jan. 11, and the two holiday Mondays, Jan. 21 and Feb. 21, when first post is 1 p.m.  Oaklawn is located at 2705 Central Ave. For more information, visit Oaklawn.com or call 501-623-4411.