3-Day Outdoors Itinerary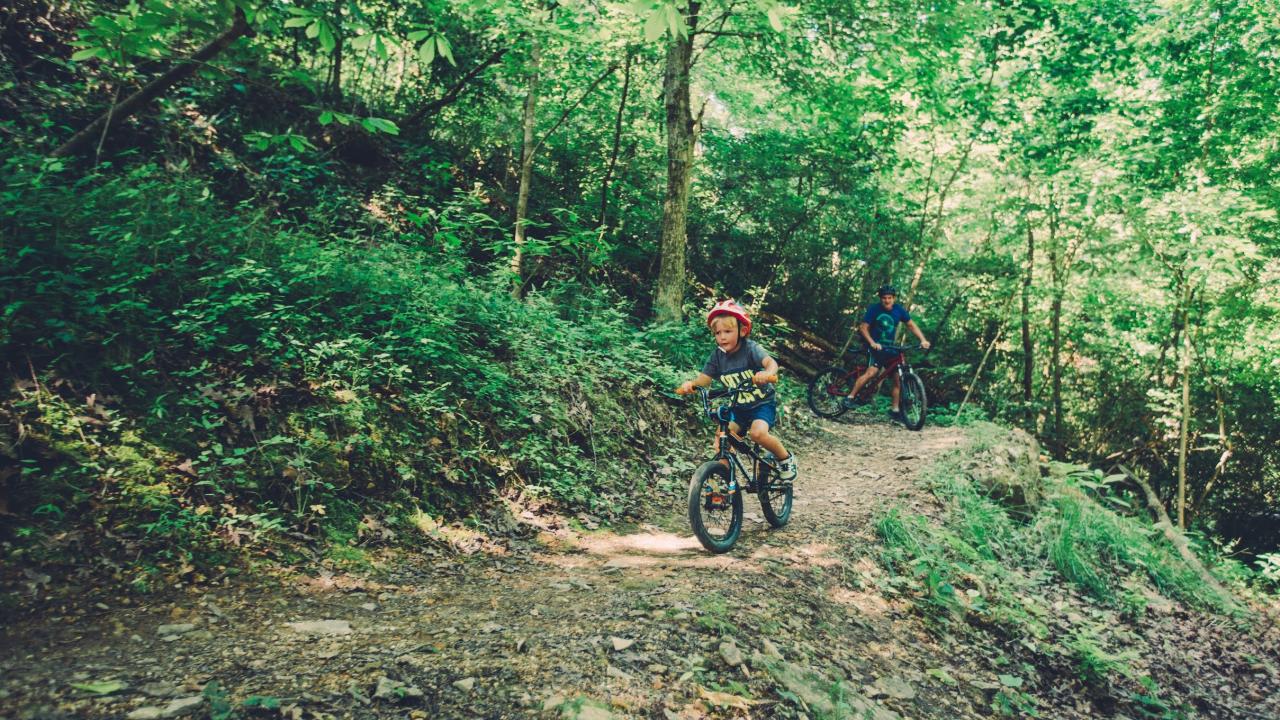 Whether you're here for a long weekend or a vacation, you've got plenty of chances to take an extra day and head out to explore the beautiful Ozarks region and Rogers is the perfect launchpad. Enjoy the year-long mild climate that Rogers has to offer and get ready for unforgettable adventures in this naturally gorgeous region of Arkansas.
Day 1: Get Away From It All in Hobbs State Park
Nestled between War Eagle Creek to the north and 22 miles of Beaver Lake shoreline to the south, 12,000-acre Hobbs State Park-Conservation Area is a beloved Northwest Arkansas destination. You'll only spend one day here, but it would be easy to spend an entire long weekend. Hobbs is home to more than 30 miles of trails ranging in difficulty from easy to strenuous, offering views of Northwest Arkansas's many ridgelines, hollows, creeks and characteristic Ozark hardwood forest.
Start your weekend on the 24-mile Hidden Diversity Trail, which is divided into several more bite-sized chunks for a choose-your-own-adventure feel. The multi-use trail is open to cyclists and equestrians as well. Whatever your mode of transportation, you'll get to check out limestone bluffs, caves and other geological oddities.
When you're ready to make camp, head out onto the Pigeon Roost Trail, which features two double-stacked loops. The five campsites off the 4.3-mile Huckleberry Loop are free of charge, but you'll need to check in at the park's cutting-edge visitor center—it's more than 17,000 square feet and features interpretive exhibits about the park's natural and human history.
Set up camp at one of the sites that provide views into Van Winkle Hollow, then explore the rest of Pigeon Roost, where, if you're lucky, you'll spot a bald eagle or wild turkey. It's a short hike back to your vehicle in the morning, so these sites are the perfect balance of solitude and easy access.
Day 2: Check Out the Mountain Biking Scene
Why should the West have all the fun? Northwest Arkansas is home to an inspired (and relatively new) mountain biking scene, and it's chock-full of intermediate and advanced trails. A couple hundred miles of trail have sprung up since 2012, thanks in large part to organized groups like Progressive Trail Design and Friends of Arkansas Singletrack (FAST), plus a few local bike shops, who pitched in to design and build fun, flowy, mountain bike trails.
Spend the second day of your long weekend exploring the Slaughter Pen Trails, a largely intermediate system just north of Bentonville, an IMBA Silver-level Ride Center. There are beginner and intermediate-advanced trails, so it's appropriate for a range of skill levels. Some of the trails feature enormous berms, technical rocky sections and serious downhill riding. You'll also catch views of the Crystal Bridges Museum of American Art, which makes for a great photo backdrop.
Grab a refreshment at the Ozark Beer Company, then head to Eureka Springs, where you'll find a couple of camping options, including a KOA and the Dam Site Lake Campground. If you're still feeling ambitious, check out the Lake Leatherwood Trails, but keep your wits about you—these trails are known for their long climbs, techy rock gardens and fast switchback descents.

 
If your visit to northwest Arkansas falls in early April, it's worth making the drive to Devil's Den State Park, less than an hour south of Rogers, for part of the three-day Ozark Mountain Bike Fest. Admission to the festival is free and the intermediate Fossil Flats trail is a blast.

 
Day 3: Paddle the Peaceful Ozark Region
The Ozark region of Northwest Arkansas is packed with quiet lakes and flatwater, perfect for paddling a canoe or kayak. Several small lakes in the region, including Leatherwood, Lincoln and Sequoyah, offer excellent and secluded paddling and hiking opportunities, but the highlight is Beaver Lake. With nearly 500 miles of shoreline, this impoundment on the White River has several unique paddling options, with plenty of places to rent your vessel of choice.
The Eureka Springs area is home to several marinas, each of which offers various boat rentals. On the west side of Eureka Springs, Spider Creek Resort has the most human-powered options, with canoes, kayaks, rafts and drift boats for fly-fishing, plus the option to include transportation to and/or from a boat launch. Boat rentals are also available farther south, and private boats are allowed on the lake. Many outfitters have tried-and-true paddling routes to share with visitors, so you'll get an expert's opinion on where to go.
If you're looking to strike out on your own, head back to Van Winkle Hollow in Hobbs State Park to see it from a new perspective. This is one of the quietest, most scenic spots on Beaver Lake. You'll get views of low bluffs and paddle into hidden coves along the remote shoreline. Feeling ambitious? Make your way to Big Clifty Park, the launch point for Hogscald Hollow. This route is best done right after a rain, when the hollow's waterfalls are truly spectacular. You'll paddle into the narrow channel, take a side trip up Penitentiary Hollow to the north, then park your boat and hike up the creek to explore.
Top off the weekend with a stop into Iron Horse Coffee Company to perk up when you are back in Rogers. Chances are three days won't be enough, but you have to start somewhere! Visitors are always welcome to make repeat visits—and many people charmed by the friendly community and exquisite natural beauty make Rogers an annual pilgrimage.

 
Originally written by RootsRated for Visit Rogers, AR.