3 Veterans Day Events in the Arkansas River Valley
Usually observed on Nov. 11 each year, Veterans Day is a state and federal holiday in America honoring the 24.9 million military veterans in the United States. While the armistice for World War I in 1918 is the origin of this holiday, it now encompasses veterans of all wars, conflicts, and active duty service.
A great way to show your support and thanks to the men and women who have served or are serving in the armed forces is to attend a special Veterans Day holiday event celebrating their willingness and sacrifice to protect our country.
Here are three events in the Fort Smith/Van Buren area where you can show your appreciation: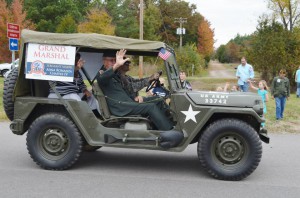 3rd Annual Veterans Day Parade and Fall Festival at Chaffee Crossing
Noon to 5 p.m., Saturday, Nov. 8
Chaffee Barbershop Museum grounds, Fort Smith
Enjoy a patriotic parade at the Chaffee Crossing Historic District to honor all veterans. This fall festival includes a chili cook-off, live music, artisans, veteran information booth, games, helicopter rides, veteran art displays and more. Admission is free. The museum is located at 7313 Terry Street.
479-434-6774; [email protected]; www.chaffeecrossing.com
Veterans Day Reception
11 a.m., Tuesday, Nov. 11
Fort Smith Museum of History, Fort Smith
Join the Museum of History to honor veterans with a reception in the museum soda fountain. All veterans and their families are invited to share refreshments and camaraderie. Photographs, memorabilia and uniforms donated by local veterans will be displayed. The museum is located at 320 Rogers Ave. Admission is free.
479-783-7841; www.fortsmithmuseum.com
Van Buren Veterans Day Parade
6:30 p.m., Tuesday, Nov. 11
Historic Main Street, Van Buren
This patriotic parade to honor the nation's veterans will wind along the historic Main Street downtown.
479-652-3374