4×4 Event at Byrd's Adventure Center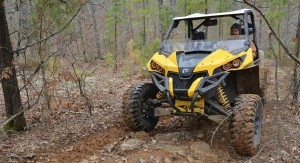 Byrd's Adventure Center in Ozark is the place to be this weekend if you're into 4WD, ATV or UTV fun.
Bring your family and your own off-road vehicle for this Kickin' in the Sticks 4×4 event. Register from 9 a.m. to 5 p.m. on Friday, April 10, then enjoy the Night Run at 7 p.m. On Saturday, April 11, take part in the Open Trail Rides from 9 a.m. to 2 p.m. Games will be played from 2 p.m. to 6 p.m. with dinner and a live band at 7 p .m. Spend Sunday, April 12 on the Open Trail Rides before wrapping up your awesome weekend of four-wheel fun.
The cost is $40 per person with kids 12 and under free. The registration fee includes two nights of camping with electricity, and three days of wheeling, games, trail rides, Saturday night dinner, socializing, and entertainment.
Byrds Adventure Center is an 800-acre campground facility in the northwestern part of Arkansas. There are three miles of river frontage on the Mulberry River running through the property. The facility offers miles of rugged 4×4 trails, shaded camping, swimming, canoe float trips, general store, food concession, electric sites, and live music.
Call Byrd's Adventure Center at 479-667-4066 for details. Byrd's is located at 7037 Ark. 215 (Co. Rd. 83) in Ozark.