45th annual Smackover Oil Town Festival
The 45th Annual Smackover Oil Town Festival is June 16-18 in downtown Smackover. The festival, which celebrates the city's oil boom heritage, features free concerts every night and on the agenda is a range of activities like a car show, a rib cook-off, horseshoe pitching, turtle races, interesting competitions like a drill bit toss and pipe tote, a BMX stunt show, a 5K Oil Run, the famous yellow duck race down No Name Creek and more.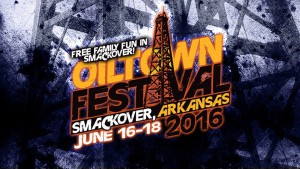 As to the music lineup, on Thursday it includes the gospel sounds of the Shutes Sisters and Blake Bolerjack. On Friday there will be performances by the Cummins Prison Band and Windstorm, who is an R&B band. On Saturday night violin prodigy Joseph Shackelford will perform as well as the country bands Band of Stepbrothers and Louisiana Swamp Donky. Also in town is the Arkansas Museum of Natural Resources, which tells the story of the state's oil history, including the pioneers of the regions oil industries. For more details contact the Smackover Chamber of Commerce at 870-725-3521 or smackoverar.com or check out the festival's Facebook page here.