5 reasons to explore Jasper on your next weekend getaway
Jasper is a small town in a rural area that is surrounded by some of the most beautiful scenery to be found in Arkansas. From its small town square to acres of forests and miles of river, there's plenty to explore. Here are five reasons you should consider it for your next getaway.
1. Location
Located in Newton County, Jasper is surrounded by natural beauty and outdoor opportunities like hiking, canoeing, caving, rock climbing, fishing, hunting, mountain biking and horseback riding. It's also near the renowned Buffalo National River, the nation's first national river and hotspot destination for floating and hiking.
The town itself is small but packed with great restaurants and charm. The picturesque Jasper square with its beautiful courthouse in the middle and gazebos on the grounds entices visitors. Don't miss poking around places like Emma's House of Junk, where you'll find antiques and other wonderful treasures. The town's visitor center not only offers information on the area, but is doubles as a gallery selling regional art.
2. Scenery
More than one-third of Newton County is owned by some government entity (National Park Service, U.S.D.A. Forest Service, State of Arkansas and county government). The county also contains three wilderness areas.
Flora and fauna, rock bluffs, rugged terrain, mountain streams, waterfalls and the spectacular beauty of all four seasons are abundant in and around Jasper.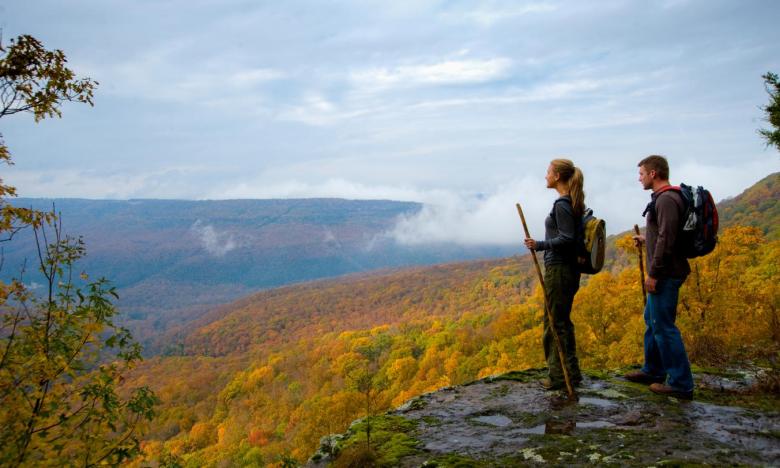 3. Activities
Canoeing is perhaps the most popular activity on the Buffalo National River and this upper section of the river is renowned for its big bluffs and white water rapids. Floating outfitters are numerous along the river.
There's plenty of watchable wildlife in the area, including a herd of about 600 elk that roam the Buffalo River corridor around Boxley Valley, Steel Creek, Kyle's Landing, Erbie, Ozark, Pruitt, and on private lands.
The hiking trails in this area are practically endless with day hike options to overnight backpacking. Ponca to Steel Creek, Lost Valley and Ozark Campground to Pruitt are in the national park and Alum Cove and numerous other trails are in the surrounding Ozark National Forest.
Camping options include the Ozark Campground situated near the impressive bluffs of the Buffalo National River. The campground contains a picnic and recreational area, covered pavilion, toilets and drinking water.
Maps and information on camping, fishing and hiking opportunities in the Ozark National Forest can be found at the Hilary Jones Wildlife Museum in Jasper.
This upper section of the Buffalo National River is popular for the waterfalls it offers. Hemmed-In-Hollow Falls is the tallest waterfall between the Rockies and the Appalachians, according to the National Park Service. You can hike to it from a strenuous path that starts above it, or canoe to it and hike a short path from below.
Eden Falls is accessed by the popular Lost Valley hiking trail. The falls plunge 53 feet to the base of a box canyon to form Clark Creek, a tributary of the Buffalo River. The hike to Twin Falls is easy and short but Camp Orr Road down to it is rough. Twin Falls is sometimes referred to as Triple Falls because when it rains a third waterfall appears.
Scenic drives are highly recommended here too. Arkansas Scenic Byway 7, the state's first national scenic byway, offers drivers quite a view as it cuts through the heart of the county, running north and south. More driving tours of Red Rock Point, Parthenon Valley, the Buffalo National River and more can be found on the Newton County Chamber of Commerce website.
Other popular activities include bird watching, mountain biking, ATV riding, fishing and hunting, horseback riding, motorcycling, rock climbing, and cooling of in a swimming hole.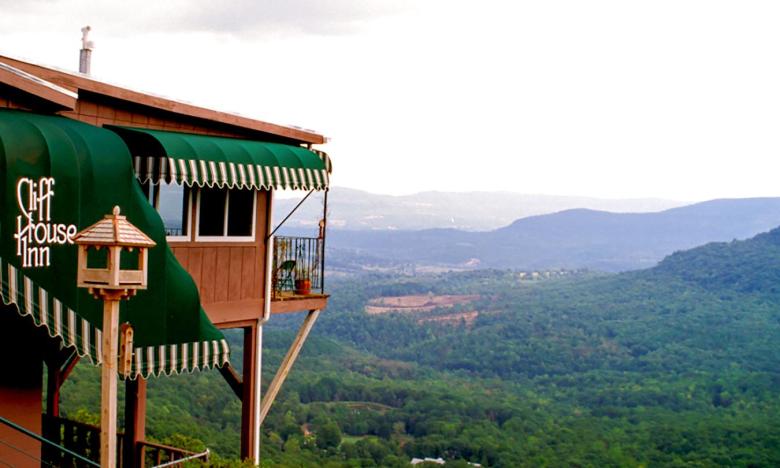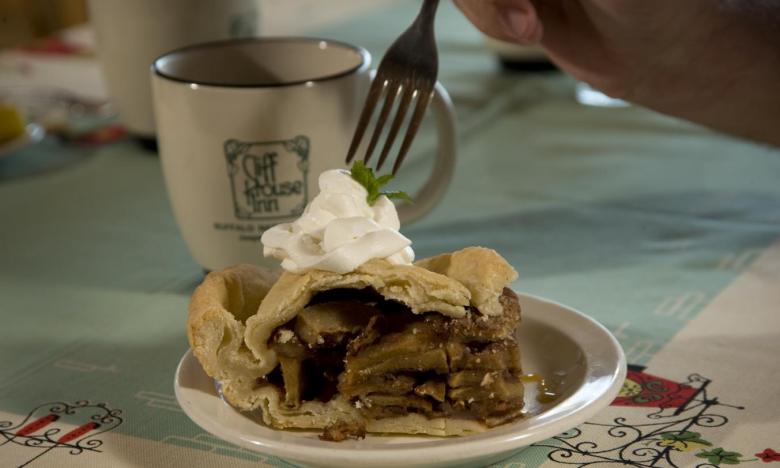 4. Food
Be sure to head to Jasper with an appetite. Ozark Cafe was established in 1909, and features burgers, steaks and seafood. Its specialties include a deep-fried hamburger and the Excaliburger, a 1/2-lb. burger sandwiched between two grilled cheese sandwiches and an Ozark sauce. It's also known for its soda fountain offering thick milkshakes.
Blue Mountain Bakery & Cafe on the square is another don't miss for fresh food.
The Boardwalk Cafe serves locally grown, organic foods. The menu features elk chili over cheese enchiladas, elk gumbo and buffalo steaks, homemade salsas and salads made from all Newton County-sourced ingredients along with potatoes cooked with herbs from the Cafe's garden; salmon, salads, sandwiches and Cajun dishes such as shrimp creole and chicken gumbo. Pies include Black Walnut with black and English walnuts, sorghum molasses and cane syrup.
Just south of Jasper, The Cliff House Inn offers incredible views of the "Grand Canyon of the Ozarks" along with fine home-cooked food.
5. Events
Newton County is known as the Elk Capital of Arkansas, which is celebrated with a festival on the Jasper square each year. During the holiday season, enjoy the square all decked out in lights to put you in the Christmas spirit.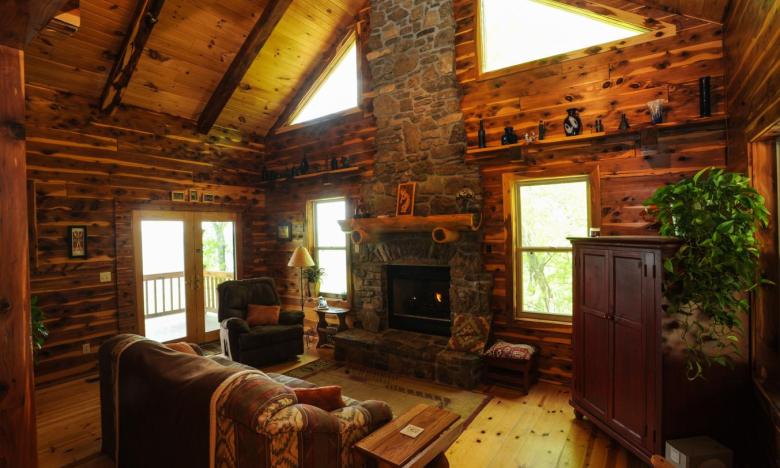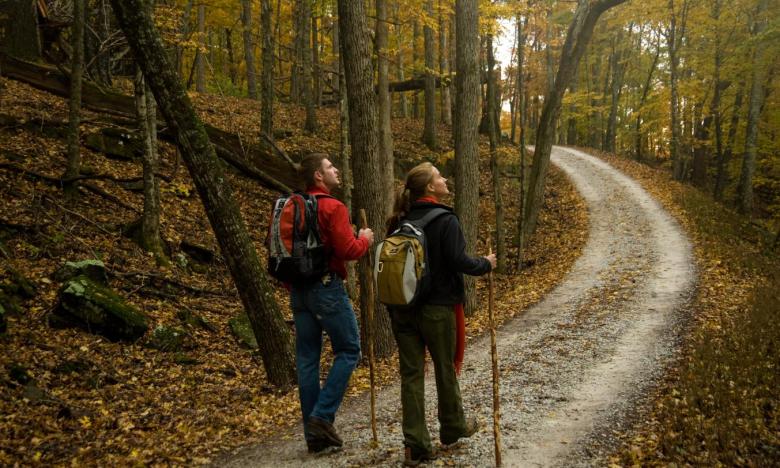 Suggested Hikes
Koen Interpretive Trail is an education trail with 34 different kinds of trees and other plants identified along its path. The trail is wheelchair accessible and has benches scattered along the way so you can sit and enjoy the peaceful beauty of the forest.
Round Top Trail circles the well-known landmark, Round Top Mountain, with about three miles of trail that passes towering bluffs, lush and diverse plants and a forest that includes the largest stand of paw paws in the area.
Pruitt access to the river offers a great place to swim and fish, plus lots of shade for a picnic. You can hike from Pruitt to Ozark Campground via a 2.5 mile portion of the Buffalo National River Trail.
Click here for more hiking trails in the area.
Lodging
Lodging comes in many varieties: campsites, cabins, RVs and campgrounds and motels in Jasper.