7 Reasons to Visit Rogers, Arkansas If You Love the Outdoors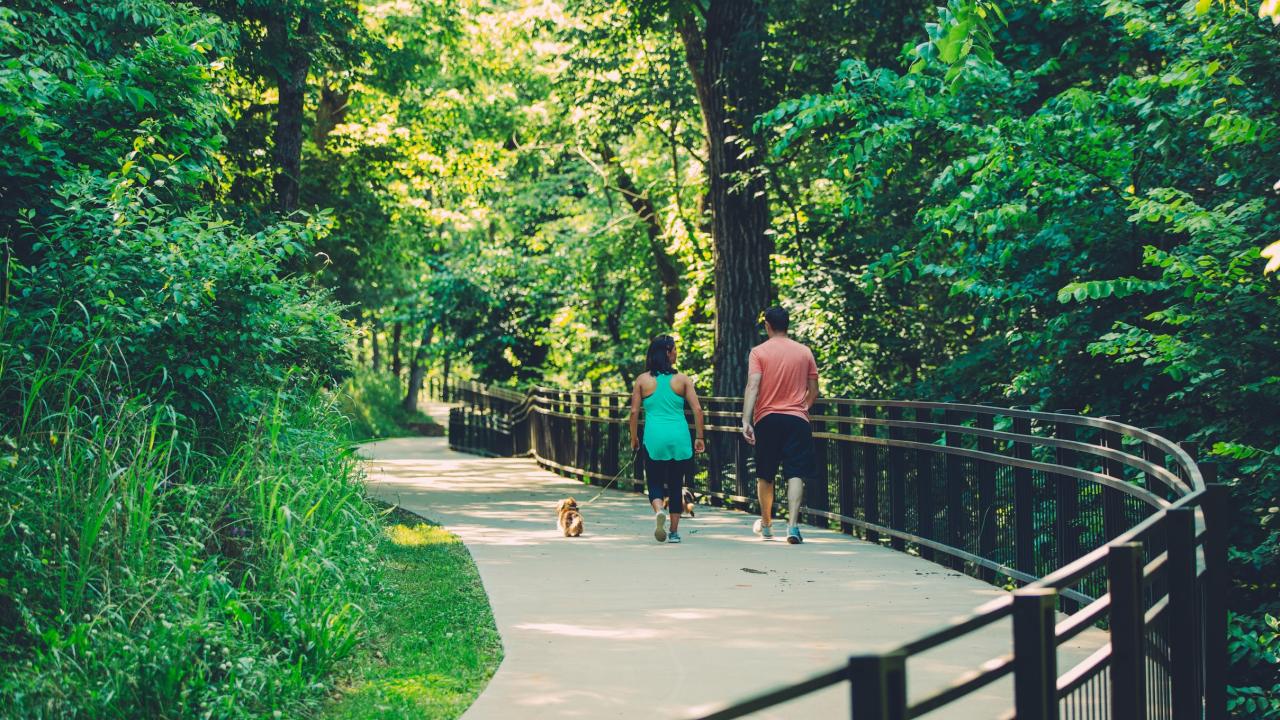 From outdoor festivals and live concerts to hiking and biking, there's a lot to see and do in the outdoors in Rogers, Arkansas.
Looking for a place with a relaxed hometown vibe but with big town amenities for your next getaway? Have we got a treat for you! Rogers, Arkansas may well be the outdoor wonderland you've always dreamed of. Ask a Rogers local about what to see or do in town. You better have some time because natives love to wax poetic about how wonderful this well-heeled little town is—with good reason. There is something here for everyone. We've rounded-up a handful of ideas to get you started.
1. Dynamic Town Culture
People here love life and you can feel it in the streets. Just about every restaurant, bar, and shop in town (and there are a wide variety to choose from) has an owner with some outdoor hobby—or it at least seems that way. An active sense of community is fostered through activities like the Downtown Rogers Farmers Market, which is open every Saturday from May to October, and the Frisco Festival, a popular annual street festival in August.
Culture isn't forgotten here, either. Art lovers will be thrilled to discover the Crystal Bridges Museum of American Art in Bentonville, which regularly features exhibits and programming that change throughout the year. Design buffs will want to visit the Bachman-Wilson House designed by Frank Lloyd Wright. For 30 years the Arkansas Public Theatre has brought performing arts to downtown at the historic Victory Theater. To round out things out, the Walmart Arkansas Music Pavilion (AMP) offers a wide range of top-billed musical concerts every summer.
 
2. Mountain Biking Extraordinaire
Cyclists can find world class mountain biking—from beginner to expert and everything in between— in the region, often on the same well-designed trail. There is a wealth of well-maintained mountain biking trails within 30 minutes of Rogers and many that start right from town. Warm up your skills hucking, pumping, and whipping at the Railyard Bike Park in downtown and then hop on the connected trails for the Lake Atalanta single track system. Park, eat breakfast, ride to the trails, then come back to rehydrate, easy peasy.
Ready to shred? There there several IMBA-rated trails within a couple of hours of Rogers including the Upper Buffalo Headwaters, rated as an IMBA EPIC, and the Mt. Kessler trail system near Fayetteville, an IMBA Bronze-level Ride Center. Let's not forget the Razorback Regional Greenway, a 36-mile, primarily off-road, shared-use trail that extends from the Bella Vista Trail to south Fayetteville. Connecting six downtowns, the trail links together dozens of popular community destinations, perfect for the active family that likes to play together.
3. Spectacular Water Sports
Even a self-proclaimed land lubber will be tempted by the shimmering, pristine, waters of Beaver Lake. Whether looking to enjoy fishing, kayaking, swimming, wakeboarding, or just finding a secluded cove to relax in, this spot has got it all. Anglers will delight in fish that locals claim are often "jumping and begging to be caught". With all those miles of crystal-clear waters and easy access, kayaking and kayak fishing are growing in popularity. To get the line on where to go, pay a visit to the Ozark Mountain Trading Company for up-to-date kayaking and fishing knowledge. The best swimming hole around is about 30 minutes outside of Rogers just below the bridge at War Eagle Mill adjoining Hobbs State Park.
4. Adventure in the Ozarks
It is well worth the drive to the Upper Buffalo Wilderness area, about two hours southeast of Rogers, where hikers and campers can find themselves deep in the Ozarks. Spend a whole day (or week) hiking the various areas with plenty of well-marked trails that are point-to-point, loops and primitive backcountry trails. All options have grade-A scenery. The Lost Valley Trail is an absolute family favorite. This 2+ mile in-and-out trail follows along a creek bed with notable geology along the way and a cave to explore at the turnaround point at Eden Falls.
If sticking closer to Rogers is preferred, then Hobbs State Park is just the ticket. Dive into the mixed oak and hickory forests on 24 miles of non-motorized, mixed-use trails or hike in and spend an overnight of primitive camping on the Pigeon Roost Trail.
5. World-Class Sporting Events
With so many outdoor activities, it's no surprise that a number of national events are held in the area. The NW Arkansas Championship, a stop on the LPGA Tour, is held yearly at the Pinnacle Country Club and the Annual Daisy National BB Gun Championship Match, a tradition that is over 50 years old, is also held in Rogers. The Rogers Cycling Festival brings together "cycling enthusiasts from across the central United States", featuring competitive road cycling and mountain bike events as well as family-friendly rides. And the Brick Street Crit, part of the Natural State Criterium Series, welcomes crit riders to the brick lined streets of Rogers.
6. Regional History
You can also experience a diverse range of historical sites in Rogers at the same time as you embark on an outdoor adventure. History buffs aren't excluded from the wealth of outdoor opportunities here. Walk the historic downtown by starting out with a tour of the Rogers Historical Museum where you can do some "hard time" in their restored jail cell. From here, stroll the brick-lined streets to check out the Daisy Airgun Museum, a treasure trove of interesting artifacts and information about one of America's most beloved guns. Pack a picnic and head out to the Pea Ridge Military Park for a hike. Pea Ridge marks the site where 23,000 soldiers fought a pivotal Civil War battle and is hailed as one of the most intact Civil War battlefields remaining.
Round out the day with a visit to Quigley's Castle in Eureka Springs, which is billed as "the Ozarks strangest dwelling". Covered in a lovingly hand-crafted mosaic of rocks, fossils and other tidbits, it's a fascinating vision of one woman's dream home.
7. Foodie Delights
Getting worn out from so many activities? Refuel like a champ in the inviting atmosphere of Club Frisco, where mountain bikers often congregate. Or sample the offerings from one of these hand-picked favorites: 7 Brew, Levi's Gastrolounge, and Parkside Public Burgers. Stop in for a post-adventure pint at Ozark Beer Company, where Arkansas' top craft beer, American Pale Ale, comes highly recommended.
Try samples from regional wineries on the first Thursday of every month at Brick Street Brews, which also features craft beer from all over Arkansas. As an added bonus, most of these places are run by outdoor enthusiasts of some stripe, so get some insider beta while sipping, noshing, and relaxing.
 
Originally written by RootsRated for Visit Rogers, AR.
Featured image provided by Alfredo Carrillo.