75 Years of Fun Celebrated this Year at the Arkansas State Fair
What has to be considered one of the largest get-togethers in Arkansas – the State Fair – is having a big celebration this year.  It turns 75 years old in October. The fair has long been a favorite of children and families – in fact, for people of all ages. Dates this year are Oct. 10-19.  An old tradition is being revived — the Arkansas State Fair parade.  Organizers hope it will once again become an annual event. The parade begins on Oct. 11 at 10 a.m. in downtown Little Rock.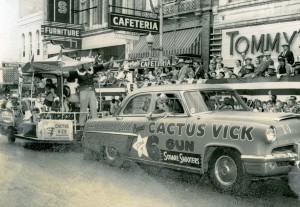 Some type of contest, concert, competition or activity takes place daily at the fairgrounds complex located at 2600 Howard Street.  You'll never run out of things to experience, including of course, the ever popular midway with carnival rides on all challenge levels and the always creative "fair food."  Special promotion days sponsored by local media outlets, Arkansas organizations and businesses offer deals for the fair.
Entertainment this year includes performances by REO Speedwagon, Sonny Burgess & The Legendary Pacers, Riverbilly, Jagged Edge, Travis Tritt, and George Thorogood, just to name a few. Not interested in spending a lot of money?  Then check-out the free attractions offered: the New York Dare Devil High Dive Show, exotic petting zoo in Family Land, Rock-It The Robot, Show Me Swine Racers, and the Swamp Masters Gator Show.  Various beauty and queen pageants, kids and youth talent contests, commercial and amateur wine competitions, plus exhibits in the Hall of Industry and the livestock shows are available at no charge.
If rodeos are of interest to you, then make note: the Ridin' in the Rock Professional Bull Riding Association Tour performances will be on Oct. 17-18.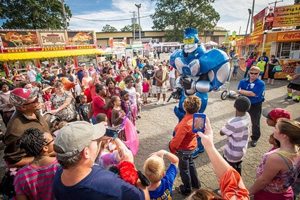 If you don't get enough food from the concoctions offered on the midway, then these cooking competitions should be of interest.  Featured are Arkansas honey, ice cream making, baked goods, cookies made with Gold Medal Flour, Arkansas Farm Bureau rice cooking, Petit Jean Meats, the State Fair pie and barbecue cook-offs, Arkansas's First Lady's Pie Contest, the Great American Spam Championship, cooking with Hiland Dairy products, kid-made cookies and youth baked goods.
Discount admission prices are available until Oct. 10.  They can be purchased at participating Walgreen's and are $5.99 for adults, $2.99 for children and seniors, and ride bands for $22. Regular admission is $10 for adults, $5 for ages 6-12 and over 60, ages five and under are free.  Ride bands are $25.  A complete schedule of events is available on www.ArkansasStateFair.com.