Accepting the challenge of a new year
For most people, a map is just a map—a useful planning tool, something handy to keep in the car. But for some, it can take on a meaning far greater than the fretwork of highways and rivers tracing its surface. When Tanya Reddin of Conway looks at a map, she sees an index to her memories, a to-do list full of unchecked boxes, and a way forward into a bright future.
In late 2016, Tanya's husband of nearly two decades, Greg, passed away after a yearlong battle with cancer. During their years together, the Reddins spent a lot of time looking at maps the way most people do, picking out where to stay in a cabin for an annual Arkansas birthday trip, which state to visit for an anniversary. They also looked at plenty of guidebooks, specifically for hiking trails—avid hikers both, the Reddins' time spent on trails goes back to their dating years.
When they began to have children, it was only natural to get them on the trails as well. Hiking with their children (five of them in total, ranging in age now from 6 to 18) has been an inspiration to them both; Tanya created a Facebook group for other families to share stories and pictures of their hikes, and Greg submitted an essay about hiking with a large family to the book "Families on Foot," by Jennifer Pharr Davis. His essay was published posthumously in early 2017.
Not long after Greg's death, something called the 52 Hike Challenge—a global movement encouraging people to discover the benefits of hiking once a week for an entire year—caught Tanya's eye, and signing up to participate seemed like a no-brainer. "I wanted to try to step over the grief and start trying to heal," she says. Her first hike of the challenge was on January 1st at Woolly Hollow State Park, and subsequent hikes took her to parks and recreation areas all over the state, including Cadron Settlement Park, Whitaker Point in the Upper Buffalo Wilderness Area, Lake Sylvia and Toltec Mounds State Park.
Some hikes she took with her kids, passing along memories she and Greg had created together and showing them how much fun they'd had. Some she took alone, when she could talk out loud to herself and "argue with God about how sad I am, and why he did this, and how bad I feel." And there are trails she hasn't done yet. "A lot of them were places we hiked together, so it's forcing yourself to see something painful," she says. "I've been avoiding some because I feel like my heart can't handle it."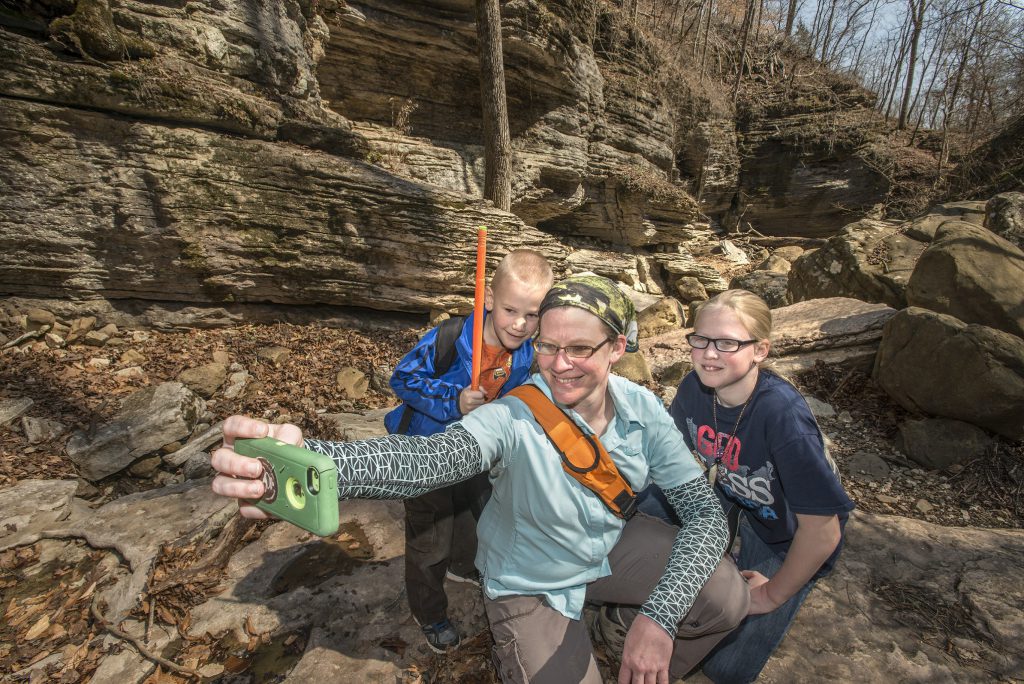 By December of 2017, Tanya had completed 22 hikes ("Between April and August I don't do a lot of hiking; it's too hot," she explains). She doesn't consider this a failure, because the positive effects of simply being out for a walk were so immediate and powerful. "I find a lot of peace being out in the woods," she says. "And there's a sense of empowerment, as a woman. It's not 'poor little me.' I've been given this responsibility to take care of my family. I have a lot of strength, and hiking has shown that progression."
The benefits of spending time in nature have been well documented, and in recent years, time out of mind and in the woods has even begun to be seen as a form of therapy. (You can read more about this in a story about "forest bathing" in Arkansas here.) In fact, Tanya has begun considering the possibility of creating a hiking group, or even a ministry, that would cater specifically to people experiencing loss and grief. She's intrigued by the fact of Arkansas's having 52 state parks, and wondering if a new challenge could be forged out of that. In any event, she's determined to try the challenge again in 2018 and see where it leads her.
"I have to believe there's a blessing in it," says Tanya. "Not right now, but there will be. The Lord will show me what this is for." These words are uncannily reminiscent of some Greg wrote in his essay for "Families on foot," which he wrote while undergoing cancer treatment:
There are so many parallels between hiking and life. I can face challenges in the perspective of life's journey. I don't know what's over the top of the next rise. But if I keep pressing on, the view at the top will be well worth the trouble.
So: How will you challenge yourself in 2018, and what great new heights will you rise to?