AGFC Celebrates 100 Years of Conservation
The Arkansas Game and Fish Commission's mission is to conserve and enhance Arkansas's fish and wildlife and their habitats while promoting sustainable use, public understanding and support.
I'm proud to live in a state that's celebrating a century of conservation. Arkansas is The Natural State and the Arkansas Game and Fish Commission works diligently to ensure it remains true to its name through habitat management, fish stocking, hunting and fishing regulations, educational programs, and a host of other ways.
From 1 p.m. to 4 p.m. on Saturday, March 14, you can celebrate with AGFC at Centennial Celebration Open Houses held throughout the state. Enjoy refreshments, activities for the whole family, and maybe even snag a free Partners in Conservation Hat. Some of the activities include plant swaps, archery, fish feeding, eagle feeding, painting shorebird decoys, fishing, and hiking.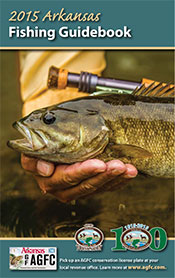 Here are the locations with planned activities for that day. Click on individual listings for more details.
Forrest L. Wood Crowley's Ridge Nature Center
600 East Lawson Road, Jonesboro | 870-933-6787
Governor Mike Huckabee Delta Rivers Nature Center
1400 Black Dog Road, Pine Bluff | 870-534-0011
Janet Huckabee Arkansas River Valley Nature Center
8300 Wells Lake Road, Fort Smith | 479-452-3993
Witt Stephens Jr. Central Arkansas Nature Center
602 President Clinton Avenue, Little Rock | 501-907-0636
Ponca Elk Education Center
Highway 43, Ponca | 870-861-2432
Potlatch Conservation Education Center at Cook's Lake
625 Cooks Lake Road, Casscoe | 870-241-3373
Joe Hogan State Fish Hatchery
23 Joe Hogan Lane, Lonoke | 877-676-6963
C.B. Craig State Fish Hatchery
977 West Fish Hatchery Road, Centerton | 877-795-2470
Andrew Hulsey State Fish Hatchery
350 Fish Hatchery Road, Hot Springs | 877-525-8606
William Donham State Fish Hatchery
3587 U.S. Hwy. 67 West, Corning | 877-857-3876
Jim Hinkle/Spring River State Fish Hatchery
895 Ark. Hwy. 342, Mammoth Spring | 877-625-7521
AGFC is planning a series of special events on other dates throughout the year as well. Here's a look at what's happening so far.