ALFiE Awards Announced
The winners of the 2014 ALFiE Awards ("Arkansans Love Festivals & Events") have been announced by the Arkansas Festivals & Events Association. Among the winners were:

Best New Festival or Event – Hot Springs Craft Beer Festival, Hot Springs. Set in downtown Hot Springs, the festival features craft beers from Arkansas and surrounding area breweries. Admission tickets include a chance to sample beers and food prepared by local restaurants. This year's event, which will be the second annual event, takes place May 30 at the Hot Springs Convention Center. For more details visit here.
Festival of the Year – MusicFest El Dorado, El Dorado. This 5 time Arkansas Festival of the Year winner is the largest live music festival in South Arkansas. The event features over 30 acts on four stages over two days and takes place every October in downtown El Dorado. Past headliners have included Toby Keith, Brett Michaels, Joan Jett and the Blackhearts, and the Charlie Daniels Band. For more details, check out musicfesteldorado.com.
Event of the Year –Annual World's Shortest St. Patrick's Day Parade, Hot Springs. This annual  parade takes place on St. Patrick's Day in downtown Hot Springs. The parade's entire route is the 98-foot length of Bridge Street, known as the world's shortest street in everyday use. This year, the First Ever 12th  Annual World's Shortest St. Patrick's Day Parade will be on March 17. On hand will be Celebrity Grand Marshal Mark Martin (NASCAR star and Arkansas native), green fireworks, Irish belly dancers, floats, Irish Order of Elvi (a group of Elvis look-alikes), marchers, Irish Wolfhounds, and more. For more details, visit  shorteststpats.com.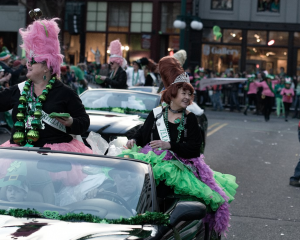 Outstanding New Idea – Bradley County Pink Tomato Festival, Warren for the BLT Bowl.  The inaugural BLT (Bacon, Lettuce & Tomato Sandwich) Bowl was held last summer during the Pink Tomato Festival in Warren. The event featured teams taking the ingredients of a BLT sandwich and suing local produce such as Petit Jean Meats and Bradley County tomatoes. This year's Pink Tomato Festival, which is one of the oldest continuous running festival in the state, is June 12-13.  On a side note, Arkansas designated the South Arkansas Vine Ripe Pink Tomato as the official state fruit and vegetable in the 1980s. For more details on the festival, click here!