The Amazeum Opens in Bentonville July 15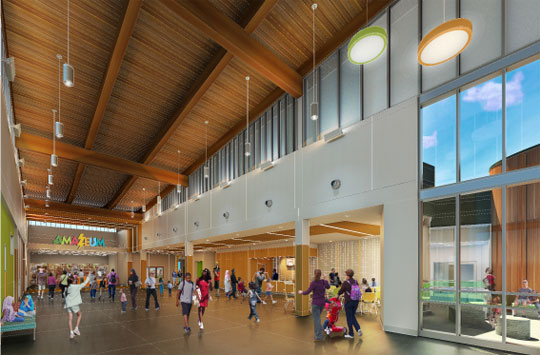 Opening July 15, the Scott Family Amazeum is a hands-on, interactive museum for children and families in Northwest Arkansas. It is another layer enriching the lives of those who live in and visit this growing metropolitan area.
The nearly 50,000-square-foot space is located in Bentonville at the intersection of J Street and Museum Way, which also serves as the entrance to Crystal Bridges Museum of American Art. The Amazeum is designed to engage the imagination of children and their families through hands-on activities and interactive exhibits. Experiences will include a tinkering studio, climbable tree canopy, water area, an art studio, exploratory wet lab, and more. Exhibitions will extend to the museum grounds where approximately one acre of land will provide the background for more learning and fun. The Amazeum will also feature indoor and outdoor event space.
The Market is an interactive space where guests will be able to not only "shop" for produce and groceries, but also don aprons and work behind the butcher counter or in the bakery. Additionally, they will be able to serve other guests in the café or play the role of cashier.
Also featured in this space is the work of artist Matthew Moore who was featured in Crystal Bridges' landmark exhibit, State of the Art. Moore also is a farmer, and his work focuses on nature and the land. His time-lapse photography of crops growing will be installed among the produce in the market. Guests will be able to use a dial to speed up, slow down or reverse the growth process.
The Scott Family Amazeum is named in honor of Lee and Linda Scott as gratitude for their very generous financial gifts and support of the Amazeum. The Scotts, who have spent more than 30 years in Northwest Arkansas, were among early advocates of what was initially known as "The Children's Museum of Northwest Arkansas." They promoted the many benefits a hands-on, interactive family museum would bring to families throughout the region.
The exposure the Amazeum provides to science, technology, engineering, art and creativity is expected to give children skills to draw on their entire lives. For more information, visit http://www.amazeum.org.