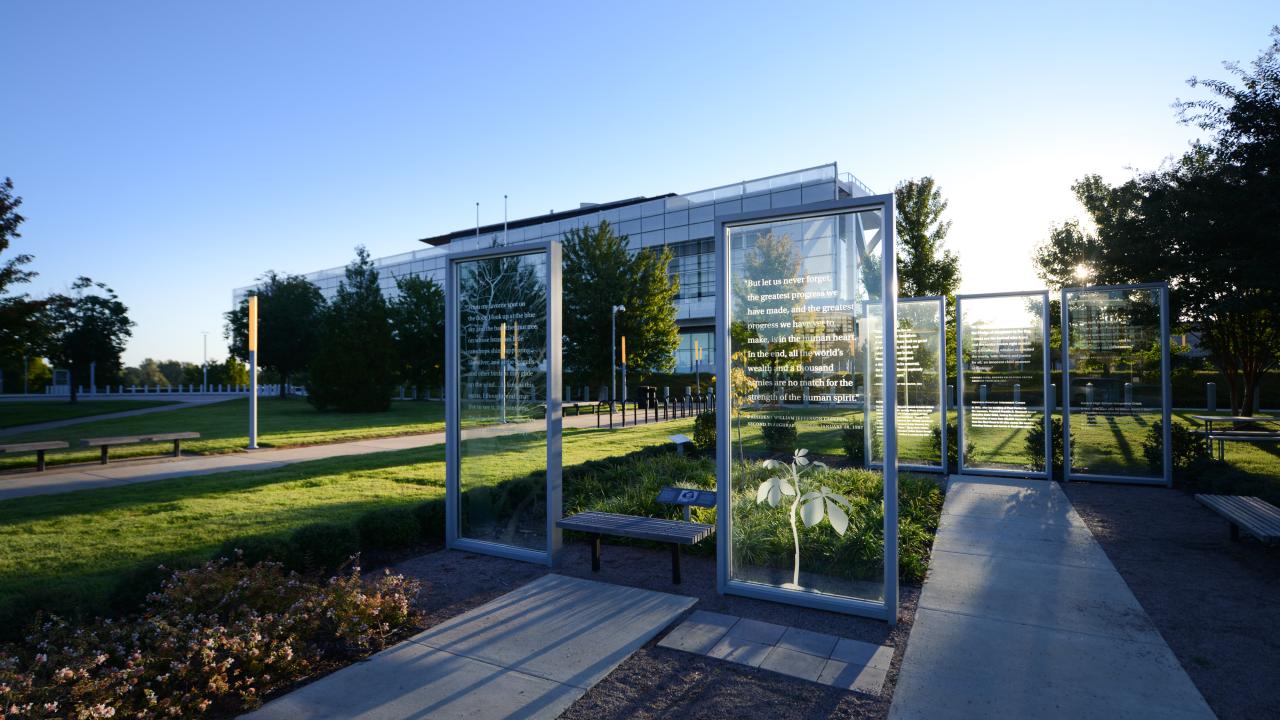 The Anne Frank Tree, an outdoor installation on the grounds of the Clinton Presidential Center in Little Rock, is helping tell the complex history of human rights in Arkansas. The exhibit features a young chestnut tree surrounded by five framed, etched glass panels.
The tree has historical significance as the sapling was taken from a Chestnut tree that once stood outside the house where Anne Frank and her family hid from the Nazis during World War II.  Anne Frank could see the tree from a tiny window and wrote about it in her diary.
It became a symbol of hope for her. "As long as this exists," she wrote, "how can I be sad?"
The Clinton Presidential Center is one of only 11 places in the nation to be given a young chestnut tree by the Anne Frank Center USA's Sapling Project. The two front panels surrounding it feature quotes from Anne Frank and President Bill Clinton. The three other panels convey difficult moments of local history through descriptions of the Indian Removal Act of 1830, the internment of Japanese Americans during World War II, and the Little Rock Central High School desegregation crisis of 1957. The Anne Frank Tree was dedicated by President Clinton at a ceremony on site in 2015.
The Clinton Presidential Center is part of the U.S. Civil Rights Trail, which features landmark sites from the civil rights era in the 1950s and 1960. Events are held at the center throughout the year and items at the Clinton Museum Store include books such as the memoir Shores Beyond Shores, from Holocaust to Hope. This was written by Dr. Irene Butter, who grew up as a Jewish child in Nazi-occupied Europe. She survived two concentration camps, including Bergen-Belsen, where she met Anne Frank.
Another sapling from the Anne Frank Center USA's Sapling Project was also given to the Little Rock Central High School National Historic Site.