Arkansas Adventure Fishermen Make Memories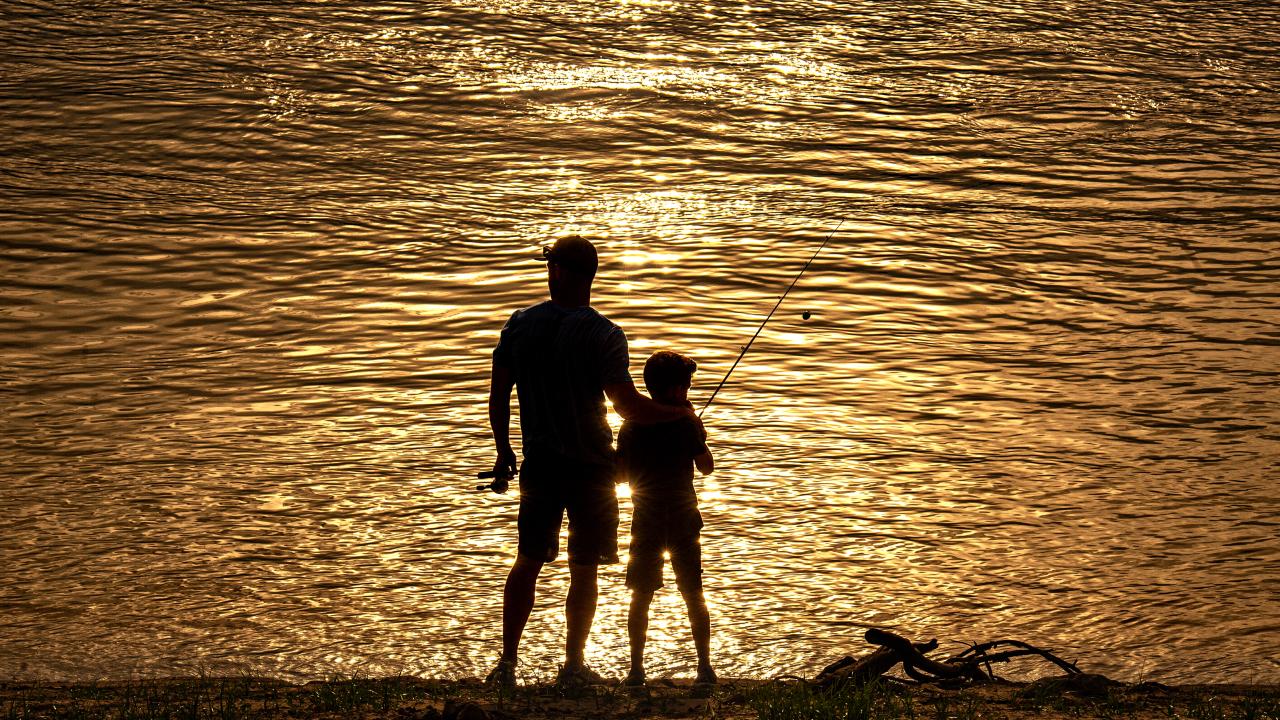 Since 2009, a group of guys from Louisiana has been traveling annually to the White River below Bull Shoals Dam in north-central Arkansas. They have turned the week-long trip into more than a leisure vacation.
​
The group consists of Jeff "Mr. Ed" Horchoff, Mike "Mikie" D'Amico, Robert "Max" Breaux, Randy "Chef Randy" Smith, Irwin "Maranski" Marant, and Owen "Cuz" Short. All of them except for Max's cousin, Owen, worked together for about 25 years at the Mandeville, Louisiana, post office and are retired in southeastern Louisiana. Owen lives in Holiday Island, Arkansas.
While it's primarily a trout fishing trip, they add on plenty of other excursions, and good-natured fun.
They've put their logo on shirts, hats, wood plaques, rapala lures, mouse pads, and fishing trophies. Vehicle door magnets cling to their van. A banner is tied to the deck of their cabin.
"Most of our time is spent on this stretch of the White River [below Bull Shoals Dam]," Jeff said.
"Browns and rainbows fishing is the main thing." Mike caught a brown this year on a rapala lure stamped with their Arkansas Adventure logo.
They update a leaderboard daily and have trophies made for the biggest fish – brown trout, rainbow trout, bass, and perch. This year for their "awards banquet" they asked the resort owner to be master of ceremonies.
​
Fishing is the common denominator among the group of six, yet the adventure is in the other things they do on the drive and while there.
Other destinations they have visited include: the Kings River, the Fred Berry Conservation Education Center on Crooked Creek, Norfork National Fish Hatchery, Walmart Museum, Crystal Bridges Museum of American Art, Forrest Wood Gallery, Peel Ferry, and Bull Shoals-White River State Park Visitor Center.
They toured Ranger Boats one year, and Legend Boats and BassCat Boats this year. A few years ago they called up Cavender's Greek Seasoning in Harrison and asked for a tour, even though the company didn't offer public tours. The company said yes. They happened through Harrison a couple of years ago and caught the annual Crawdad Days Festival.
Additionally they have canoed the middle and lower Buffalo National River. They also spent time catching striper and bass on Beaver Lake with guide Robert Johnson. Mike has a 15-lb. striper mounted and hanging on a wall in his house from that trip.
They always make a visit to Bull Shoals Lake Boat Dock to feed the carp hanging out at the marina.
There are three bee keepers among them, so they are interested in stopping to see Fischer's Honey in North Little Rock, another Arkansas company, in the future. They also want to check out Byrd's Adventure Center on the Mulberry River. Jeff added, "I've yet to catch a walleye."
They love the White River, but also the fact that it's centrally located so they can visit other places.
They find The Natural State ripe for adventure.
"I came up here after [Hurricane] Katrina to get away," Mike explained. He, his wife, and son stayed at Stetson's on the White and saw Gaston's White River Resort. So he told his friends about it. Plus, since Owen moved to Holiday Island he knows the area and Arkansas well now.
The clear clean waters are the big draw. Mike described Louisiana rivers as mucky, marshy and slushy. So, while they are all avid saltwater fishermen, they put that aside to chase the fish in the sparkling, clean rivers and lakes of Arkansas.
"We caught so many fish here the first couple years we came," said Mike. "Two hundred a day sometimes."
"But we never keep any," Jeff added. While they have never eaten any of the trout they catch, there's no doubt they eat well. Randy is the chef. "Because they don't know where the kitchen is," he joked. Erwin is a great cook too. He made jambalaya the first night of this year's trip. They also go out to eat at an area restaurant one night.
They usually make their annual pilgrimage to the White River in May, before all the students get out of school. It starts with renting a 15-passenger van so they can all ride together from Louisiana.
"The laughing starts when we leave the driveway," Mike said. "That's at 5 a.m.," Jeff added.
They take seats out so they can bring lots of gear, such as fishing rods, propane and a burner, and even one of the guy's hummingbird feeders. They also make sure they have enough room for their large plastic storage tub filled with cookies – about 100 – made by the cooks at St. Joseph Abbey in Louisiana. Owen drives separately since he lives in Arkansas. He has his own vehicle magnets too.
​
They have moved around a little bit over the years. They started out at the resort, Stetson's On the White. Two years in a row they stayed at Rainbow Drive Resort, where they met a group of folks from all over the country that has been coming to the river together for 20 years.
One year they rented a house boat on Bull Shoals Lake for four days and then spent the rest of their time at Gaston's White River Resort.
"Gas Tones" is how it comes out in their Louisiana accents. They towed a bass boat behind the houseboat so they could fish all the coves. But, they had to go to shore to enjoy a fire.
Since a fire pit is one of their favorite things, they have now settled at Newland's Resort on the White River where they have a massive fire pit ringed with chairs right outside their cabin. This year they used more than three cords of wood.
They love hearing all of the birds and seeing animals such as eagles, deer, Canada geese, and road runners. "It's an outdoors person's area," Mike said. "It's just a nice relaxing time."
He added that the rejuvenating effects of the trip stay with him. "Last year it lasted two months for me."
While fishing is the focus, it's clear that the annual Arkansas trip has also come to be about food, fire pits, fun, and friends that are like family.