Arkansas and Twin Lakes area open for business
Arkansas and the Twin Lakes area of The Natural State are open for business, despite the flooding and high water experienced in the spring.
"Yes, we had some high waters during the flooding in southern Missouri and northern Arkansas, but all of the resorts and all of our marinas and all of our hospitality industry are open for business," explained Jeff Pipkin, CEO and economic director of the Mountain Home Chamber of Commerce.
In North Central Arkansas, Bull Shoals Lake and its twin, Lake Norfork, are popular for the outdoor recreation opportunities they provide. "Norfork was the worst hit," Pipkin said. "I was out there yesterday on my boat and the lakes are dropping and the water clarity is getting clearer every day."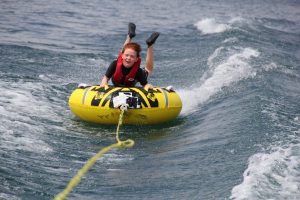 Pipkin added that the majority of debris floating in the lakes during the rains and flooding has been cleaned up. "The only negative we see right now is some campsites by the Corps of Engineers are under water or in need of being repaired from flooding," he said. But some camping is still available as are the numerous resorts around the lakes.
Pipkin attributes some of the misinformation about marinas being closed or large amounts of debris still floating in the water to social media. People continue to spread information that is no longer true. He advises people to call the marinas, resorts, or the Chamber for up-to-date information.
"People are putting on Facebook that some of the marinas are closed. There's not a single marina closed," Pipkin said. "Everybody is open and just waiting on people to come and enjoy their time here."
Boating, wakeboarding, water skiing, tubing, fishing, scuba diving, and swimming are all extremely popular on the lakes. Marinas have boats and water sport equipment for rent. Fishing guides are plentiful as well.
Bull Shoals Lake and the White River below its dam are synonymous with fishing in Arkansas. The U.S. Army Corps of Engineers project, located in North Central Arkansas on the Missouri-Arkansas state line, enjoys a wide reputation for lunker bass fishing along with Lake Norfork, just to the east.
Almost all varieties of fresh water game fish are found in Lake Norfork, which is fed by the North Fork River and its tributaries. Bass, walleye, crappie, bream and catfish all make their home in its waters. The oldest of Arkansas's large man-made impoundments, Norfork has consistent variety in its fishing and contains one of the best striped bass fisheries in Arkansas.
Norfork Lake has more than 550 miles of shoreline and covers some 22,000 acres. Bull Shoals Dam was completed by the U.S. Army Corps of Engineers in 1951. It is the fifth largest concrete dam in the United States. Including the portion located in Missouri, the lake totals some 45,500 surface acres.