Arkansas Arts Center brings classic cartoon to life with "Schoolhouse Rock Live!"
Whether or not you have children, you are probably familiar with "Schoolhouse Rock," the series of animated educational shorts that originally ran on Saturday mornings from 1973-1985. The Emmy-winning series, with its colorful characters and catchy tunes, gained an almost cult-like following, as the show's wacky inhabitants "Interplanet Janet" and "Rufus Xavier Sarsaparilla" became household names and jingles like "Three Is a Magic Number" lodged in the ears of children and parents alike. (Admit it: You can still sing at least part of "Conjunction Junction.") The show was such a pervasive part of childhood that in a mid-90s fit of nostalgia several bands whose members had been raised on it got together and put out an album of covers. Thus the likes of Blind Melon, Pavement and Moby introduced further generations to the show.
Now the Arkansas Arts Center Children's Theatre is preparing to introduce yet another generation to the world of "Schoolhouse Rock" with their upcoming production of "Schoolhouse Rock Live!" The show will run March 4–25 and will feature 17 of the original series' songs. We visited with director Katie Campbell about the Children's Theatre and their approach to this production before taking a peek behind the scenes during a recent rehearsal.
"The Arkansas Arts Center Children's Theatre is a real gem," said Campbell. "It's one of the few continuously existing ensemble theatre companies in America, and one of the only ensemble children's theatres in the country; there's only a handful of them, so that's really special." With a resident playwright, resident composer, resident acting company, resident directors and a set designer—meaning most of what the theatre does is done in-house—the theatre has been recognized by The Drama League as one of the best regional theatre companies in America. "A lot of what we do is by us and for the community, which to me is very important," added Campbell.
"Schoolhouse Rock Live!" in particular is a special production for this community, because it has two very close ties to Arkansas: Many of the original songs for the television show (including some of its most popular numbers and the entirety of the first season) were written and performed by Arkansan Bob Dorough; Sherwood native Scott Ferguson was the stage version's original director as a founding member of Theatrebam Chicago, which adapted the television show for live performance. "We're really building on the tradition of this homegrown feeling of the show by producing it here," said Campbell.
While the original stage version was designed to be primarily concert-style, focusing on the music, Campbell said the Children's Theatre's intention is to evoke both the music and the cartoons, and a fun challenge was figuring out how to bring a cartoon to life. "The design team has really embraced a two-dimensional feel," she explained, "so we have a lot of cut-outs and flats, pieces that roll in and roll out…lots of signs that are inspired by the cartoon directly." Sure enough: At a recent rehearsal, cast members flashed brightly colored signs reading "noun" and "pronoun" and wrangled a giant (albeit flat) kangaroo, aardvark and rhinoceros, all painted with the simple, stylized strokes of the original hand-drawn cartoons. At one point the cast "climbed aboard" a two-dimensional bus that they walked across the stage, aardvark and all. "The stage certainly has a trippy, 70s, funky feel to it," said Campbell.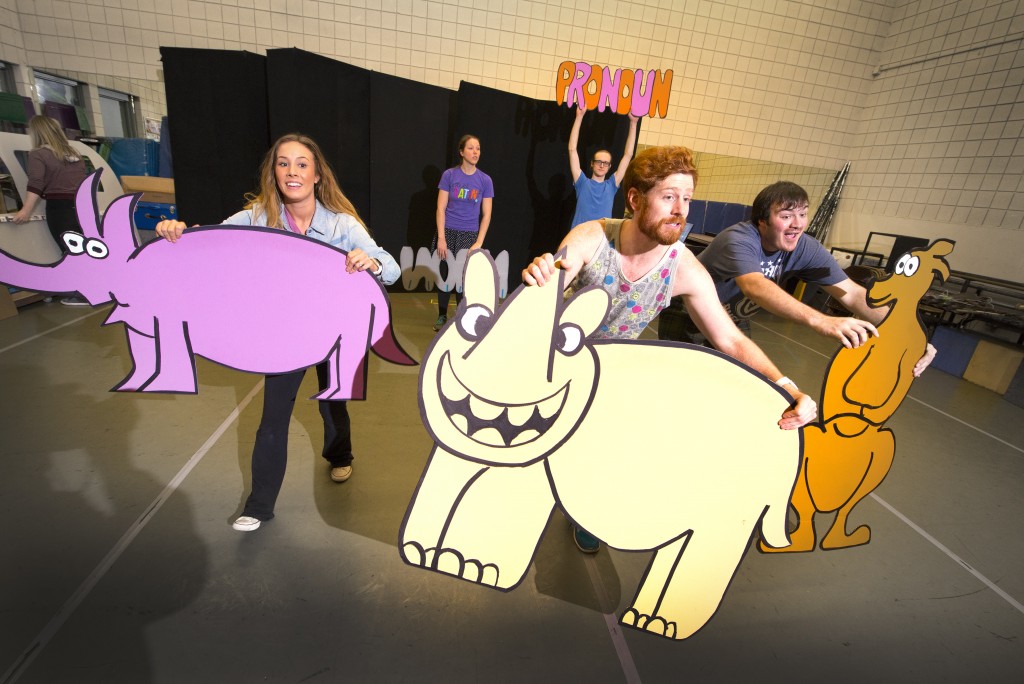 Seeing a cartoon come to life will be a funky trip indeed. "Schoolhouse Rock Live!" runs March 4–25, Fridays at 7 p.m. and Saturdays and Sundays at 2 p.m.  Spring break matinees will take place March 22nd–25th at 2 p.m. And if you want to take a nostalgia trip of your own (read: without kiddos), on Thursday, March 10, the Arts Center will host "Schoolhouse on the Rocks," an adults-only performance preceded by a reception featuring themed cocktails and—get this—a cereal bar. For more information and to purchase tickets, visit the Arkansas Arts Center's website.