Arkansas Cheese Dip Trail
Did you know Arkansas is believed to be the birthplace of cheese dip? Little Rock lawyer and filmmaker Nick Rogers has done his research and believes it to be. He tracked the background of the spicy concoction to see if it could be "the dish" for which Arkansas could be famous. Rogers discovered the original landmark Mexico Chiquito restaurant, though it was named Little Mexico at the time, opened in Hot Springs in 1935 and introduced cheese dip. This predates Rotel by at least 10 years. Mexico Chiquito is still alive and kicking in Arkansas with both full-service and drive-through locations. Cheese dip is served pretty much in every nook and cranny restaurant of The Natural State.  Here are some suggestions. 
Buffalo Grill Riverdale | Little Rock, AR
American cuisine; nachos, homemade salsa, and chips; classic yellow cheese dip, chili cheese dip, Tortilla Flats; steaks, burgers, salads, variety of sandwiches; outdoor dining available; in business since 1981
Casa Manana Rock | Little Rock, AR
Authentic Mexican; white dip with queso anejo and queso Chihuahua; salads, soups, egg dishes, enchiladas, tacos, burritos, Chile Relleno, tamales; fish and shrimp specialties; stews; flan, churros, sopapillas
Cheers in the Heights | Little Rock, AR
Popular neighborhood restaurant; since 1979; eclectic menu includes salads, soups, burgers, cheese dip; American and Cajun cuisine, variety of sandwiches, soups, salads, burgers, seafood, Italian, vegetarian; outdoor dining available
Cow Pen Restaurant | Lake Village, AR
Menu features Mexican, seafood, Italian and steaks; the restaurant is popular for its cheese dip and the Cow Pen special, a rib eye with homemade Cow Pen Sauce. Sunday lunch buffet specials feature old-fashioned Southern cooking with seasonal vegetables straight from the Farmer's Market. GROUPS: banquet room available
Dizzy's Gypsy Bistro | Little Rock, AR
Pastas, Cajun dishes, Southern favorites and salads, all with large portions and reasonable prices; quirky, eclectic and somewhat elegant menu. La Petite Roche, winner of the professional category in the 2010 World's Champion Cheese Dip Festival; a "green" restaurant that has to-go containers made of corn stalk and starch or sugarcane; recycled roll towels, simple cleaners, environmentally friendly detergents, energy efficient lighting; recycling of cooking oil
Faby's | Conway, AR
Tortillas made from scratch daily; dips, salsa; tortilla soup; burritos; fried stuffed avocado; fried cheesecake, sopapillas; white cheese dip which can also be ordered as fajita queso, topped with beef or chicken. Menu also includes a variety of Italian dishes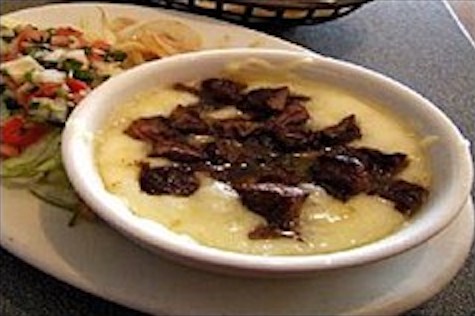 ​
Flying Burrito Company | Fayetteville, AR
A burrito bar specializing in huge burritos; also on the menu are tacos, nachos, taco salads, rice bowls, four types of house-made salsa and two varieties of house-made cheese dip; kid's menu; draft beer.
Godsey's Downtown Grill | Jonesboro, AR
Large variety of burgers, sandwiches, wood-fired oven pizzas, several dips including Ro-tel, steaks, seafood, huge array of appetizers, salads, pasta, side orders, home cooking such as country fried steak, turnip greens; homemade desserts; catering available
Izzy's | Little Rock, AR
"Healthy food for healthy people since 1985;" continental cuisine; cheese dip made with fresh tomatoes, spices and real cheese; salads, pasta, known for their hand-rolled, award-winning tamales, brick oven pizzas, burgers, pasta, soups and sandwiches; includes gluten free and vegan; lemon ice box pies, bread pudding
Loca Luna | Little Rock, AR
Nationally recognized, award-winning restaurant with an eclectic, upscale menu of American gourmet cuisine named "Nouveau Schizophrenic;" international food with a Southern twist includes white cheese dip with roasted green chilies and spinach; grilled meats, fresh seafood, pastas, wood-fired, brick-oven pizzas; sandwiches soups, pot roast, chicken fried steak, home-style vegetables, chicken and dumplings; homemade desserts, Sunday brunch Selected "One of the "Best Neighborhood Restaurants in America" by Bon Appétit Magazine; featured on Rachael Ray's "Tasty Travels;" Named by Southern Living as "A rising star." GROUPS: catering available on and off premises for 30 or more

Marlo's Taco Shack | Fayetteville, AR
Popular local hangout; cheese dip, picante sauce, vegetarian, tacos, nachos, taco burgers,
Mexico Chiquito | Little Rock, AR
Arkansas-based Tex-Mex chain; where cheese dip was invented; serving Central Arkansas since 1935; created after a visit to Mexico, based on American and Mexican cheeses; spice mix, which gives the dip its distinctive flavor, includes paprika, cumin and others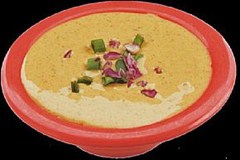 ​
Nick's Bar-B-Q & Catfish | Carlisle, AR
Barbecue chicken, pork and beef; seafood; catfish with all the trimmings; homemade fried green tomatoes, onion rings; cheese dip and salsa, salads; homemade fried pies (including coconut) and cobblers for dessert.
Pancho's Mexican Restaurant | West Memphis, AR
A trip to Mexico led to the opening of the first Pancho's Mexican Restaurant in West Memphis. Family-owned since its inception in 1956, the tradition continues with original recipes including their "addictive" cheese dip.
Sparky's Roadhouse Cafe | Eureka Springs, AR
Features an eclectic menu and decor; Mexican dishes include six different salsas, queso rojo, nachos; continental offerings include French, Persian, Spanish; steaks, seafood, sandwiches, burgers, vegetarian, salads, don't miss the bowling lane and pins on the ceiling;
Stoby's | Conway, AR / Russelville, AR
Menu includes homemade yellow cheese dip made even more famous when American Idol Kris Allen named it his favorite when appearing on the television show; spicy white cheese dip; soups, sandwiches, salads, homemade desserts including Possum Pie; becomes a grill in the evenings. Named in March 2009 Esquire Magazine as one of the best breakfast places in America. A second location is in Russelville.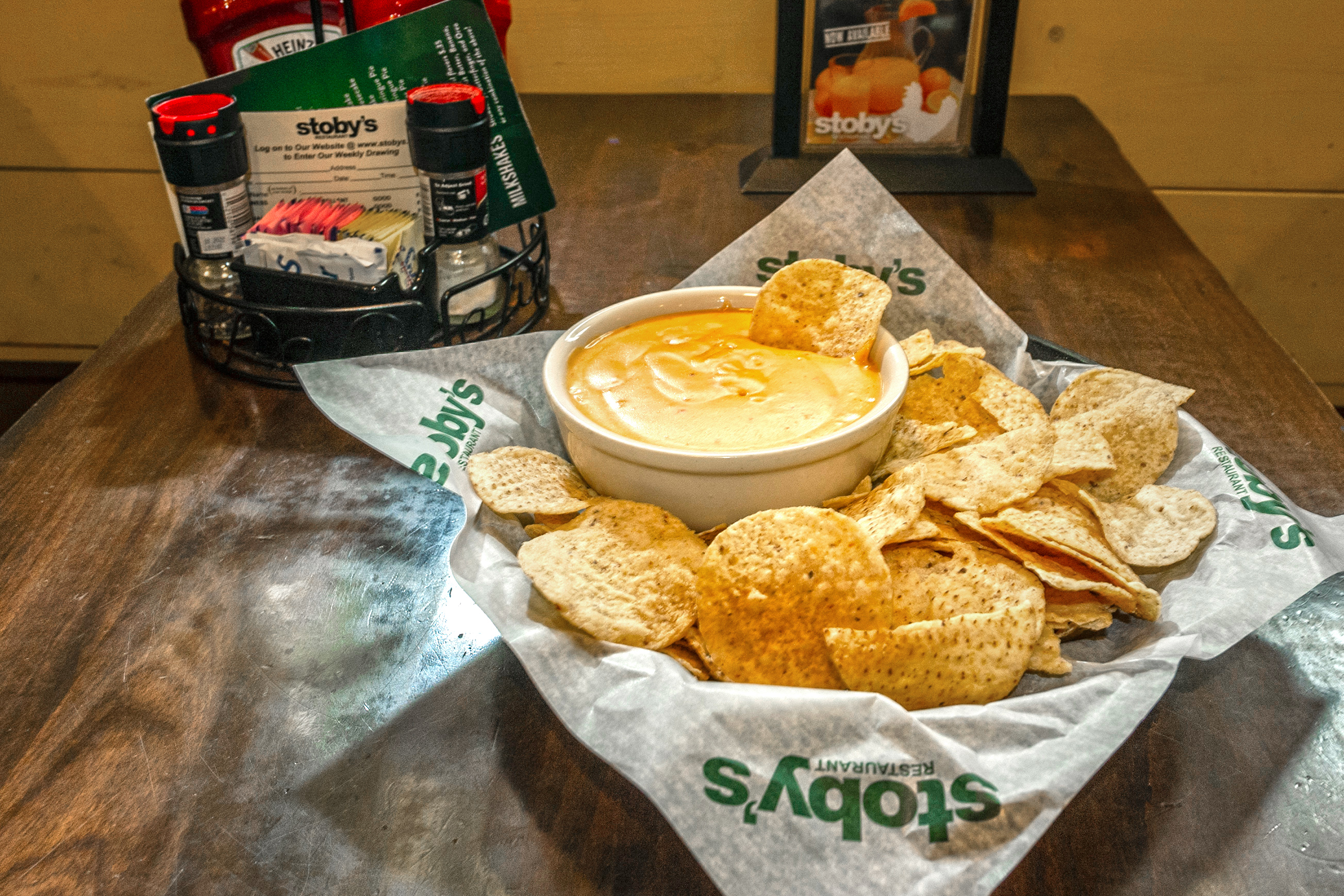 Taco Mama | Hot Springs, AR
Classic, authentic Mexican food; made daily with fresh ingredients; fajitas, tacos, burritos, quesadillas, hand-rolled tamales; nachos, queso dip, bean and queso dip with chorizo, Mexican green chile cheeseburger; salads; flan, cake, pie; drink specialties
Taco Pronto | Hot Springs, AR
Local Tex Mex tradition since the late '60s; cheese dip, nachos, burritos, tacos, combos, salsa; cheese crisps (crispy fried flour tortilla topped with shredded cheese, salsa, and jalapeños then heated until the cheese is melted).