Arkansas Christmas Memories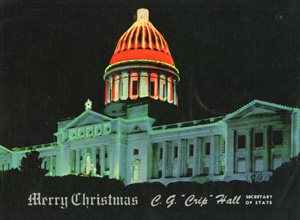 What are your favorite memories of Christmas in Arkansas? Please share them with our Facebook friends. Mine would have to be the lighting of the Arkansas State Capitol and the lights down Main Street. When I was a kid, and I'm really dating myself here, the lighting of the Capitol and Main Street decorations was just about all the holiday activities I remember taking place in Little Rock
At that time, the Capitol was outlined in green and red lights. The dome would alternate between green lights and red lights. Not taking anything away from the present day decorations at all but the green and red alternating lights were so pretty. I searched and searched trying to find a photo.  Thanks to the diligent efforts of Terri Davidson and Historian David Ware with Secretary of State Mark Martin's office, they found an old postcard photo.  It gives you some idea of what it looked like then.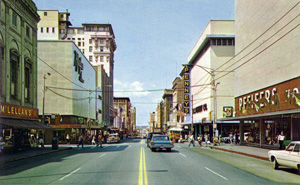 The downtown lights were swagged across Main Street from west to east, making a colorful canopy for shoppers and visitors. You could stand at the south end and see nothing but beautiful lights all the way north to the Arkansas River. Each light pole had a special lighting decoration, although I don't remember what they were. You'll still find this type of lighting in small towns across the state. I wasn't able to find any photos but I did locate this image of Main Street in 1960.
At that time, Main Street was where the Little Rock Christmas Parade took place.  If my fuzzy, aging memory serves me at all, I believe the parade started in North Little Rock, coming over the Main Street Bridge.  That may have been the Livestock Show Parade; I'm not sure.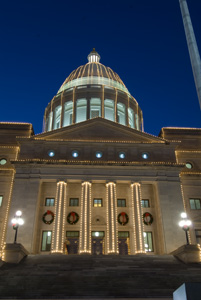 This year's Big Jingle Jubilee Parade and State Capitol lighting ceremony take place Saturday, beginning at 3 p.m.  Starting point for the 3 p.m. parade is 2nd and Broadway in downtown Little Rock. The route continues south on Broadway to Capitol Avenue, then heads west on Capitol, ending in front of the Arkansas State Capitol building. Taking part in this holiday tradition are bands, floats, animals, marching units and the grand marshals – Santa and Mrs. Claus. At parade's end around dusk, Secretary of State Mark Martin hits the switch that lights up the state's seat of government. Santa will be in the rotunda to visit with children and there will be various groups providing Christmas music.
Make plans to attend. It's a great opportunity to make some new Christmas memories.