Arkansas' Largest Amateur Big Bass Tournament is June 28-30!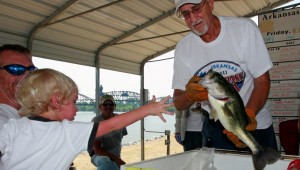 The annual Arkansas Big Bass Bonanza is June 28-30 on the Arkansas River. This is Arkansas' largest amateur big bass tournament and offers a total of $100,000 in prize money.
The tournament spans 300 miles from Fort Smith to Dumas. Anglers can choose to fish one, two, or all three days of the tournament from any of the tournament's five pools. This year's payout includes  $50,000 guaranteed to the overall winner for the overall largest fish. A guaranteed $10,000 will be awarded for the largest fish overall form the four remaining pools. There is also prize money per pool.
Spectators can go to one of the five nearest sites to see the Arkansas Big Bass weigh-in every hour from 8 a.m- 1 p.m. on all three days.
Last year, fishing in the Coal Pile area of the lower Arkansas River, David Shopher of McGehee caught a 6.27-pound largemouth bass to take the overall lead and win the 2012 competition. Included below is a video tip from Arkansas Game and Fish Commission's Randy Zellar on fishing the Arkansas River.
More information on the tournament is available at arkansasbigbass.com or via their Facebook page at www.facebook.com/arkansasbigbass.