Arkansas Meadery: the state's first meadery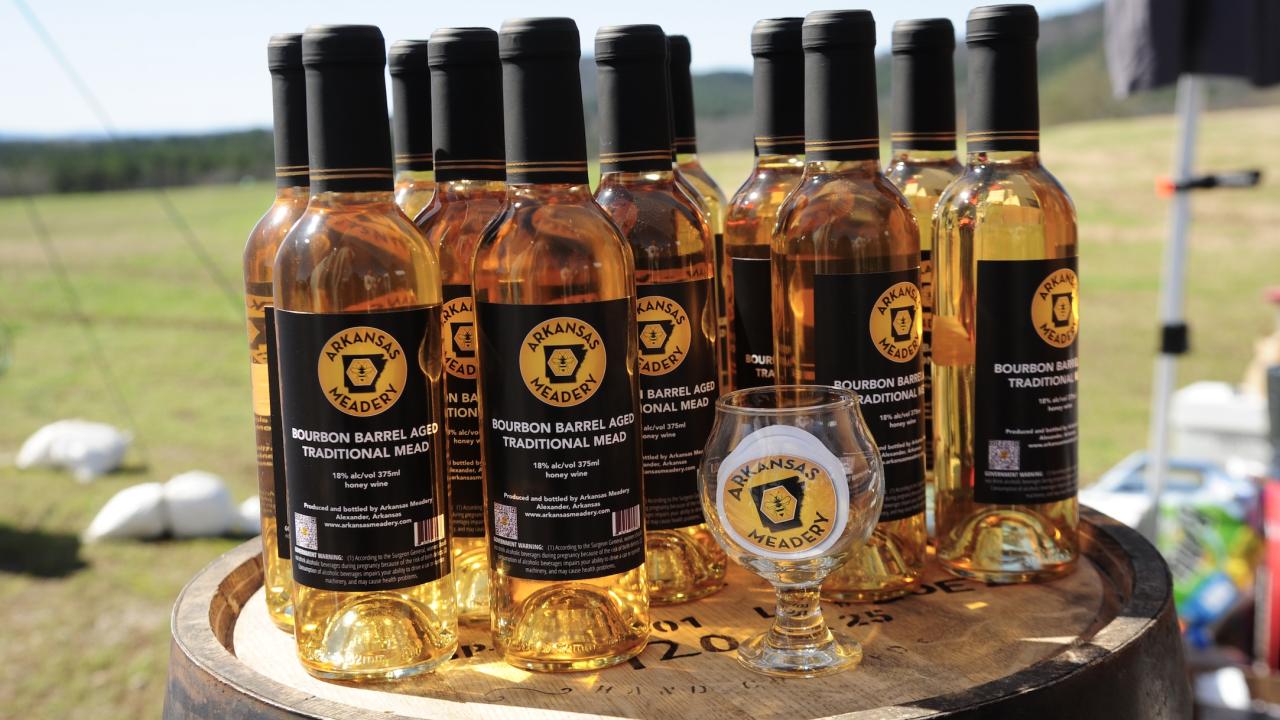 Mead is one of the oldest craft beverages in the world. Arkansas Meadery is the state's first meadery and is paving the way for introducing this craft to a larger audience. Technically mead is honey wine, and one of the reasons Arkansas Meadery owner Tony Fry wanted to start the venture was to spread the word about what mead is.
"Most anyone that is a mead maker or has a meadery, when they say anything about mead, they have to say, 'I didn't say anything about meat. I said mead,'" said Fry. "So anytime I say I am opening up a meadery, people often say, 'So what are you going to serve, pork, beef?' And I have to say, 'no, no mead.' Not a lot of people know what mead is, especially in Arkansas. There have only been a few mead sold in Arkansas."
Ingredients are also a factor. Honey is expensive and thus mead is expensive as well. Fry said the process of making mead in and of itself is not hard, but to master it is. The process also takes longer. "Mead is not beer and is not ready to drink in 21 days," Fry said. "It might be done fermenting in 21 to 30 days, but all of my mead is a minimum of eight months before it is bottled. This is probably another reason why there are not many meaderies."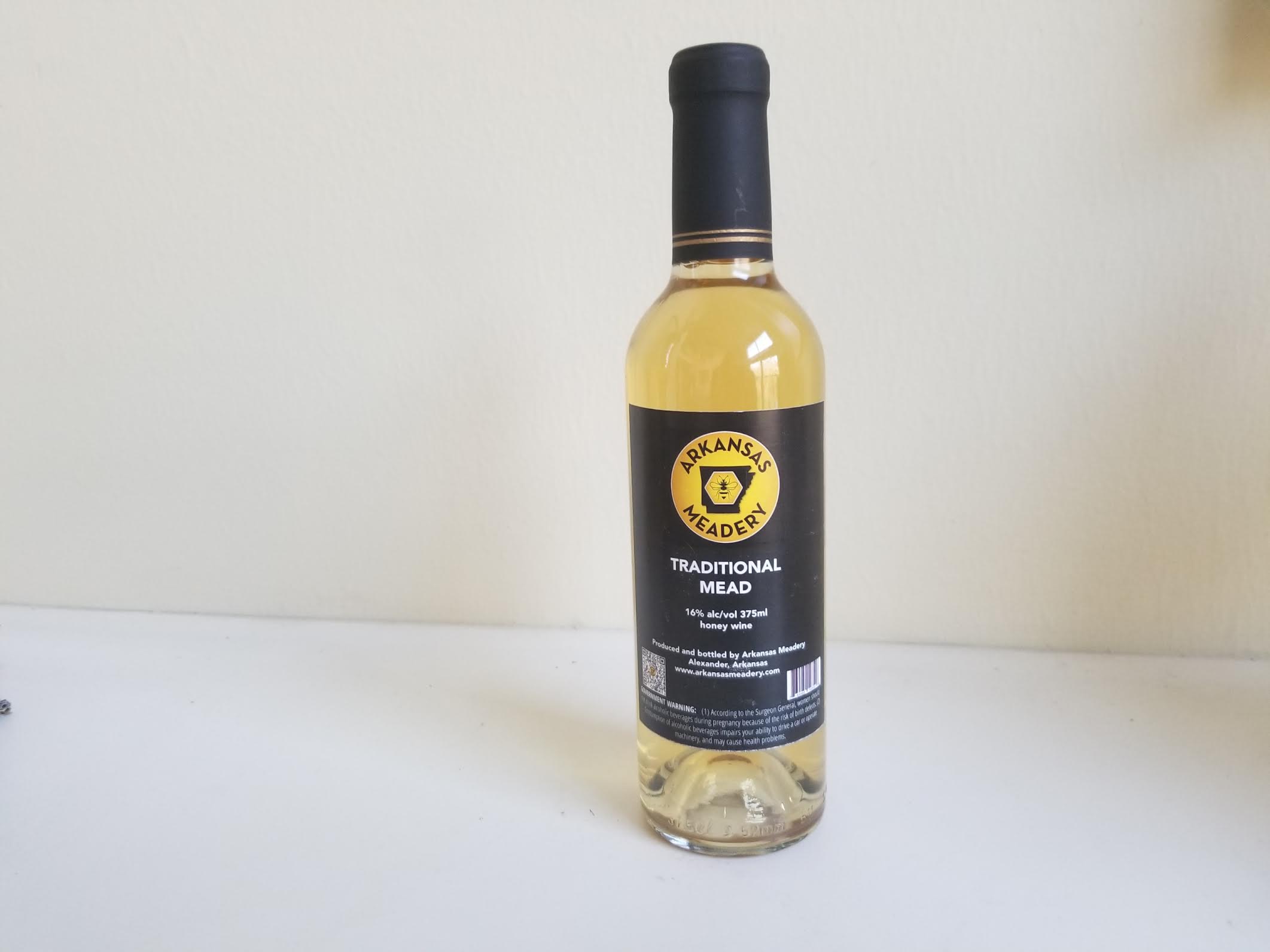 Fry has a background in brewing beer and making wines. He was a founding member of the Central Arkansas Fermenters and belongs to the American Mead Makers Association. He said a common misconception about mead is that it is all sweet. The mead available from Arkansas Meadery is a traditional dry mead. It has no residual honey sugars left in it and it is recommended to drink it chilled. Honey is the main characteristic of mead and there are many variations of honey.
Arkansas Meadery mead is made with wildflower honey and is 16% alcohol, a higher alcohol content than some other meads. "You can take a mead and bring it down to 8% just by adding water to it at the time of fermentation," said Fry. "You can even carbonate it and also have different ingredients. You can add anything to mead. Technically mead can be anywhere from 6% all the way up to around 20%. Once you get higher than that it is hard for the yeast to live."
One of the reasons Arkansas Meadery is not currently open to the general public is because of Fry's schedule, which includes doing IT work full time in Little Rock. So the meadery, which is located next to his house on his 8-acre farm in Alexander, is a labor of love. Honey is the main ingredient in mead and though Fry has a background as a beekeeper he said it would be difficult to be a beekeeper and own a meadery because beekeeping in itself is so time consuming. "To make one batch of mead I use ⅓ of honey," he said. "When I make around a 120-gallon batch I am using over 400 pounds of honey. That is a lot of honey. It is a very expensive ingredient. There is a reason they coined it liquid gold because it has always been expensive."
Fry doesn't use his bees to make the honey for the mead but he does source bees from an apiary out of Quitman. "He is actually tripling his production because I have done the same thing," he said. "The meadery started in the fall of 2020."
Mead has a culinary aspect to it and can be sweet or not. You can add fruit to it or even ingredients like peppers. If you add cherries and hibiscus it is often called a Viking Blood. If you mix it with grapes (pyment) or other fruit it is often called a melomel. "It changes names because it has the complexity to do a lot of different things with it," said Fry. "There are so many different categories of mead. When you get mead around the 8 to 12% range they call that a short mead. Or a session mead. Or a hydromel because it has more water in it."
As of now, Arkansas Meadery mead is available at certain liquor stores in Hot Springs, Fayetteville, Fort Smith, Cabot and Benton. There are also plans for expanding. Fry takes his mead to sell at various festivals around the state including the Viking Festival and Renaissance Faire in Hot Springs.
"There is just so much about mead that I want people to know," said Fry. "It's not just a drink."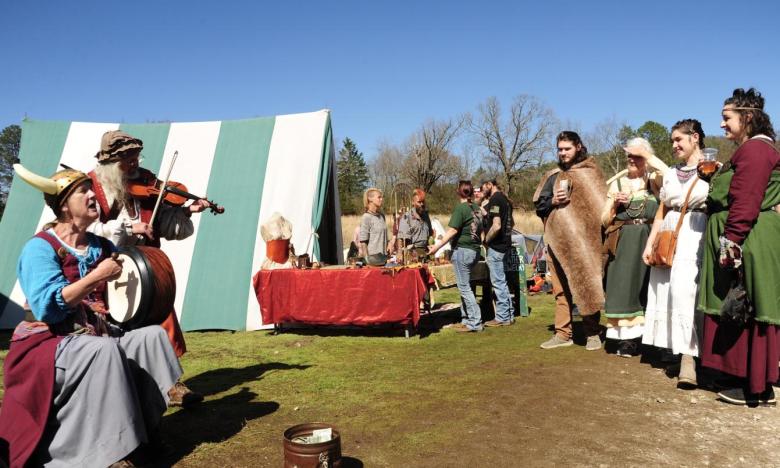 For more information about Arkansas Meadery, visit arkansasmeadery.com.
There is also another meadery in the state called Juniper Tree Meadery in Paragould, which has a tasting room for people to visit.