Arkansas Music Pavilion Tops It Off
The Arkansas Music Pavilion (officially called Walmart AMP for its founding sponsor) held a topping off ceremony today, meaning we are that much closer to enjoying fabulous music at this fantastic new facility in Rogers.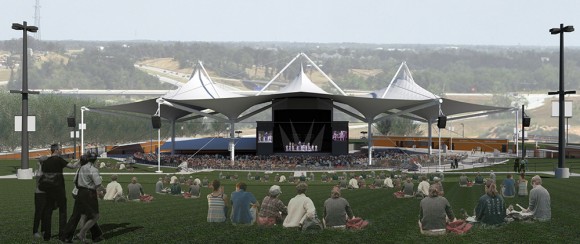 The AMP will be the largest permanent outdoor amphitheater in the state, providing even more arts, entertainment and economic development throughout a region growing with cultural opportunities. The new venue positions northwest Arkansas as a key stop on concert tours in the mid-south. It will be a fun and comfortable concert-going experience.
Construction on the new amphitheater at Pinnacle Hills in Rogers began last October and despite weather challenges, the project is still on-track to be open in June. [For real-time video footage of the construction, click HERE].
The AMP got its start in Fayetteville and was purchased by the Walton Arts Center in February 2011. The move to Rogers is part of its expansion strategy to meet the growing demand for more arts and entertainment in the region.
The new amphitheater will have strong technical capabilities, improved access, an increased seating capacity of 7,000, (3,000 covered and 4,000 lawn seats), greater sightlines, air-conditioned restrooms, and the largest stage house in the state—all set in a vibrant commercial district with restaurants, shopping outlets and hotel accommodations.
Walmart's gift of $2.5 million in capital investments along with additional support and services over the next 10 years will ensure the success of the Walmart AMP. Walmart joins the Lifetime Founders, Johnelle Hunt who donated the land and $3 million interest-free loan as well as the Willard and Pat Walker Charitable Foundation who donated $2.5 million—these gifts include naming rights for the Hunt Pavilion and Walker Plaza, respectively.
Coming to AMP
June 20
Darius Rucker and special guest Pat Green
Rucker first attained multi-platinum status as the lead singer and rhythm guitarist of Hootie & the Blowfish, but re-introduced himself to the world as a country artist several years ago. In 2008, he released the album Leave to Live; the album's first single, "Don't Think I Don't Think About It" made him the first African American with a Number One country song since Charley Pride in 1983. It was followed by two more chart-topping singles, earning him the New Artist award from the Country Music Association.  Most recently, Rucker earned the 2014 Grammy Award® for Best Country Solo Performance.
In addition to Rucker, Grammy Award-nominated Pat Green will perform. The Texas native is known for his chart-topping songs, including the popular single "Wave on Wave," and has more than a dozen national top 40 singles to his name. Nashville-based band A Thousand Horses, known for their southern rock sound, will also perform.
July 7
The tour will mark the first time that Willie Nelson and Family & Alison Krauss and Union Station featuring Jerry Douglas have shared the stage together. The two groups' unique personalities combined with impeccable musicianship and decades of award-winning songs are sure to create a show full of unforgettable moments.
Aug.3
Steve Martin and The Steep Canyon Rangers featuring Edie Brickell announced upcoming spring and summer tour dates today. The Grammy Award-winning collaborators will bring their celebrated live show to major cities across the nation.
Sept. 11
For chart-topping vocalist Jake Owen, 2013 was filled with golden times; earning his fourth consecutive #1 with "Anywhere With You," drawing a crowd of over 20,000 for a Nashville summer block party, releasing his new album DAYS OF GOLD, crossing over one million Twitter followers and touring with Jason Aldean.