Arkansas New Play Festival Lineup
On the heels of the inaugural Bentonville Film Festival comes the premier celebration of new works for the American stage with the Arkansas New Play Festival set for June 18-28 at Walton Arts Center's Nadine Baum Studios in Fayetteville.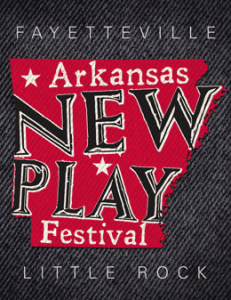 TheatreSquared (T2) Artistic Director Robert Ford and Executive Director Martin Miller recently revealed the festival lineup, which includes five plays that will be developed over three intensive weeks with playwrights in residence at TheatreSquared. The works are then performed for the public over two weekends in June.
"It'll be a rich and exciting festival," said Ford. "Every kind of comedy from low brow to high, plus some sharp social commentary. Scripts that are still in their infancy. Another that's already slated for off-Broadway. And an amazing group of actors, directors and playwrights."
Works selected for development include Uncle, the newest play by Pulitzer Prize and Tony Award nominee Lee Blessing; The Quest for Don Quixote, a new adaptation by Mark Brown (Around the World in 80 Days); Dust, by Sundance Fellow and Arkansas native Qui Nguyen; Fault, by T2 Artistic Director Robert Ford; and The Dingdong: Or, How the French Kiss, Mark Shanahan's new adaptation of the classic Feydeau farce, slated for its off-Broadway premiere in 2016.
"Every performance is followed by a talkback with the playwright and the team of artists staging the work," said Miller. "This is our audience's, and our region's chance to help directly shape each of these high-profile plays before they take the world's stage."
Special performances at the 2015 festival include the Arkansas Young Playwrights Showcase, featuring 10-minute plays by Arkansas high school students (Saturday, 6/27, 5 p.m.). Also, the 9th annual 24 Hour Play-Off pits teams of artists against each other to come up with the best original 10-minute play with just 24 hours to write and rehearse (Sunday, 6/21, 6 p.m.). Applications for Play-Off teams are accepted at theatre2.org.
Additional performances will also be staged at the Arkansas Repertory Theatre in Little Rock on June 27, including Dust by Qui Nguyen (2 p.m.) and Uncle by Lee Blessing (7 p.m.). Tickets will be on sale via the Arkansas Repertory Theatre at 501-378-0405 or therep.org.
Passes, granting early access to all performances and events in Fayetteville, are on sale now for $40 via Tickets Northwest Arkansas at 479-443-5600 or online at theatre2.org. Single tickets for all events range from $7-$15 and go on sale soon. Passes grant access to all performances, including special events and an opening reception catered by Table on the Hill.
TheatreSquared is Northwest Arkansas's only year-round professional theatre, offering a unique audience experience in its intimate 175-seat theatre at Walton Arts Center's Nadine Baum Studios. In 2011, TheatreSquared was recognized by the American Theatre Wing, founder of the Tony Awards, as one of the nation's 10 most promising emerging theatres.
Festival Lineup:
Opening Reception- June 19 at 6:30 p.m.
FAULT by Robert Ford; directed by Amy Herzberg — In the aftermath of a severe quake along the New Madrid Fault, Gabriel Baptiste, star safety for the Pittsburgh Steelers, defies a government quarantine and returns alone to his family farm in the Arkansas River Valley. Discovered by a scientist with secrets of her own, he's drawn into a dangerous game of mutual recrimination. This new work by T2 Artistic Director Robert Ford will receive its world premiere production in TheatreSquared's 2015/16 season. Staged Reading: June 19 at 7:30 p.m.
DUST by Qui Nguyen — Spanning Ho Chi Minh City to El Dorado, Arkansas, Dust is the story of Thuy, a girl who sets out to find her ex-G.I. father—who has kept her existence a secret from his wife for 16 years. Blending live hip-hop, raw emotion and wry wit, Dust recasts the American dream through the eyes of an Amer-Asian teenager in this redemptive, cross-cultural coming-of-age story. The newest work by Arkansas native Qui Nguyen (2014 Sundance Institute Fellow). Staged Readings: June 20 at 2 p.m. and June 28 at 7:30 p.m.

THE DINGDONG: OR, HOW THE FRENCH KISS by Georges Feydeau, adapted by Mark Shanahan; directed by Morgan Hicks — Vatelin is a faithful husband – mostly. Lucy is a faithful wife – kind of. But their "fidelity" is about to be put to the test when a series of importunate suitors and femmes fatales invade their cozy little world. Dive headfirst into the misadventures of one madcap night in a Parisian hotel in this new adaptation of Feydeau's classic farce, and discover how opening the wrong door in the dark of night can lead to mayhem, laughter, and a few unlikely revelations about the secret to a happy marriage. Staged Readings: June 20 at 7:30 p.m. and June 26 at 5 p.m.
UNCLE by Lee Blessing; directed by Shana Gold — From Pulitzer Prize and Tony Award nominee Lee Blessing (A Walk in the Woods), comes a comedy about an academic sabbatical gone terribly awry. Dr. Paul Waymiller is facing a "publish or perish" deadline on his book about Chekov's masterpiece, Uncle Vanya. With his career in the balance, he refuses to be distracted by anything—be it his imminent divorce, Vanya himself, or the interdimensional wormhole that's opened up in his backyard. Staged Readings: June 21 at 2 p.m. and June 28 at 2 p.m.
THE QUEST FOR DON QUIXOTE adapted by Mark Brown from Miguel de Cervantes; directed by Mark Shanahan — Playwright Ben Eisenberg sits in a Starbucks, just one day before his epic adaptation of Don Quixote begins rehearsal. There's just one problem — he hasn't written it. His agent is apoplectic, the advance is long since spent, and adapting a 1000-page Renaissance adventure is beginning to feel a bit like, well, tilting at windmills. But then—whether from a stroke of genius or a near-lethal dosage of caffeine and Xanax—Starbucks itself begins to transform, and the errant knight arises in this delightfully theatrical, hilarious retelling of Cervantes's classic tale. Playwright Mark Brown's adaptation of Around the World in 80 Days (T2, 2014) was one of the nation's top-produced titles in 2014. Workshop Production:  June 25 & 26 at 8:00pm, June 27 at 2 p.m. & 8 p.m.