Arkansas' Greatest Hits: A Road Trip Playlist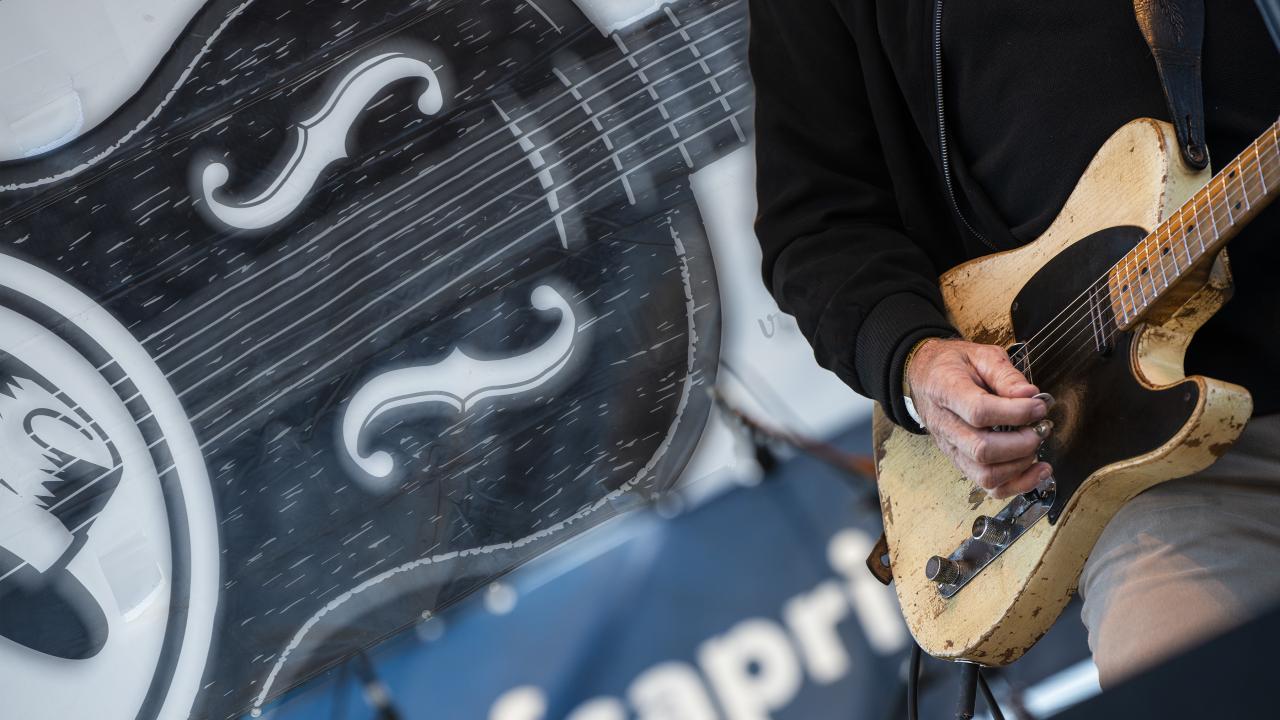 Driving through The Delta is a different experience than traveling over The Ozarks. Each region in Arkansas has a distinct sense of place and its own sound.
We've compiled some of these sounds into a road trip playlist to accompany you on your journey across The Natural State. Read the liner notes to learn more about each song and each musician born and raised in Arkansas and possibly inspired by the landscape right outside of your window. All of these musicians are members of the Arkansas Entertainers Hall of Fame Museum in Pine Bluff.
Johnny Cash
"Wanted Man"
Born in Kingsland, Johnny Cash is Arkansas' golden boy and our wild child; he always went his own way and grew up to become The Man in Black. We chose this song (co-written by Bob Dylan), because, much like this "Wanted Man," wanted in cities and states across the country, Johnny Cash found a place in music history and in the hearts of music fans all over the world. While his career took him everywhere, we'll always get to claim him. Learn about his early life in Arkansas at the Historic Dyess Colony Johnny Cash Boyhood home in Dyess.
Ronnie Hawkins
"Southern Love"
Known as "The Hawk," Ronald Cornett Hawkins was born in Huntsville. He formed his first band in high school and became known for his wild onstage antics. Finding success on the rockabilly circuit in Canada, Ronnie put together a band that would eventually become The Band, featuring Arkansas native Levon Helm, Rick Danko, Garth Hudson, Richard Manuel and Robbie Robertson. "Southern Love" sounds like a hot summer night in the South.
Patsy Montana
"I Want to Be a Cowboy's Sweetheart"
Born Ruby Blevins in 1908 in Beaudry (Garland County), Patsy Montana is best known for her 1934 self-penned hit, "I Want to Be a Cowboy's Sweetheart," the first million-selling single by a female artist. Her yodeling and guitar-picking perk us right up on a long drive.
Louis Jordan
"Is You Is or Is You Ain't My Baby"
Brinkley native Louis Jordan is credited as being the "Father of R&B" and the "Grandfather of Rock 'n' Roll." The vocalist, saxophonist and band leader studied music under his father, a brass band leader. Jordan's mother passed away when he was a young boy, so he joined his father on the road in a professional traveling show performing at churches, picnics and weddings. Jordan would go on to form his own band, Tympany Five, and pioneer the "jumpin' jive" style of music. During the 1940s, he and his band dominated the charts, changing American popular music.
Sister Rosetta Tharpe
"Strange Things Happening Every Day"
A native of Cotton Plant, Sister Rosetta Tharpe is one of gospel's first stars. At age 6, she began performing with her mother in church. A talented vocalist, it was her natural ability on guitar that earned her the bill of "a singing and guitar-playing miracle." The Rock and Roll Hall of Fame says without Sister Rosetta as an inspiration, Elvis Presley, Little Richard, Jerry Lee Lewis, Johnny Cash and other rock and roll originators would have had different careers. In fact, she was the first person to put 14-year-old Little Richard Penniman onstage.
Sonny Burgess
"We Wanna Boogie"
Born in Newport, Albert Austin "Sonny" Burgess was one of the original rock and roll artists for Sun Records. With his band, The Pacers, he had hits like "Red Headed Woman" and "We Wanna Boogie." More popular than their records were their live shows. They got their start on the Newport club circuit along Highway 67 (now the Rock 'N' Roll Highway) with the likes of Johnny Cash, Elvis Presley, Roy Orbison and Jerry Lee Lewis. Stories and sounds from this heyday are preserved at the Rock 'N' Roll Highway 67 Museum in Newport.
*Glen Campbell played a supporting role in the 1969 film True Grit, which was based on a novel written by fellow Arkansan Charles Portis. He also sang the title song, which was nominated for an Academy Award.
Al Green
"Here I Am (Come and Take Me)"
One of Arkansas' most beloved soul singers, Al Green was born in Forrest City and grew up in a large family that sang gospel music. His family relocated to Michigan where his music career began in his teenage years. A move to Memphis led to a deal with Hi Records and chart-topping hits like "Tired of Being Alone" and "Let's Stay Together." After years of fame and fortune, he found his way back to the church and to his gospel roots. The Reverend Al Green lives in Memphis and serves as pastor of his church.
Levon Helm
"Poor Old Dirt Farmer"
Mark Lavon ("Levon") Helm was born in Turkey Scratch near Marvell. He grew up working on his family's cotton farm, taking his lunch break at 12:15 p.m. to listen to King Biscuit Time. The sounds of Sonny Boy Williamson and Muddy Waters inspired him at a young age. Levon started playing guitar at age 6 and drums by 8. At 17, Ronnie Hawkins asked him to join his band, which would later become The Band (without The Hawk). The Band dissolved by 1976. Levon continued to write and record original songs until his death in 2012. In 2017, Hwy. 49 from Marvell to Helena-West Helena was designated as the Levon Helm Memorial Highway.
*In 1994, Levon Helm was inducted into the Rock and Roll Hall of Fame as a member of The Band.
Glen Campbell
"Wichita Lineman"
Born near Delight (Pike County), Glen Campbell received his first guitar at 4 years old and made public appearance by age 6. It was with his guitar that he would become one of the premier session guitarists of his time and go on to find solo success, selling millions of recordings, most notably "Rhinestone Cowboy" and "Wichita Lineman."
Charlie Rich
"Feel Like Going Home"
From the small town of Colt, Charlie Rich grew up on church music. In 1957, he signed with Sun Records and, by 1960, cracked the charts with "Lonely Weekends" and eventually "The Most Beautiful Girl," number one on the pop and country charts in 1973. From gospel to country to jazz to pop, Charlie Rich could take any song and deliver it with soul. According to Sun Records founder Sam Phillips, the Arkansas-born piano-player was among the most profound artists he had ever recorded.