Arkansas State Parks in Autumn
Arkansas State Parks are fun to visit year round with their hiking and mountain biking trails, playgrounds, campgrounds, swimming pools and wildlife. In autumn they rise to the occasion with leaves turning gorgeous hues of orange, red, and yellow, and programs that celebrate the harvest season. Here are some upcoming park programs for kids taking place in October in Northwest Arkansas.
Autumn in Arkansas
9 a.m. to 5 p.m., Saturday, Oct. 18
Lake Dardanelle State Park, Russellville
Days are getting shorter and nights are getting cooler. The leaves are bright with color and plenty of wildlife can be seen preparing for the coming cold. Visit Lake Dardanelle State Park to explore what makes this time of year so special. All ages are welcome to join enjoy the fun fall festivities to celebrate the bounty of the year and the changing of the seasons.
Admission: Free
Haunted Night on the Battlefield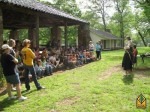 7 p.m. to 10:45 p.m., Saturday, Oct. 25
Prairie Grove Battlefield State Park, Prairie Grove
The event will include a self-guided tour of informational booths and a historical scene around the Borden House area. Visitors will find stations that focus on different aspects of the history of the battle, folklore, and findings uncovered during research. There will also be local paranormal investigator booths. You can still take a walk around the park trail… if you dare.  Free kettle corn and hot cider will be served. Parking is available at the east Borden House entrance.
Admission: $2 for adults; $1 for kids
After Dark in the Park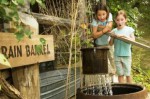 7 p.m. to 9 p.m., Friday, Oct. 31
Ozark Folk Center State Park, Mountain View
Storytelling, a costume contest, eerie music, and old-fashioned fun. Join park staff for a safe and family-friendly Halloween option.
Admission: Free
Halloween Fun at Petit Jean
Friday, Oct. 31
Petit Jean State Park, Morrilton
Celebrate the "spooky season" on Petit Jean Mountain with family-friendly nature activities. Costumes are welcome. Admission: Free