Arkansas State Parks Lands Special Coffee Blend
Did you know Arkansas State Parks has their own coffee blend? They do! The roast is called 'A Taste for Adventure' and it is a medium/dark roast blend of Arabica Rwanda coffee created by Westrock Coffee of North Little Rock.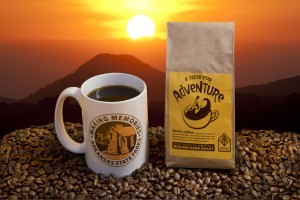 You can find it at all park restaurants and overnight guests in park lodges and cabins will find it in their rooms. Some state park gift shops also carry the blend.  Some might not associate the Republic of Rwanda with coffee, but in fact Africa is where the coffee bean originated. With volcanic soils, abundant rainfall and high altitude mountains, Rwanda has some of the best coffee-growing conditions in the world.
There is also a strong local connection to the coffee. Scott Ford, former CEO of Little Rock's Alltel Corporation, founded Rwanda Trading Co. a few years ago and created Westrock Coffee Holdings, which owns many African coffee companies. They are Rwanda Trading Co., which buys coffee from Rwandan farmers and sells it to roasters; Westrock Coffee, the local coffee roasting and packaging company that began roasting Rwandan coffee in 2010; and Tembo Coffee Co., a coffee-exporting business in Tanzania.
I love coffee so am looking forward to trying it out. If you have had a chance to try it  let me know how it is! For more details, contact Joe Jacobs at 501-682-6923 or [email protected]