Arkansas's Fall Color Season is a Sight to Behold
The annual changing of leaves from green to red, yellow, orange, gold, and burgundy is an eagerly awaited event by both Arkansans and visitors.  As any Arkansas fall color aficionado can tell you, however, this is subject to change without notice. To help fall foliage fans everywhere, the Arkansas Department of Parks and Tourism has a network of spotters around the state tracking the changes weekly.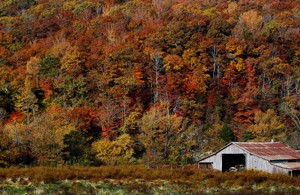 ​
Also on the web page are suggested routes for best scenic viewing, fall events and festivals, along with deals and coupons. Don't forget while you're out color cruising to stop at a roadside produce stand, pumpkin patch or other autumn adventure.
​
Gas up the car, motorcycle or RV – whatever is your favorite mode of transportation, get yourself an Arkansas Vacation Planning Kit, and hit the road to discover one of America's most beautiful destinations in autumn….Arkansas. When you're out and about, take your camera along and capture some of your favorite Arkansas fall color locations, then share them on the Arkansas State Tourism Facebook page.
​