Artosphere Festival Full of Kids and Family Events
Get ready kids, because bike ride concert tours, theater and more are part of the fun that make up the annual Artosphere Festival in northwest Arkansas. Music, visual art and kids and family events are performed all over the region throughout May and June.
The mission of Artosphere: Arkansas' Arts and Nature Festival is to celebrate artists, influenced by nature, who inspire us to live more sustainable lives.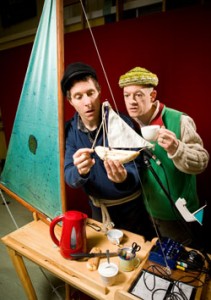 Now in its 4th season, the Festival spans two months, and features the acclaimed Artosphere Festival Orchestra under the baton of Corrado Rovaris, the signature Trail Mix Concert Tours, children's theater, modern dance, visual arts installations and more.
Two shows that are perfect for kids and families are "Boats" by Terrapin Puppet Theatre and "Grug" by Windmill Theatre.
"Boats" offers three shows on Saturday, May 11 at 10 a.m., noon and 2 p.m. in the Starr Theater of the Walton Arts Center. It's best for ages 7 and older. Tickets are only $5. This performance follows two mariners after bizarre circumstances involving a chicken, a deserted island and a sombrero draw them together. The show has live sound effects, acrobatics and a moving story that will leave a lump in your throat.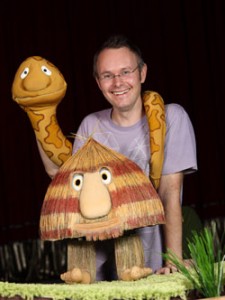 "Grug" also offers three shows on Saturday, May 18 at 10 a.m., noon, and 2 p.m. in Baum Walker Hall at Walton Arts Center. Best for ages 1-6, this show is based on the picture book by Ted Prior. This performance follows Grug – an odd sort who resembles a striped haystack with a face – as he finds fascination in the world around him and solves everyday problems creatively and without fuss. Tickets are $5.
"Artosphere is presented by Walton Arts Center, headquartered in Fayetteville, but takes place at multiple indoor and outdoor venues throughout Northwest Arkansas. Surrounded by the lush natural beauty of the Ozark Mountains, the Buffalo River National Park and hundreds of caves, lakes, bluffs and valleys, Artosphere invites audiences to reflect on the beauty of our natural world, hear from artists who are exploring themes of arts and nature, and connect on a more personal level with the issues of sustainability today.
"Thanks to the generous support of local corporations, foundation and individuals, Artosphere's programming is mostly free or low-cost, and is programmed to offer new audiences a chance to experience the arts in a friendly and fun environment. We envision Artosphere growing into a premier spring destination festival, attracting visitors from around the world and helping to increase the vitality of the arts community in Arkansas and the Mid South," according to the WAC website.
To learn more about Artosphere or for a complete listing of events, click here.