Arts & Nature Festival in NWA
Artosphere is an Arts and Nature Festival with activities and interests for all ages.  It includes kids and family events, movement, visual arts and music performed throughout May and June in northwest Arkansas.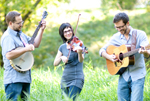 The festival goal is to celebrate artists, influenced by nature, who inspire us to live more sustainable lives. That translates to awesome events such as riding your bike to concerts on a trail and enjoying the summer solstice. All kids and family events are free or low cost to ensure the arts are accessible to the entire community.
Click here for a list of Artosphere events and keep reading for some upcoming kids and family events that you won't want to miss!
Trail Mix Concert Tour – Sunday, June 1
1 p.m. to 3 p.m., Crystal Bridges Trail, Bentonville
5 p.m. to 7 p.m., Frisco Trail, Fayetteville
FREE
The annual Artosphere Trail Mix Concert Tour features live music and art on local foot and bike trails. This year's artists include: Artosphere Festival Orchestra Ensembles, Street Drum Corps, Candy Lee & the Sweets, Martha Redbone Trio, Carter Sampson, Smokey & The Mirror, and Cry You One.
Tread Lightly 5K & 1 Mile Family Fun Walk – Saturday, June 7
8:30 a.m., Veterans Park, Lake Fayetteville, Fayetteville
$10-$25 with online registration required
Hosted by EcoPotential NGO, the 2nd Annual Tread Lightly 5K Run and 1 Mile Family Fun Walk strives to remove roadblocks to sustainability by donating at least 80 percent of the net proceeds from the event to help fund a sustainability project for a Northwest Arkansas school. Event participants will vote on which school receives the money. Packet pickup is at 8:30am. The 5K Run starts at 9:30 a.m. and the 1 Mile Fun Walk starts at 10 a.m. An awards ceremony will follow at 11 a.m.
Summer Solstice Event, Saturday, June 21
6:30 p.m. to 10 p.m., Crystal Bridges Museum of American Art, Bentonville
FREE
Explore James Turrell's seasonal artwork, The Way of Color, which is a Skypace chamber designed to view the sky's cyclical time and the atmosphere's unique color patterns. Embrace an experiential play on art and science with a mesmerizing concert presented by Downtown Bentonville's Notes at Night series, and an "Astronomical" spoken word performance by Houston Hughes and friends at sunset. Both adults and children can try their hand at colorful art-making projects, or telescope star-gazing into the late evening. Cash bar and concession stand available for the drop-in program.