Balloons Over RussVegas
Balloons Over RussVegas, featuring hot air balloons, skydivers, music and food, takes place this weekend, May 1-3, at the Russellville Soccer Complex.
The Balloon Festival Network will bring 20 hot air balloons to the event. There will also be a team of skydivers, powered parachutes, concerts, a dog walk, food, and vendors to enhance the fun.
From 5 p.m. to 9 p.m. on Friday, May 1, you can pay $15 per person for a tethered balloon ride, plus enjoy the other festival entertainment. Helicopter rides by Arkansas Helicopters, Inc. will be available beginning at 3 p.m. at The Center for the Arts and all day Saturday, May 2, at the Soccer Complex.
A concert starring Mickey Gilley and featuring Johnny Lee takes place at 7 p.m. The "original Urban Cowboys" will perform at The Center for the Arts, located at 2209 S. Knoxville Ave. Click here for more information or to purchase tickets.
On Saturday, May 2, balloons are in flight bright and early at 7 a.m. Twenty balloons from six states will hold competitions in the air.
At 9 a.m. Zane's Flying Circus puts on an aerial display featuring Powered Parachutes in formation and competition. A powered parachute is a parachute with a motor and wheels.  The aircraft's airspeed is typically about 25 – 35 mph and can fly at tree top level or at altitudes as high as 18,000 feet.  However, typical operating heights are between 500 – 1,500 feet.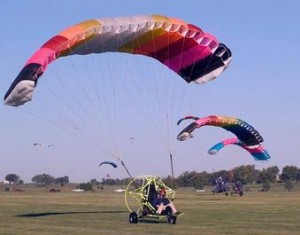 A limited number of rides will be available to the public with no advanced reservations taken. You can sign up for a tandem skydive or fly in a powered parachute from 10 a.m. to 5 p.m. Tandem skydives at the cost of $250 per person, take off from the Russellville airport.
Of course, you can always just watch the thrill seekers if you prefer to keep your feet on the ground. You'll find live entertainment on stage all day Saturday.
Have a dog? Take part in the Charity Dog Walk at 10 a.m. on a one-mile trail. Walk with your dog to benefit the animal charity of your choice.
Tethered balloon rides will be offered again from 5 p.m. to 9 p.m. No reservations required.
Advanced reservations are required for the May 2 and 3 hot air balloon flights. There is limited availability to fly in one of the 20 balloons at 7 a.m. each morning. The cost is $250 per person. You will meet just before sunrise and help the pilot and crew inflate the balloon. Flight time in the air is approximately 45-60 minutes, but actual length may vary based on the wind direction, landing opportunities, and weather. After landing and deflating the balloon, the pilot will perform the traditional initiation for first-time flyers, which includes the "Balloonist's Prayer" followed by a champagne ceremony.  Then you will return to the soccer complex with the pilot and crew in their chase vehicle. Allow at least 3 hours total time for the entire experience from start to finish.
Each balloon can carry between 2 and 5 passengers, depending on the size of the balloon and the weight of the passengers. You will need to provide your weight and age when making a reservation.  Anyone under 18 years of age must be accompanied by a parent or guardian.  Passengers must weigh less than 240 pounds.
Book your flight online, or by calling Balloon Festival Network, Inc., at 417-336-6060. For more information about the Balloons Over RussVegas, visit the website www.balloonsoverrussvegas.com.