Barbecue in the Fall: It Doesn't Get Much Better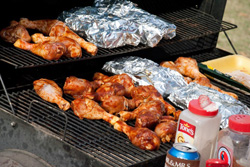 Any Southerner will tell you barbecue is year-round but there's something special about enjoying it in the fall.  The cooler temperatures meld nicely with the wonderful aroma of pork, beef, chicken, sausage and who knows what else, as it cooks.
On Oct. 19 Little Rock's beautiful MacArthur Park provides a picturesque setting to enjoy great barbecue and a beautiful fall day in The Natural State during the 6th annual B Street Rib Off.
The cooking competition features ribs, chicken and side dishes. The public gets to be the judge on the side dishes with a $5 donation. Festivities begin at 8 a.m. with judging of chicken at 3 p.m. followed by the winners of the rib competition at 4 p.m. Proceeds from the event benefit the Arkansas Chapter of the American Cancer Society.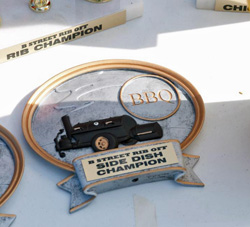 A new addition this year is a raffle offering such prizes as fine art from local artists, barbecue dinners, barware, gift cards, men's clothing, gift baskets, and autographed sports memorabilia. Tickets may be purchased from any board member; drawings will be throughout the day on the 19th.
"The B. Street Rib Off is here again and we, at the American Cancer Society, are so grateful for the cooking teams who continue to support our mission to finish the fight against cancer. I would like to encourage everyone to come out and fill up on some delicious food while supporting the American Cancer Society's mission of helping people stay well, get well, finding cures and fighting back!" said Sherri Jones, American Cancer Society Executive Director in Central Arkansas.
Photos this page courtesy Chris Friemel