Many people travel with their dogs while on vacation or when out and about doing errands and such. I sometimes take my dog with me on the road while on assignments. He loves to be along for the ride!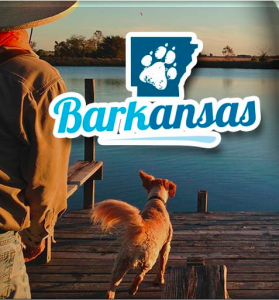 However, during the summer months traveling with your pets takes on an extra level of planning due to the summer heat.  As many know (and can feel), it can get pretty hot and humid in Arkansas during this time with heat advisories that pop up across the state. In light of this, we wanted to share a few quick tips on how to keep your dog safe when traveling with him or her during the hotter months of the year.
1.  Never leave your dog in the car, even with the windows rolled down or the car running and air conditioner on. Not even for just a minute while you run a quick errand.  Leaving your dog in the car is extremely dangerous for your pup. According to data from the Humane Society, temperature inside a car, even with the windows cracked open, can reach 102 degrees within 10 minutes.
2. If outside, provide access to shade for both yourself and your pup. However, also remember that pavement can get very hot during the day. To prevent the potential of your pets burning their paws on hot pavement, walk with them on dirt or grass.  Also, just like with humans, during the summer it is best to exercise or walk them in the early morning or evening hours to combat the heat.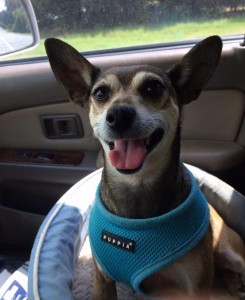 3.  Don't depend on the places you are traveling to or visiting to have water for your pet. Always travel with water and also have a bowl or container on hand.
4.   Some dogs get special haircuts during the summer to help with overheating. My dog doesn't because he has short hair, but my parents' pup does because he has a lot of fur.  This can help with combating the heat. But always check with your vet before taking your dog for a cut because each breed reacts differently. Fur can also provide protection from the sun.
5.  It is summer so you will more than likely be spending a lot of time enjoying the outdoors.  Taking your dog to events can be fun for both you and your dog. However, be aware of logistics beforehand such as crowds and temperature. Crowded places combined with high heat can be stressful to animals and can put them in a dangerous situation. Be aware beforehand of the surroundings you will be exposing your pup to. Though you might want your pet with you, in some circumstances not taking your pet along for the ride might be the best route for his or her safety.
6.   Watch your pet. You know best how your pets may react in situations and how they handle the heat. Each breed reacts to temperature changes differently. If you are out and about with your dog and see anything out of the ordinary regarding  how they normally act, respond right away to avoid a potential dangerous situation.
If you plan ahead, you can safely travel with your pet and enjoy summer experiences that are made more memorable by having them with you. You can find details on pet-friendly attractions, lodgings and restaurants at Arkansas.com. On a side note, there is also a summer Barkansas photo contest going on now that you can enter to win an Arkansas vacation.
Happy travels!