Bayou Bartholomew Water Trail Dedication Set for April 30
Bayou Bartholomew is considered the longest bayou in the world. Lined with cypress and tupelo swamps, it ranks amongst the top bio-diverse streams in North America. It begins nears Pine Bluff and twists and turns 359 river miles before emptying into the Ouachita River near Sterlington, Louisiana.
The route is the newest addition to the Arkansas Water Trails system, where paddlers can take on three small sections of this famous body of water. The trail can be accessed via the Dr. Curtis Merrell Access in Pine Bluff, the Cane Creek Access at Star City, and the Little Bayou Wildlife Management Area Access in Ashley County.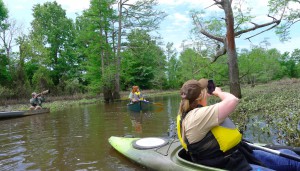 There will be a trail dedication for the Bayou Bartholomew Water Trail on April 30 at Cane Creek State Park at 10 a.m.
According to Kirsten Bartlow, watchable wildlife coordinator for the Arkansas Game & Fish Commission ( AGFC) and director of the Arkansas Water Trails program, after the dedication there will be guided tours of the water trail and both canoes and kayaks will be available for participants to use.
For more details on the trail, check out the maps and details description of the route here.
Happy paddling!