Bella Vista - Northwest Arkansas' premier mountain bike vacation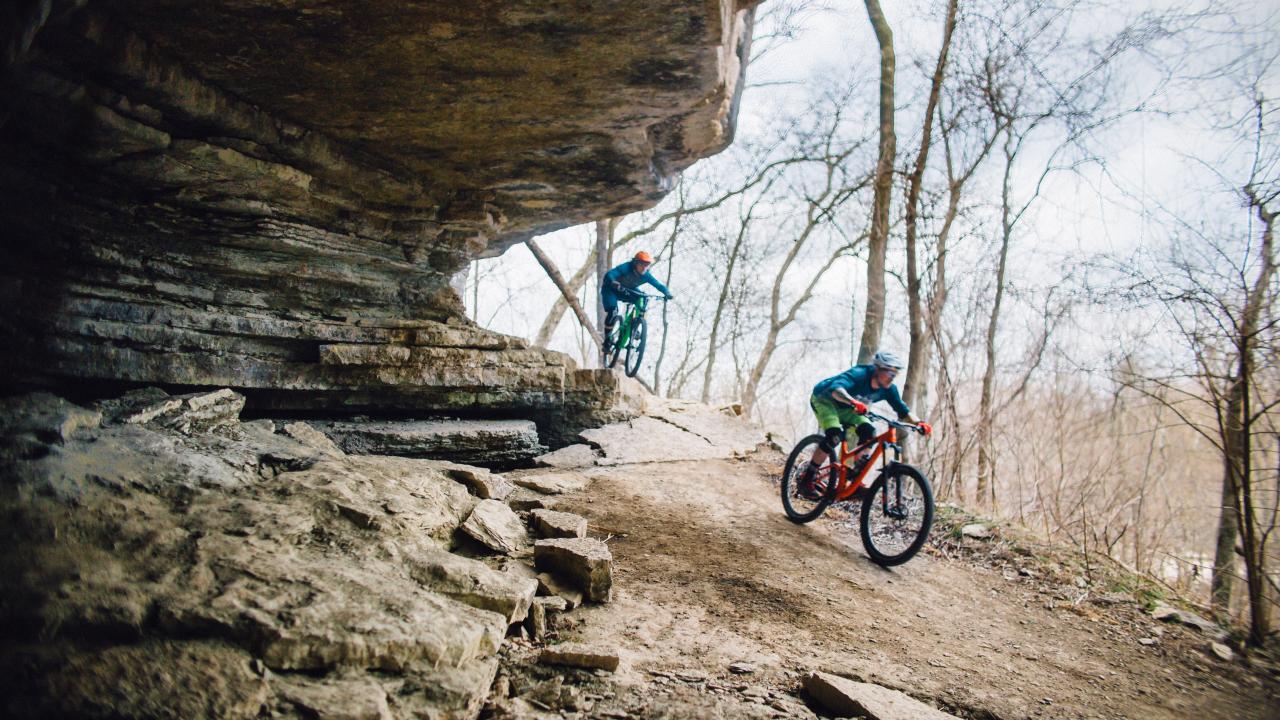 The growing mountain-bike culture in Northwest Arkansas is no secret. With an explosion of trails being built for every skill level, the area is quickly becoming a top destination for mountain bike vacations. While trail riders make their way across the region crushing drops and cruising downhills, they may be unaware that their favorite trails are in Bella Vista. There are almost 100 miles of off-road bike trails within the city's borders, and Bella Vista offers a unique post-ride experience unlike any of the neighboring communities.
Eschewing the traditional overnight accommodations clustered in urban areas, mountain bikers visiting Bella Vista can find themselves in houses big enough to accommodate a group of their closest friends. Trailside access, lake views and wooded surroundings are just some of the features you'll find away from the cookie-cutter hotel rooms.
Picture yourself waking up each morning to a hearty, home-cooked breakfast or enjoying a coffee on the deck at sunrise before a full day of technical, flow and elevation trails. Each evening, you'll experience a peaceful respite from your singletrack thrills as your friends recount the adventures of the day — describing daring descents and last-second decisions to "send it!" You'll exchange stories of rock ledges, overhangs and many other geological features regularly seen on Bella Vista's trails.
Bella Vista's proximity to I-49 gives it easy access to renowned art galleries and award-winning museums, including Crystal Bridges Museum of American Art.
If you're looking for a getaway focused on outdoor cycling adventures with a few good friends and enjoying meals and beverages at the end of the day – everything you need is right here in Bella Vista.
The trails
There are three total trail systems specific to the Bella Vista area. When the 50 new miles of trails currently being built in the central part of the city are completed in late 2019 / early 2020, Bella Vista will make its mark as the only city in the state containing a previously unheard of 100 miles of singletrack. Each system offers tech features, downhill, flowing berms and back-to-the-roots-of-the-sport cross-country riding. There will also be plenty of moments when you feel the need to stop pedaling simply to take in the view.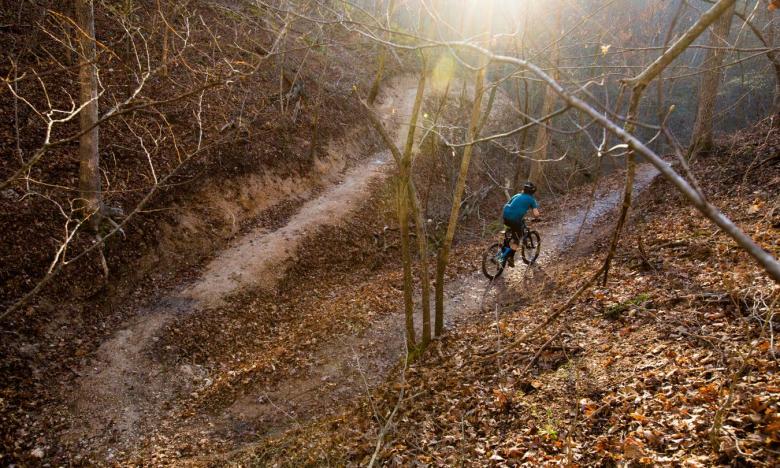 Back 40
The Back 40 System is a loop of 40-plus miles of rollers, bermed switchbacks and doubles – guaranteed to produce post-ride, ear-to-ear smiles. For those who don't want to do the entire 40 miles in one go, there are plenty of cut-throughs for you to plan shorter loops of various distances. You'll also find several parking lots to plan out a shuttle to session some downhill sections if you want to coast a trail or two after a day of hard of pedaling. The complete loop around Back 40 gives riders a stellar mix of tech, flow and elevation, while some of the cut-throughs are built to shred with a hand-full of opportunities to catch air! The more technical paths take you over a hanging bridge cut into a rock bluff and wooden bridges over a waterfall. If you're an advanced rider, the section called "The Ledges" is considered a must-ride. Be warned, this section does have some exposure to heights, and there's no shame in a short push-and-walk over these sections to enjoy the rest of the trail.
Blowing Springs
Out of all the mountain bike trails in Northwest Arkansas, the Blowing Springs Loop is by far one of the most scenic. A seven-mile loop of flowing singletrack fun, Blowing Springs features overlooks, hanging bluff lines and massive moss-covered boulders. But don't let the scenery distract you too much, some of these trails will demand your full attention with rock drops and some technical elements, most of which are on alternative paths off the well-worn main trail. This loop promises a quintessential Northwest Arkansas mountain bike experience, which does include climbs – totally worth the payoff.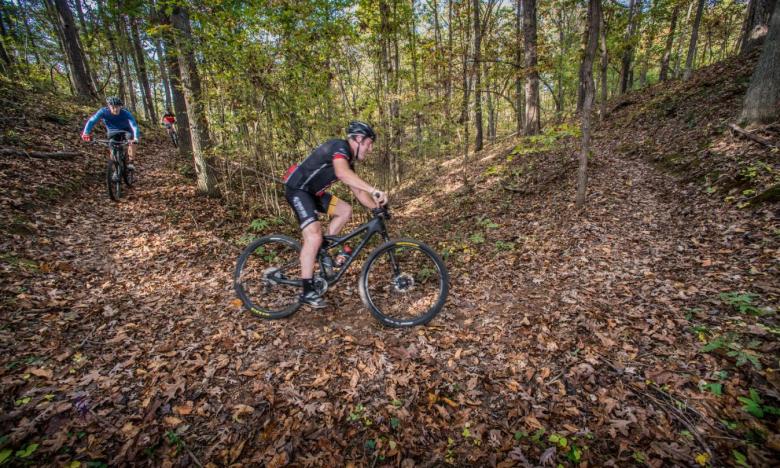 Coming soon
A decidedly more laid-back option compared to other Bella Vista trails, the new system promises some gentler grades and wider paths. But make no mistake – there will be plenty of techy, rocky, gnarly alternate lines to spice up your ride. Most sections will be completed in late 2019, while others will be done in early 2020. When it's all finished, there will be approximately 50 total miles that will traverse over bridges, under expansive bluff lines along a creek and through a series of tunnels – a feature unique to this system. These trails are everything you want in a beginner mountain bike trail, getting new riders excited about the sport with scenic views and mellow grades plus plenty of fun for the experts. Riders of all skill levels will appreciate amazing views of caves, springs and waterfalls unexplored for decades and now accessible to the public.
Bike life, van life & camp life
In addition to plenty of places to stay near the trail with all the comforts of home, there is ample opportunity to experience Bella Vista at "ground level." Or van level. Or RV level. Check out Blowing Springs Park for tent camping and full hookups for RVs. You'll have instant access to the Blowing Springs Loop and Back 40 with picnic areas, waterfalls and most importantly — clean restroom and shower facilities. The area is pet-friendly, so you can bring your furry companions to enjoy a post-ride chill session around the campfire. For those who enjoy their camping less primitive, a tiny cabin called "The Downshift" is available complete with a double bed, small bathroom with shower and some other creature comforts including a small fridge, microwave and coffee maker. Check out availability for this cabin and hundreds of other listings on Airbnb and Vrbo.
Come for the biking, stay for the lifestyle.
Of all the many mountain bike vacations you can take in Northwest Arkansas, Bella Vista offers something a little different. Whether you're looking for intermediate mountain bike trails, something a little more technical or just a place to get out and enjoy the great outdoors on two wheels, there's no better location in the region. Unlike other mountain bike trips, Bella Vista gives you an opportunity for an intimate getaway with family, friends and your bike. You can enjoy as much or as little of the neighboring towns as you'd like.
If your idea of a happy hour is a singletrack trail at the golden hour before sunset, we have just the place for you. For those who prefer paths to pavement and campfire cooking to classy cuisine, the best mountain bike vacation is in Bella Vista.