Best Friends brings community and animals together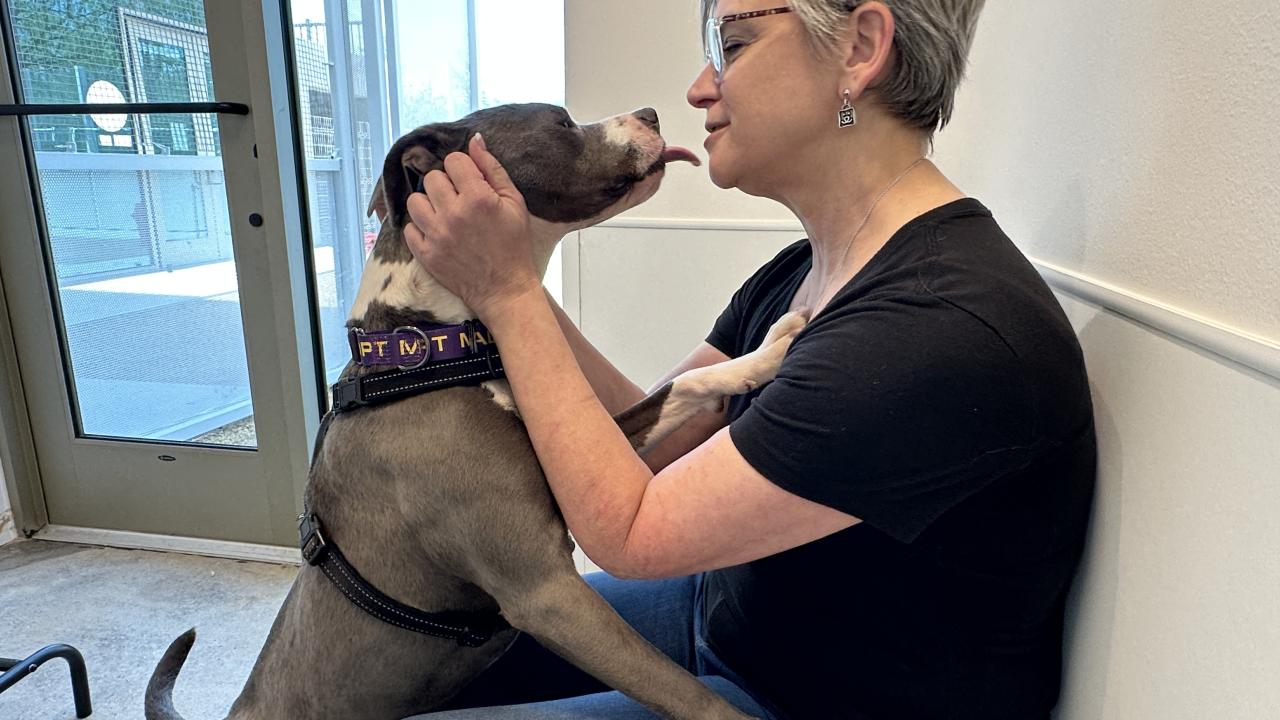 Most people don't think of an animal shelter as a destination unless they want to adopt a pet. Best Friends Pet Resource Center in Bentonville is changing that idea. Its coffee shop, animal petting rooms, slide to the downstairs, tables and chairs, crafts area, comfy couches and free WiFi, have people flocking to the place to hang out or even work remotely.
Best Friends is not only changing the idea of what a shelter facility looks like and offers, but also the concept of how animals are cared for and adopted. It's the first shelter of its kind in the nation to have this unique facility and model for fostering and adoption of cats and dogs.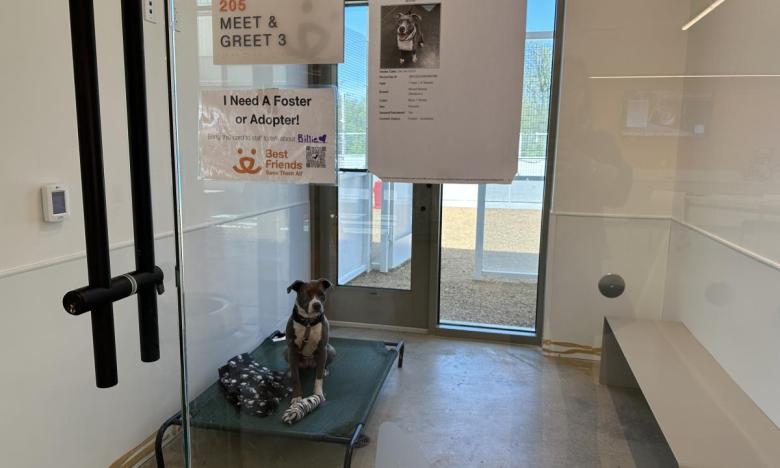 Animal Adoption
The pets that are up for adoption at Best Friends don't live in kennels or cages at the shelter. Instead, they live in homes with foster families. At least, most of them do. Go online to see photos of the animals that need a home. Let the Center know which one you're interested in; then, set up a time to go to the shelter and meet the cat or dog.
Other ways to see the animals include dropping by the facility or attending an adoption event. Some animals are on-site between the time they arrive to when they receive a foster family. Some dogs are also on-site during the day when foster families leave them at the facility for doggy daycare. You can choose to meet one of the adoptable dogs in one of the meet and greet rooms, or take them out to one of the outside dog yards for some playtime. There are also options for taking them for the afternoon or overnight while you consider adoption.
Best Friends has an open adoption policy, meaning they do not check to see if you have a fenced yard or do any kind of home visit. Best Friends has no adoption fee through the end of the year (2023).
Warning! Clicking this link may cause you to adopt a new best friend!
Cat Rooms
Some of the cats do live at Best Friends. Two cats rooms with ledges and cubby holes of all shapes and sizes serve as their playground and cat napping areas. Visitors can go in the rooms to pet and play with them. Some people even pop open their laptops in the cat rooms to work while the cats lounge around them. Each cat room has a back room the felines can escape to if they don't want to socialize with people.
Visitors can also play with the cats through a large viewing window, which has several cat toys on sticks through it that people can move around from the outside for the cats that are inside.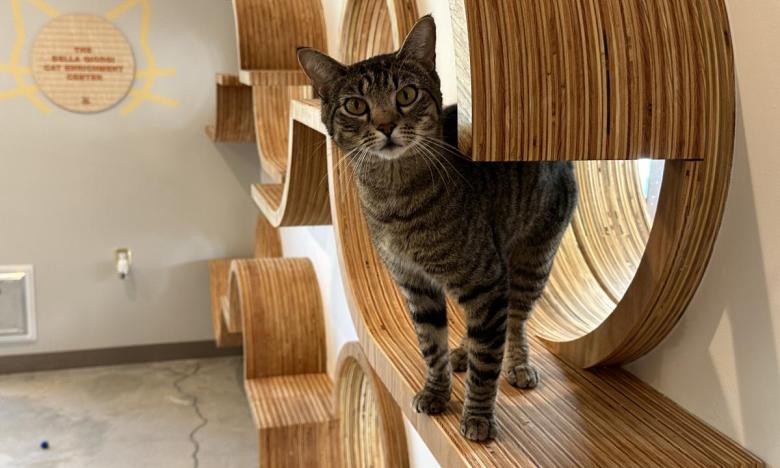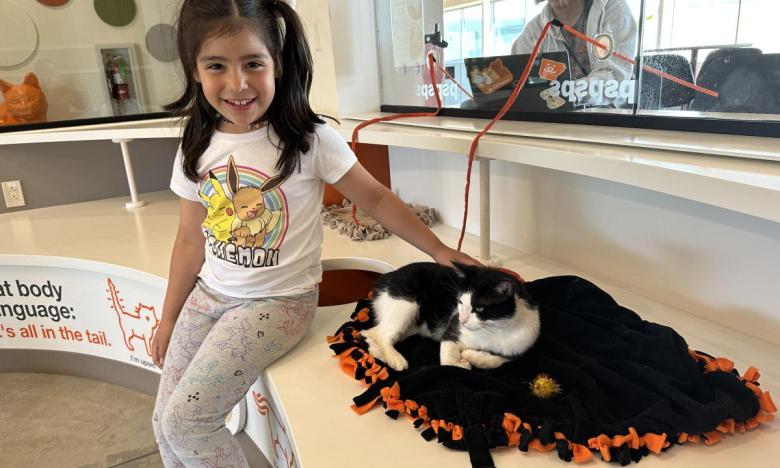 Programs
Best Friends has all manner of programs. Large tables in the crafting area serve children who would like to sit and color while they are there. Craft activities, such as creating a cat scratch board, dog toys or tie blankets, take place here too. Other activities include "knittin' with kittens" where people come in and do just that — sit in the cat room and knit. Book clubs meet here as well as support groups for pet owners, such as one for pet owners of dogs with separation anxiety, for example.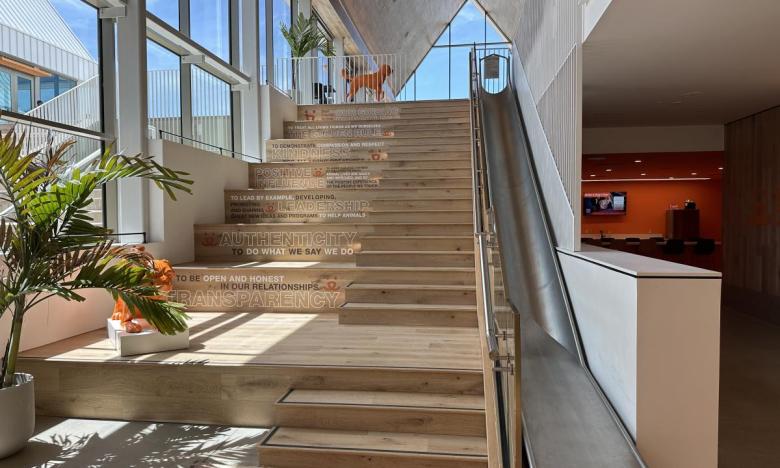 Facility
An unexpected feature of the building is the long, steep slide from the top floor down to the bottom floor. It runs right beside a large staircase. It's open on Saturdays for kids of all ages to enjoy. Also, large orange sculptures, which are tributes to beloved pets, can be found throughout the facility. QR codes on each one tell the story of the animals and their owners.
A self-service bath and grooming center is open to the public. Amenities include raised tubs with gentle spray nozzles, grooming stands with blow dryers, brushes and combs, shampoo, conditioner and towels. Make an appointment at bfas.org/cotton.
The 20,000-square-foot facility also includes a vet clinic. One full-time and one part-time veterinarian provide vital vet care for the animals in the Best Friends program. Other vets work on a volunteer basis and help with needs such as spaying and neutering. The clinic has surgery rooms and areas for pets in recovery from surgery or an illness.
Best Friends sits on about six acres of land that is in the middle of 8th Street Gateway Park, a 100-acre city park under development.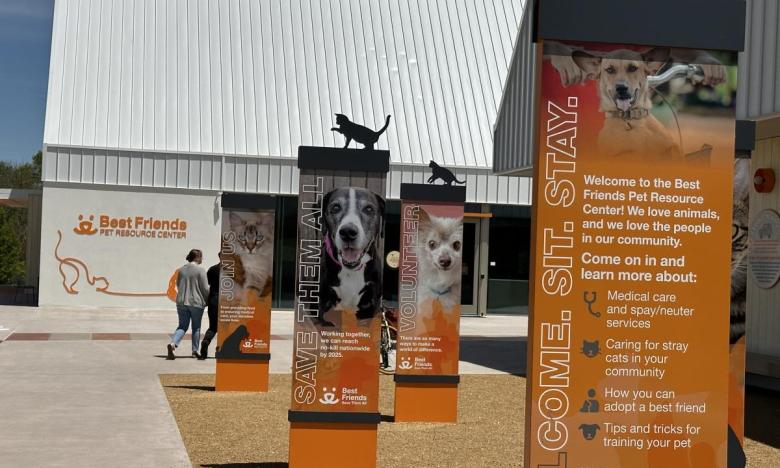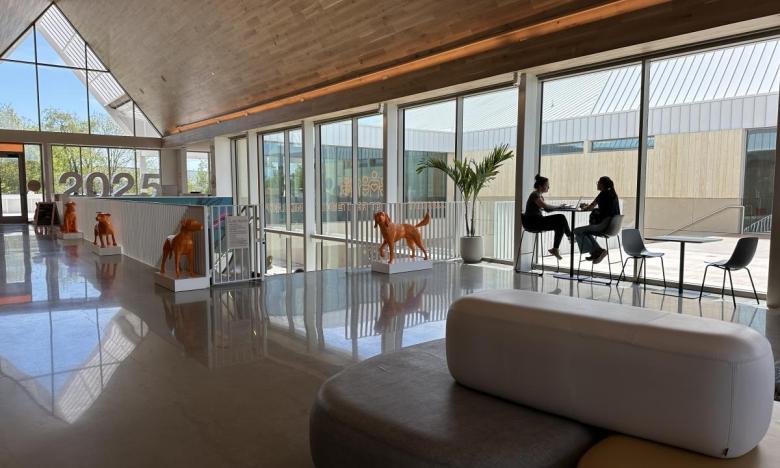 The Third Space
Third Space serves O-Gah-Pah coffee, roasted by the Quapaw nation in Joplin, Missouri. The snacks, smoothies and pastries are all 100% vegan. No animal products are used in the making of any items on the menu. Order at the counter, then sit inside or outside.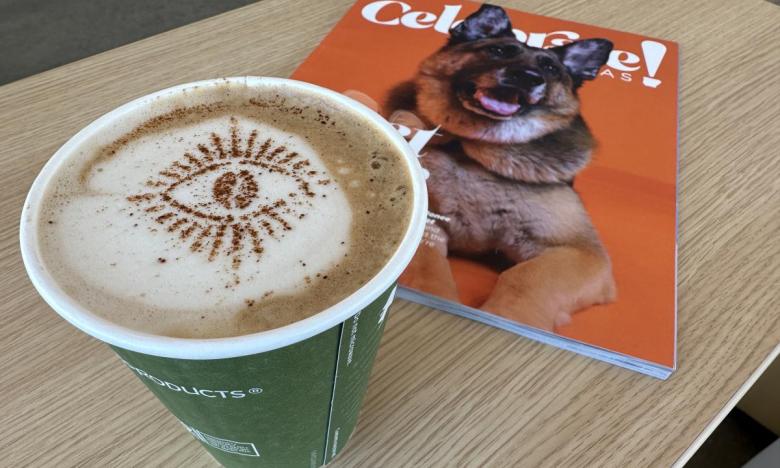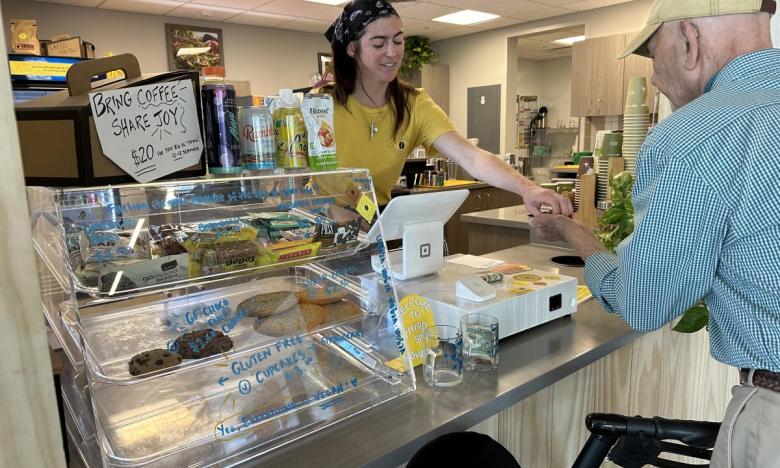 The Concept
The facility is a place where the community can connect to each other as well as animals in need of a home. Best Friends does not take animals off the street. It takes animals from other shelters that are full that would otherwise be forced to euthanize the animals because of lack of space. It works in partnership with numerous shelters across Arkansas. In addition to taking in some of their animals to re-home, Best Friends also helps shelters find grant funding and donors, and provides training, support and programming to make the shelter more successful. Best Friends has a goal to make every community and shelter across the nation "no-kill" by 2025. "No-kill" is a 90% or better save rate for shelters.
The Northwest Arkansas location is part of Best Friends, a 501(c)(3) nonprofit organization, which operates the nation's largest sanctuary for homeless animals in Utah, where the concept was born. Best Friends provides adoption, spay/neuter, and educational programs at all of its facilities, located in Salt Lake City, Los Angeles, New York City, Atlanta and Houston.
For information on volunteer opportunities and adoption, visit bestfriends.org/northwest-arkansas/pet-resource-center.