Best Places to See Spring Dogwoods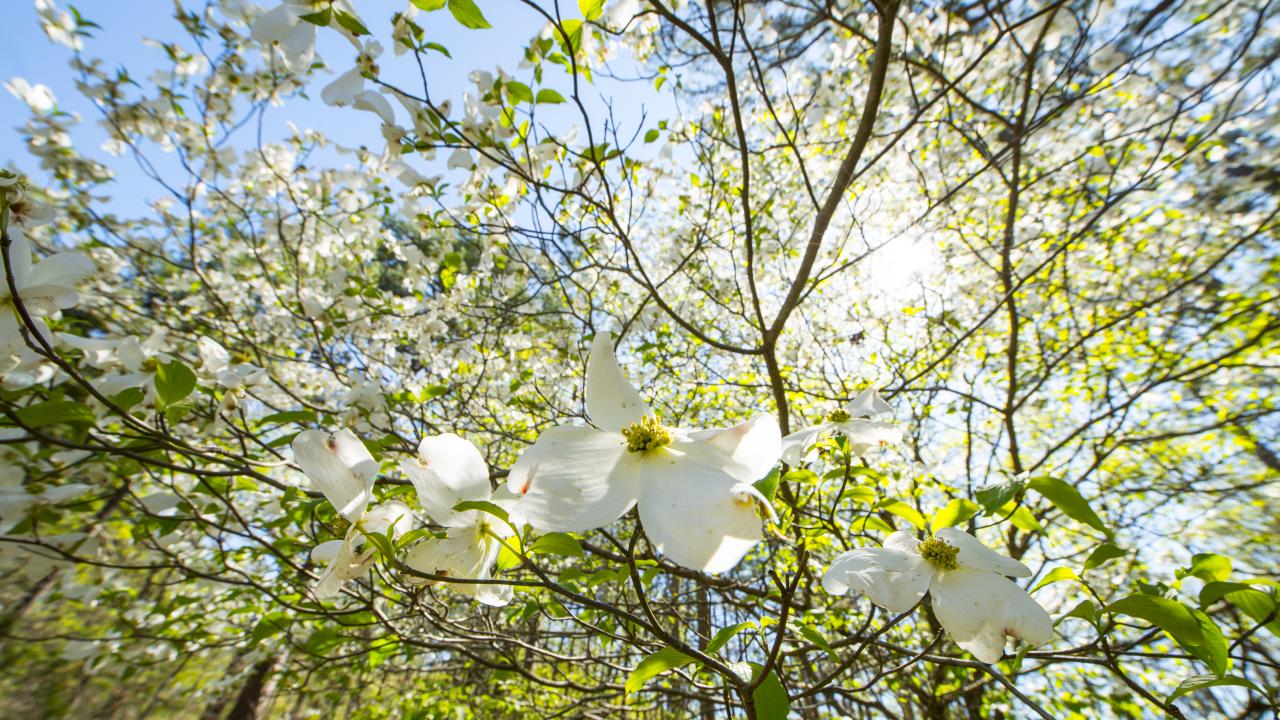 One of the rewards of Spring is the brilliant white blossoms that show up in the understory of mature hardwood forests. Dogwood trees in bloom in the Ozarks can usually be found from the middle of April to early May. They bloom, white or pink, before the leaves appear on the hardwoods around them giving a show all their own. And, their timing is certainly welcomed as it usually means the perfect temperatures for hiking have also arrived.
Here are three great places to see spring dogwoods in Arkansas.
Bill Scruggs with Wild Bill Outfitters says the Spring Creek Trail is one of his favorites for dogwoods. Known as the Spring Creek Trail by many locals, its formally a section of the Buffalo River Trail. Scruggs likes the hike from Dillard's Ferry to Spring Creek, which is 6.1 miles or about 3.5 to 4.5 hours for the average hiker, one way. It has an elevation change of 500 feet and takes you up and over Kimball and Stairstep Bluffs for picturesque views of the lower section of the Buffalo National River.
"The biggest thing I can say about it is the overlooks are just outstanding," Scruggs explains. "Especially Kimball about halfway between the Highway 14 bridge and Spring Creek. It's got several super overlooks of the river that are just some of the best I've seen." He adds that the trail also passes some bluff shelters and caves.
"From Dillard's Ferry to Spring Creek, that trail has been there for about 6 years," Scruggs explains. "Then a couple years ago they opened it up from Spring Creek to South Maumee." This portion passes several waterfalls, best seen after a rain, remains of an old farmstead, a ford, patches of prairie, an old rock chimney and more bluffs.
"This whole area is full of dogwoods in the spring."
- Bill Scruggs, Wild Bill's Outfitters
In addition to hiking, canoeing on the Buffalo National River is popular here too. Wild Bill Outfitters rents canoes, lodging and more for those who want to experience the area. Towns like Yellville and Marshall are also nearby.
Directions to Dillard's Ferry Trailhead
Take Highway 14 south out of Yellville and travel for approximately 16 miles to Dillard's Ferry, which is the bridge that crosses over the Buffalo River. Immediately south of the bridge turn right onto a gravel road, which will bring you to the parking area near the bridge. The trailhead begins under the bridge.
For more information or to have a map e-mailed to you, call the Buffalo Point Ranger Station at 870-449-4311.
Siloam Springs
In the far northwest corner of the state on the border with Oklahoma is a pretty little town called Siloam Springs. The pristine, physical setting of its downtown is a feature element. Scenic Sager Creek with its rock wall lined banks flows through the downtown. Parks along the creek are shaded by stately trees and decorated with dogwoods. Fountains, foot bridges, greenspace, gazebos, and even duck crossings compel visitors to relax and enjoy their surroundings.
Some of the city's most popular festivities take place here, including the annual spring Dogwood Festival.  Held on the last full weekend in April, this award-winning festival draws thousands of people to the two major parks in downtown Siloam Springs. Exhibitors from all over the U.S. fill hundreds of booths with a variety that includes arts and crafts, handmade items, gifts and vintage items. Food vendors and regional entertainers are on hand, and the KidZone provides rides and activities for the young and young at heart.
The city also has a Dogwood Springs walking trail. While you're there to see the dogwoods enjoy not only the festival but also Siloam Springs' other spacious parks. Some have trails, picnic, pavilion and playground areas while others, like the skate and aquatic parks, are specific to activities. Walking tours of the historic downtown and a Farmer's Market are also popular. 
Numerous shops – boutiques to antiques- line the streets of this historic area. In addition to the downtown, a variety of shopping facilities exist. Siloam Springs restaurants offer food choices ranging from chains to coffee shops to fine dining. Siloam Springs was named by Smithsonian.com as one of the 20 Best Small Towns in America (May 2012). For more info, visit siloamchamber.com.
Deer Mountain
Deer Mountain Ranch is a premier Arkansas venue for cabin rentals, wildlife tours, guided fishing, skeet and trap shooting, hiking, corporate retreats, reunions, special events and more. 
Located near Ozark, this unique venue also has one of the best trails to see spring dogwoods. The trail is near a cave on the property, and there's a lot of property to see. White Oak Creek runs through the heart of Deer Mountain and its 3,200-acres containing 16 miles of fence line, 27 miles of paved road, airstrip, around 500 deer, 75 elk, some bears, ponds full of Florida bass, black crappie and hybrid brim, and pheasant and quail that they raise.
Obviously, there's a lot more to see than just the dogwoods, but the dogwoods are a good reason to visit in the spring. There's also a gift shop where you can purchase jellies, quail, pheasant, sausage and elk meat. For rent is a four bedroom three and a half bath home. Not all, but much of the wood in the cabin came from the property. The floors, cutting boards, and furniture were all made from wood on the property. They even have a sawmill on the property for their projects.