Bicycle Rides, Mountain Men, BBQ, and Bargains in Searcy County
Searcy County in north central Arkansas has a lot going on this fall. Here are four events appealing to a range of interests to mark on your calendar:
Bargains Alive on 65
Junkfest runs from Wednesday, Sept. 23, through Saturday, Sept. 26, and is merged with the region-wide Ozark Byways Buydays on Saturday. On Ark. 65 from Leslie to Pindall and on side roads along the way, don't miss this huge yard sale extravaganza and sales at local businesses.  For more information, call 870-448-2557.
Mountain Man Rendezvous
The 4th annual Mountain Man Rendezvous is set for Friday, Oct. 9, through Saturday, Oct. 10, in Leslie.  See pre-1840 history come alive via re-enactors from the Early Arkansaw Re-enactors Association. Admission is free and the event is daily from 9 a.m. to 6 p.m. Also visit the downtown containing historic homes and buildings, the Ozark Heritage Arts Center, antique stores, shops, art, local pottery, restaurants, lodging, and sourdough bread baked in a brick oven. For more information, please call 870-448-2557.
Great American Smoke Out BBQ Cook-Off
Head to the Marshall courthouse square on Oct. 24 for a great barbecue lunch. The cook-off takes place from 11 a.m. to 2 p.m. Event coordinators ask for a $5 donation for lunch, consisting of a barbecue sandwich, potato salad, baked beans, and a drink. A street dance will take place from 8 p.m. to midnight on Friday, Oct. 23. The band will be Whistlin' Dixie. Participants will cook their meat overnight on the square.
If you'd like to show off your cooking skills and enter the contest, there's a $25 entry fee to enter the pork butt or ribs competition, $10 fee to enter your best sauce, or $35 to enter both meats. Just register your team by Oct. 23. Pick up forms at the county judge's office at the courthouse. For more information, call Renee kyle at 870-448-7125, Carla Roberts at 501-253-8308, or Danielle House at 870-448-7135.
Pedestal Rock Bicycle Ride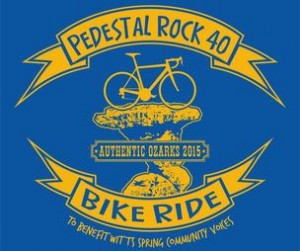 The inaugural pedestal Rock 20-mile and 40-mile Bicycle Ride starts at 9 a.m., Saturday, Nov. 7, at Witts Springs Community Center. Check-in and registration is from 7:30 a.m. to 8:30 a.m. All registered riders receive shirts and lunch is included for the first 200 pre-registered riders.
Two routes are offered, both winding through the beautiful Ozark National Forest. The 20-mile ride is from the Community Center to Raspberry Bend and back; the 40-mile ride is from the Community Center to the Pedestal Rock Scenic area and back. (You cannot actually see Pedestal Rock from the turnaround point.) Go to www.pedestalrock40ride.com for all the details and online registration.
ADVISORY: This ride is in a rural and isolated part of Arkansas. Residents depend on volunteer rescue squads during emergency medical situations. The closest hospitals from the starting point are approximately 50 miles away. Ride organizers and volunteers trust that participants will keep this information in mind and ride safely and responsibly. Some ascents and descents are intense; this is not a ride for beginners. This is not a race. Enjoy the view!  HELMETS ARE REQUIRED. The ride supports the efforts of work being done by Community Voices to strengthen their community and keep their facilities open for use by the public for conventions, business meetings, entertainment, ball games, and more. Community Voices is a 501(c)3 non-profit organization, so your donations are tax deductible as allowable by law.