Big Al Fishing Challenge in Hot Springs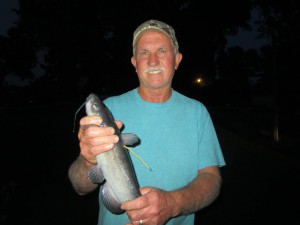 Editor's note: The event featured in this article occurred in 2014, but we hear that this year's will be the best yet. Find it on our Events page.
Hot Springs is in the midst of an interesting fishing opportunity- the $75,000 Hot Springs Fishing Challenge at Lake Hamilton and Lake Catherine. The challenge is open until July 31.
This is the third year for the event and the payout for catching the top fish, known as "Big Al," is $10,000.  And a challenge it is. As of yet, Big Al (yep he is named after Al Capone) has not been caught during any of the past challenges.
The fishing event, whose total prize pool is $75,000, was created to bring attention to the fishing available in the area.
The total number of tagged prize fish is 60 and those interested in taking on the challenge need a valid fishing license to do so.
As to the basis of the event, which started in May, overall 60 tagged fish (including Big Al) have been released in Lake Hamilton and Lake Catherine for the challenge. According to a news release, these fish include largemouth bass, bluegill, catfish, white bass, crappie and walleye. The fish were tagged by the Arkansas Game and Fish Commission and the tags have both a phone and prize number on them.
The cash prizes vary from the grand prize of $10,000 (Big Al!) to fish that are worth $5,000 each, $1,000 each, and $500 each.  If an angler catches a tagged fish, they call the number on the tag and present the fish with the tag attached. Of note, no cash prize will be awarded to any participant who catches a tagged fish that has been caught outside the fishing challenge period (which ends on 5.p.m. July 31).
To keep up to speed on tagged fish that have been caught, check out the Visit Hot Springs facebook page at facebook.com/visithotsprings.
Visit Hot Springs has partnered with the Arkansas Game and Fish Commission and the Andrew Hulsey Fish Hatchery to put on the Hot Springs Fishing Challenge. For more details call Steve Arrison of Visit Hot Springs at 501-321-2027 or check out hotsprings.org.