Bike, Hike and Camp in Arkansas' Coler Mountain Bike Preserve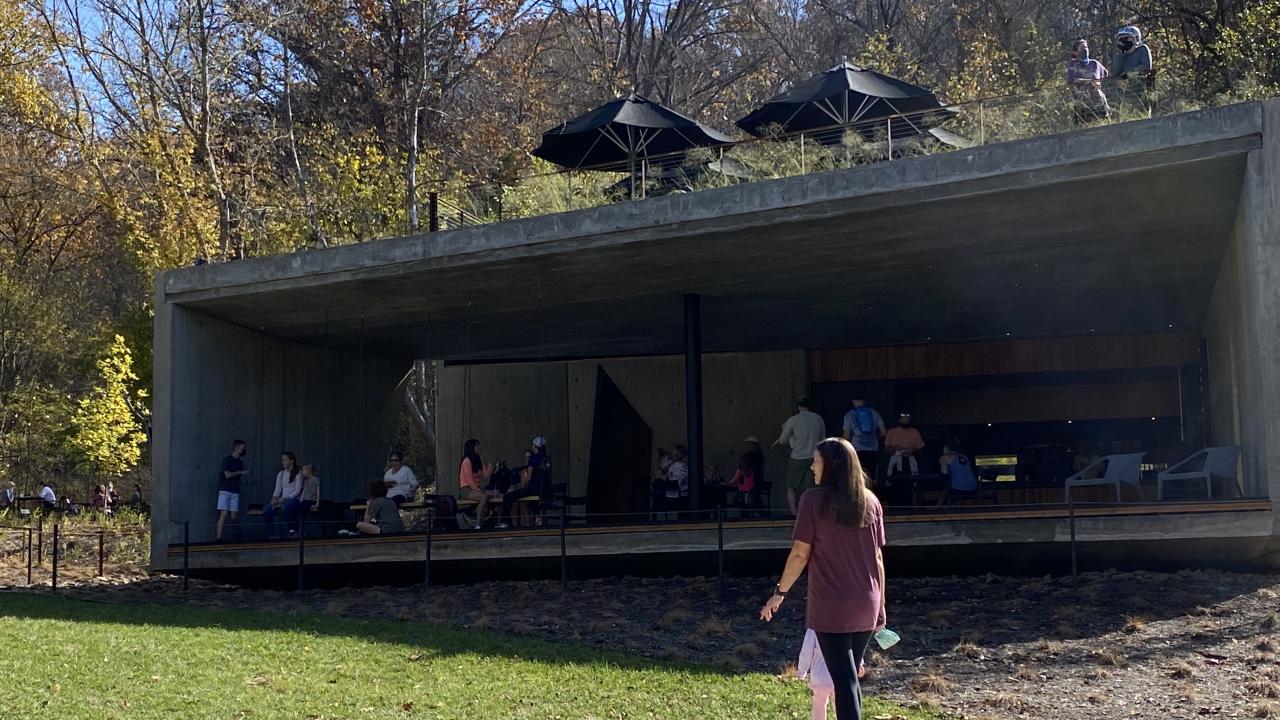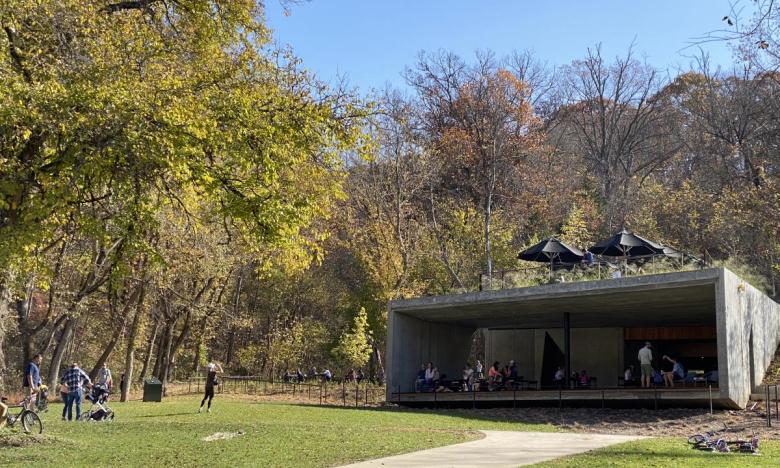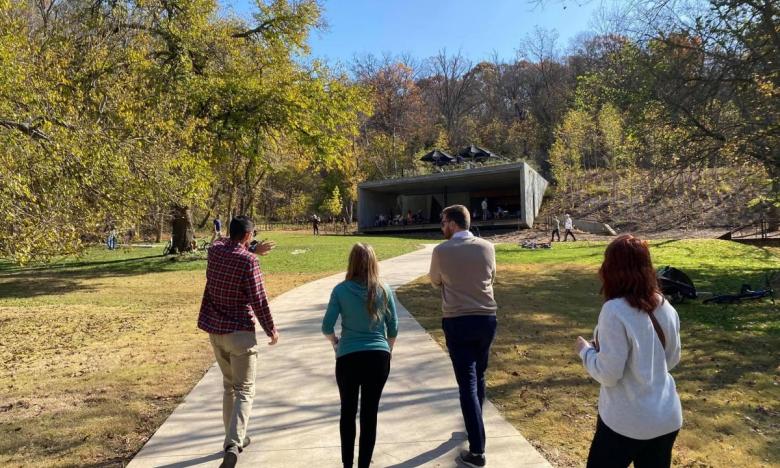 Want a utopian experience? Head to Coler Mountain Bike Preserve in Bentonville.
While it is a mountain bikers paradise, anyone who enjoys a stroll in the great outdoors will love it too. If you also like camping, coffee and outdoor beer gardens, you're really in for a treat.
Coler Mountain Bike Preserve is a bike park and trail system offering more than 17 miles for every skill level. Just a five minute bike ride from downtown Bentonville, this recreation outlet also connects to more than 250 miles of natural-surface trails in Northwest Arkansas.
In regard to mountain biking, this unique urban escape is divided into two main areas. Westside is best for beginner and intermediate riders and Eastside is designed for more advanced or expert bikers. The preserve has flow, cross-country, rock, dual slalom and flyover trails with stone, wood, metal and jump features. The crowning jewel of the preserve is The Peak One Hub, which send riders down one of three trails from the single hub location. Riders choose a trail based on its level of difficulty.
If you don't ride, don't worry. Coler still has much to offer.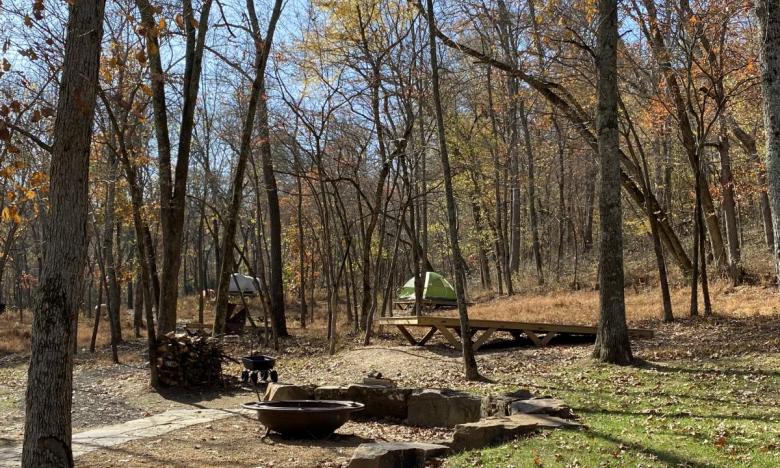 Its camping facility has extra special amenities and a whole lot of curb appeal.
It offers 22 campsites - eight small tent platforms, eight large tent platforms, five Class B Camper van parking pads, and one ADA accessible site with adjacent parking. Wooden platforms offer dry set ups for tents. Eight hammock stands are dispersed throughout the campground. Adding to the fun is a community fire pit that is stocked with wood at 4 p.m. every evening.
Secure restrooms and hot showers with camper-only access are housed in modern structures that blend in with the surroundings. Plus, there's a camper-only parking lot inside a secured gate. The campground also has a bike wash and repair station and a water bottle refill station.
While the campsites are primitive in that there is no water, sewer, electrical hook-ups or Wifi service, the modern bathhouse coupled with a nearby micro-cafe hardly make folks feel like they're roughing it. In fact, this is where the experience becomes idyllic.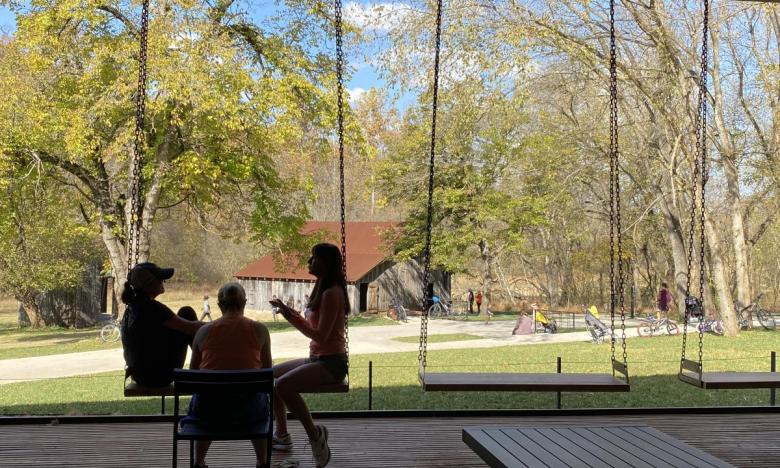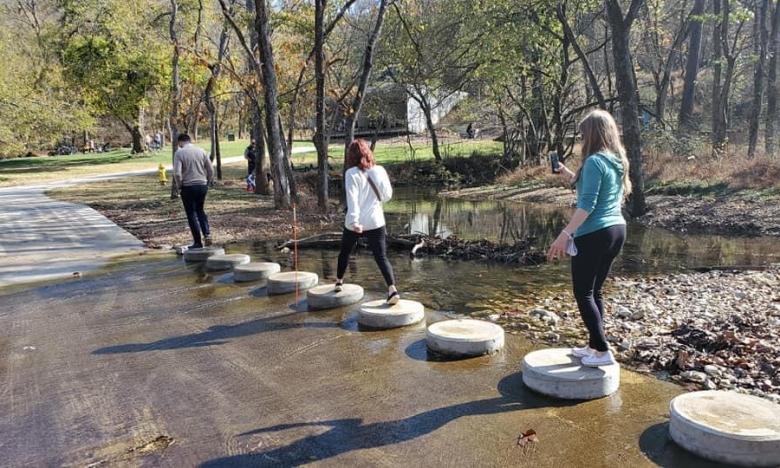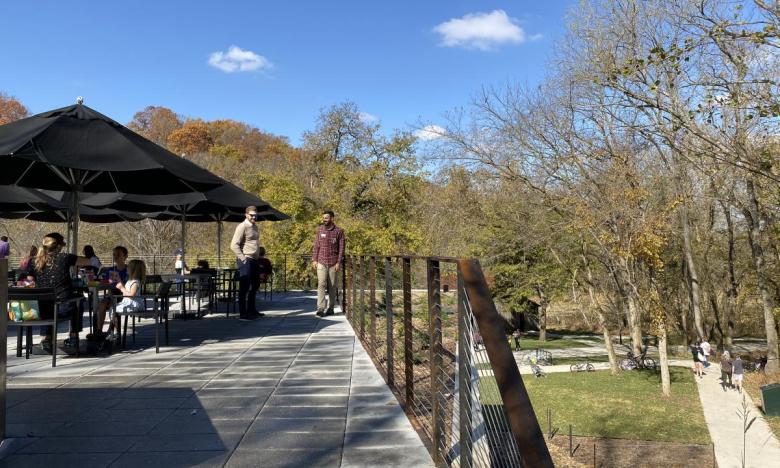 A short walk away is Airship at The Homestead, a micro-cafe and beverage bar in a spectacular modern building. This coffee purveyor sells amazing locally roasted coffees, tea, delicious kombucha and craft beer. Airship's small food menu includes pastries, tacos, barbecue nachos and vegan selections. It has several seating options - a beer garden, rooftop bar and covered, but open-air seating that includes rope swings and a view.
Open grassy areas and paved paths leading to Airship are often filled with kids, adults and dogs, biking, running and walking. A non-traditional play area adds to the ideal vibe. An old Ozark barn has been refurbished to serve as a play structure. Light streams through the wood slats as kids climb lofts and run around inside. A second wood structure contains a neon sign reading "Paradise Found," not that you need a sign to tell you that you're somewhere special.
Airship is only accessible by paved trail. Two parking lots are located slightly less than a mile from the cafe, which is wheelchair accessible. It's open from 7 a.m. to 4:30 p.m. every day.
There's a feeling of remoteness here even though this outdoor space is near the city square. The unlikely juxtaposition of this small cafe within an outdoor preserve feels like a secret hideout. You don't know whether to tell others about it or keep it for yourself.