Bladesmithing at Historic Washington State Park
In the below video Billy Nations, Supervisor of Interpretive Programs at Historic Washington State Park talks with us about the James Black Shop where the first Bowie knife was made!
One of the many structures folks can tour when they visit is the blacksmith shop. Built by the Pioneer Washington Restoration Foundation in 1960, the blacksmith shop is an interpretation center with two working forges. Washington's most famous blacksmith, James Black, is credited with forging one of the original Bowie knives for James "Jim" Bowie in the early 1830s.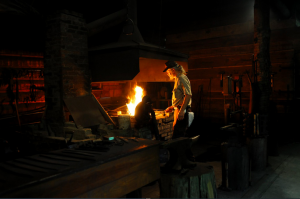 These days, the town of Washington, Arkansas is still a target for bladesmiths from across the globe. Throughout the year, the state park has forging workshops at the shop where you can learn the craft. The town also is home to the Bill Moran School of Bladesmithing, which teaches the craft and certifies knife makers at Journeyman and Master Bladesmith levels. The school, which is run in connection with Texarkana College, includes intensive classes taught at various times throughout the year and instructors include world-class bladesmiths sanctioned by the American Bladesmith Society (ABS). The school opened in 1988 and for many years was the only one of its kind in the nation.
In 1973 Old Washington Historic State Park was created and today the town is one of America's premier historic villages. The town is both a state park and town intermingled. The town is a National Register of Historic Places site and an Arkansas State Park . The park was renamed Historic Washington State Park in 2006 and includes over thirty carefully restored historic structures that serve as a continuing legacy to life in the town from 1824 to 1889. The town is home to the Southwest Arkansas Regional Archives and is around 10 miles from Hope and about 40 miles from Crater of Diamonds State Park. For more information visit www.historicwashingtonstatepark.com or call 870-983-2684. The above video was a project with ADPT photographer Tim Schultz.