The Blues History Of Arkansas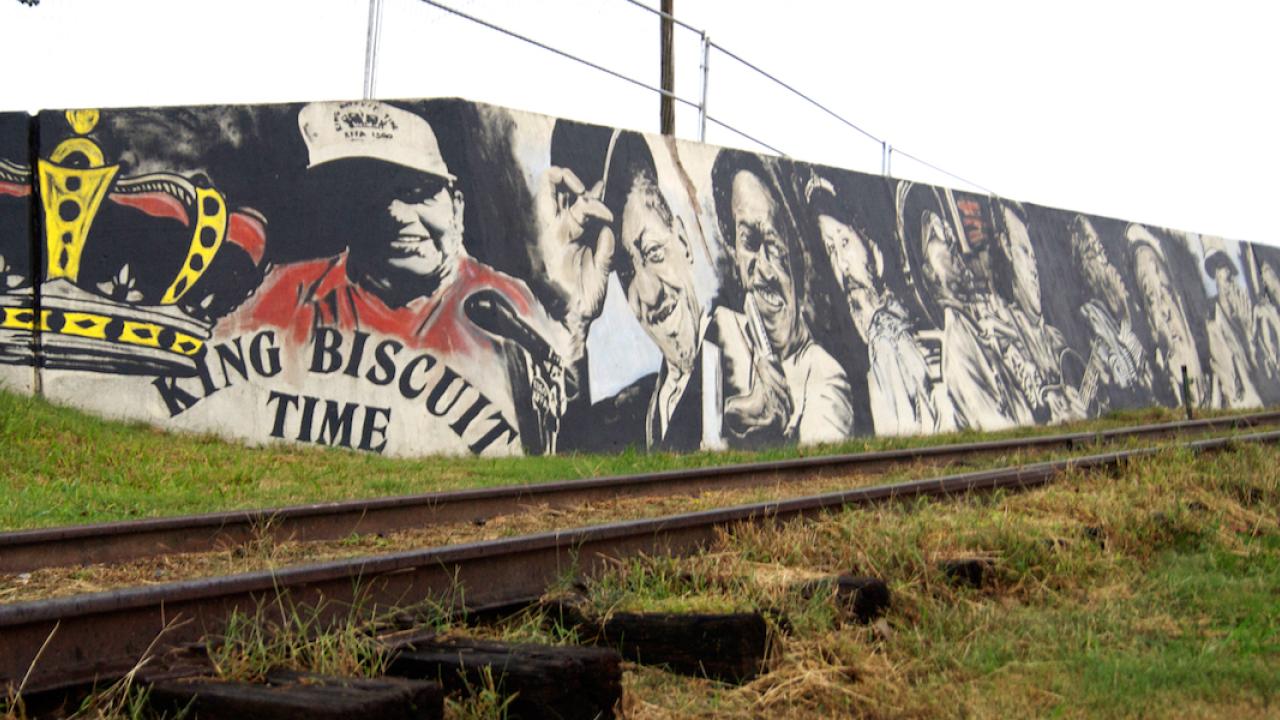 Roots of the Blues in Arkansas
The fertile soil of the Mississippi River Delta has long produced strong yields of cotton, rice, soybeans and other crops. But much more than crops has sprouted from this land. The roots of the blues are firmly planted in this Delta soil, for it was here before the turn of the century that scholars say this music was born. The "field hands" would chant and sing out "field hollers" as they chopped and picked cotton. These "hollers," along with other sources such as spirituals and minstrel songs, evolved into a new musical form that was later dubbed the blues. By the 1920s and 30s, highly popular blues musicians such as Robert Johnson and Peetie Wheatstraw were selling recordings of their woeful tales of loves lost and hard times endured.
During the 1930s, the blues could be found in juke joints in many small towns along the Mississippi River. But the undisputed blues capital at the time was Helena, Arkansas, located along the Mississippi River about 80 miles southwest of Memphis. Helena's downtown streets—Elm, Phillips, Walnut and part of Cherry—were filled with juke joints and cafes where bluesmen played all night long to packed houses. Even the sidewalks were a popular venue for many musicians. Robert Johnson, who is now regarded as one of the most influential bluesmen ever, played here at clubs such as The Hole in the Wall. Johnson influenced countless bluesman, but none more than Robert Lockwood Jr., a young man from Turkey Scratch, near Helena, who would later rise to fame with his own rendition of the blues.
The path to fame for Lockwood began in 1941 when he and Rice Miller, better known as Sonny Boy Williamson, approached management at the fledgling Helena radio station KFFA about creating a blues show where they could perform. After securing the local Interstate Grocer Co. as a sponsor, the show was named "King Biscuit Time" in honor of the company's King Biscuit Flour. The show was a huge hit and sales of the flour soared. Soon thereafter, Sonny Boy Cornmeal was also being sold. In those early years, the show aired from 12:15 to 12:30 p.m., Monday through Friday, at the KFFA studios, which were originally located on the second floor of the Floyd Truck Lines building near the Mississippi River levee in downtown Helena. (That building no longer stands.) The shows began with announcer Sam Anderson's signature line, "Pass the biscuits, 'cause it's King Biscuit Time." Lockwood and Williamson were later joined by drummer James "Peck" Curtis and pianist Robert "Dudlow" Taylor. Over the years, numerous blues musicians played on the show, including Houston Stackhouse, Joe Willie Wilkins, W.C. Clay, Joe Willie "Pinetop" Perkins and Willie Love.
Besides performing on the radio shows, the King Biscuit Entertainers often loaded up their equipment on a trailer at the dock of the Interstate Grocer Co. and traveled to grocery stores in nearby towns such as Wabash and Elaine. "We'd go down there and perform at the grocery stores because they bought the King Biscuit Flour," says Sonny Payne, the longtime announcer for the "King Biscuit Time" show.
Because of the astounding success of the show and huge boost in sales of King Biscuit Flour, other competing brands of flour began sponsoring shows on KFFA. These included the "Bright Star Flour" show hosted by Robert McCollum, a Helena native and blues guitarist who became famous as Robert Nighthawk, and a jazz-oriented show sponsored by Mother's Best Flour, which was hosted by Lockwood after he left the "King Biscuit Time" show. However, it's the "King Biscuit Time" show that has stood the test of time. The show featured live music until 1969 and continued from then until 1980 with records. After six years off the air, the show returned in 1986. Today, Payne, who has broadcast more than 11,000 shows, hosts the show each weekday from 12:15 to 12:45 p.m. in the lobby of the Delta Cultural Center in downtown Helena. Visitors are welcome to watch as Payne spins records and CDs on the show, which garnered the prestigious Peabody Award in 1992.
In addition to Helena, there have been other blues hot spots in Arkansas over the years. By the late 1940s, West Memphis, located 75 miles northeast of Helena and directly across the Mississippi River from Memphis, had become quite a blues center in its own right. Several clubs and juke joints were located along Eighth Street, which was known as "Little Chicago." Sonny Boy Williamson played a role here as well. In 1948 Williamson moved to West Memphis and performed on the Hadacol Tonic show at radio station KWEM. In 1949 Chester "Howlin' Wolf" Burnett, another highly popular bluesman, began broadcasting on KWEM and advertised a variety of products, including tractors and plows. Other bluesmen who performed at the station and in West Memphis' clubs were B.B. King, Elmore James, "Forest City Joe" Pugh and Willie Love. Williamson made the town even more famous when he wrote "West Memphis Blues," which tells about the burning of his house at Ninth and Polk streets after lightning struck it.
One of the most popular nightclubs in West Memphis was the Square Deal Cafe, also known as the 16th St. Grill or Miss Annie's Place. The club was operated by Annie Jordan.  It was here that B.B. King got his first steady paying gig in the late 1940s. Williamson and Howlin' Wolf also played here.
King's connection with Arkansas was further cemented in 1949 when he was playing in a juke joint in the tiny farming community of Twist, located about 45 miles northwest of West Memphis. At the time, King was living in Memphis and played at Twist almost every Friday and Saturday night. One night a fight started, which led to a fire inside the joint. King ran outside with everyone else and then remembered he had left his guitar inside. He ran back in and the wooden building began to collapse around him, but he managed to get out with his precious guitar. The next day he learned that the fight started over a woman named Lucille. "It was a memorable night, and a memorable name, and I decided right then and there to christen my instrument Lucille, if only to remind me never to do anything that foolish again," he says in his autobiography.
King also made forays further north in the Arkansas Delta to the town of Osceola where he played at the popular T-99 club. Sometimes a local musician, Frank "Son" Seals, played drums with King and others. 
Seals learned some of his hot blues guitar licks from Albert King, who lived at Osceola for many years. In an interview before his death, Seals recalled that Albert King drove a truck from Osceola to Memphis during the day and would play at the Dipsy Doodle at night. "No matter how late they stayed in there, Albert would get in that truck and jump off at 6 o'clock—never missed a day and he would be right back in the joint the next night rehearsing," Seals said. Albert King later moved to St. Louis.
Another Osceola-based bluesman who didn't gain national fame, but was much loved at home was Willie Bloom. An accomplished pianist, Bloom often took the young Seals with him to his gigs. "He was a heckuva piano player and he used to come get me. My daddy would let me go with him because he knew him and trusted him," Seals says. "I would go with him to play these private parties at these people's mansions... That was great for me."
Seals eventually ventured out of the northeast Arkansas Delta and traveled to Little Rock where he played clubs such as the Chez Paris on Ninth Street. From the early 1900s until the late 1960s, Ninth Street was the black community's entertainment district in Little Rock. Besides the Chez Paris, there were the El Dorado, the Morocco and the Dreamland Ballroom at Taborian Hall, among others. They drew such entertainers as B.B. King and Louis Jordan, as well as such jazz greats as Louis Armstrong and Duke Ellington. A well-known bluesman who called Little Rock home for many years was Larry "Totsy" Davis. He gained fame for writing the song "Texas Flood," which became a big hit for Stevie Ray Vaughan in the 1980s. Davis died in 1994, just when many thought his career was about to take off.
While Ninth Street was the spot for urban-style blues, the country blues were at home at places like Woodson Hall in the community of Woodson, about 15 miles south of Little Rock, says John Cain,  with KABF community radio in Little Rock. "People from Little Rock would go down there," Cain says. "Muddy Waters and Howlin' Wolf never made the circuit to the Ninth Street clubs, but they made it to Woodson Hall."
Timothy "Little" Cooper, a Prattsville native and leader of the blues band Little Cooper and the Drifters, recalls seeing Howlin' Wolf at Woodson Hall in the late 1940s. "He played there at Woodson for a couple of months on the weekends," Cooper says, adding that the legendary bluesman also played at clubs in the nearby town of Wrightsville.
About 45 miles southeast of Little Rock lies another cradle of the blues—the city of Pine Bluff. In the 1950s and 60s, Pine Bluff's Jack Rabbit Club, later known as the Jungle Hutt, featured some of the top blues musicians in the region. CeDell Davis, Robert Nighthawk and Houston Stackhouse were regular performers there.
While deteriorating buildings and vacant lots are all that is left of many of the state's old-time juke joints and blues nightclubs, the music itself is still alive. Nowhere is this more evident than in Helena where there is a feeling of rebirth. Each October the sweet sounds of blues permeate the downtown streets once again during the famous King Biscuit Blues Festival. And if you listen closely as you walk down the quiet streets, you can almost hear the haunting strains of Sonny Boy's harmonica ringing through the thick Delta air. Yes, the spirit of Sonny Boy and "King Biscuit Time" live on here.