Boggy Creek Festival in Fouke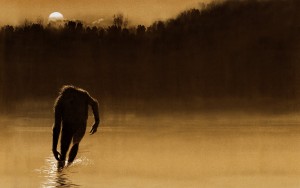 Editor's note: The event featured in this article occurred in 2015, but you'll find other great happenings on our Events page.
The Boggy Creek Festival is set for October 23-25 in Fouke. The aim of the festival and Bigfoot conference, which takes place at the Miller County Fairgrounds, is to discuss and share information about the sasquatch-like creature known as the Fouke Monster.
The festival features presentations by some of the top Bigfoot researchers and authors in the field, local arts and crafts, a concert by Blane Howard, a motorcycle parade, food vendors, a screening of the movie The Legend of Boggy Creek, and more.
The Fouke monster played the lead in Charles B. Pierce's The Legend of Boggy Creek.  The creature is the basis of one of the most famous legends in the state, something of a Southern Sasquatch. The report of a "Bigfoot type monster" terrorizing a rural home outside of Fouke was the inspiration for the documentary-style film by Pierce in the early 1970s. The film cinched a place in folklore history for the Bigfoot look-a-like, which has allegedly been seen in and around the town since the 1940s.
The festival will also be hosting bus tours guided by The Beast of Boggy Creek author Lyle Blackburn and local Bigfoot expert Jerry Hestand. During the tour, which includes a stop at Boggy Creek, participants will visit historical sites in the area that tie to sightings of the Fouke Monster and the film The Legend of Boggy Creek.
Many speakers will also be at the festival including Lyle Blackburn, Robert Robinson, Chester Moore, Loren Coleman, and Dana Holyfield.
Blackburn is a Bigfoot researcher, cryptozoologist and author of books including  The Beast of Boggy Creek. He has appeared on shows such as Finding Bigfoot and the CBS Sunday Morning Show.
Robinson recently completed his first book Legend Tripping: the ultimate family experience and has appeared on Monsters and Mysteries in America.
Moore is a cryptozoology researcher and Editor-in-Chief of Texas Fish & Game magazine. He has 12 published books and has appeared on outlets such as the Animal Planet, The Outdoor Channel and NBC Sports.
Coleman is a cryptozoologist and author and/or contributor to over 100 books including Mysterious America, Bigfoot!: The True Story of Apes in America and Cryptozoology A to Z. He has appeared on documentary programs including Mysteries at The Museum, Unsolved Mysteries, Finding Bigfoot, and more. He is an honorary member of the British Columbia Scientific Cryptozoology Club and is director of the non-profit International Cryptozoology Museum, which is the world's only cryptozoology museum.
Holyfield directed the documentary The Legend of the Honey Island Swamp Monster and is the author of the Honey Island Swamp Monster Documentations. She has appeared on TV shows such as Mysteries At The Museum, Fact or Faked, Swamp People, Swamp Monsters, and more. For more details on the festival, visit boggycreekfestival.com.