Sponsored Article
The Buffalo National River: adventure year-round near St. Joe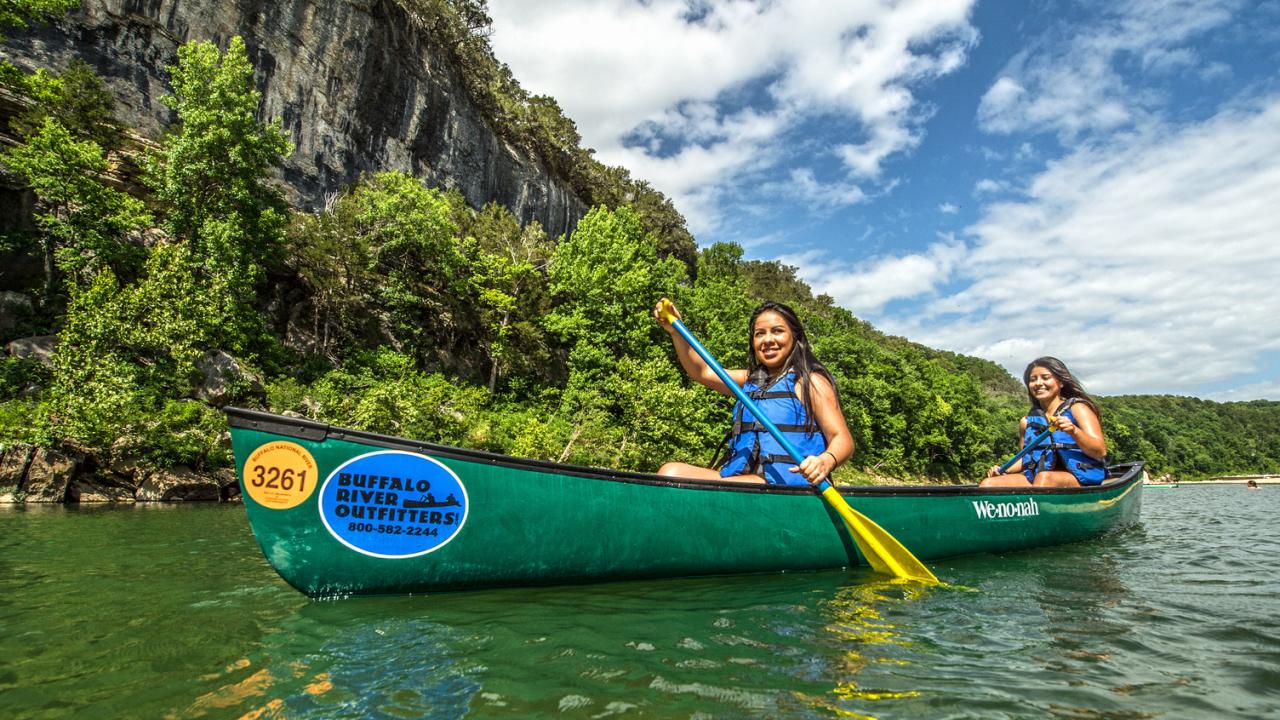 Even a brief mention of the Buffalo National River lights up faces. When you say, "I just got back from the Buffalo," everybody smiles, and some get a faraway look in their eyes. A float trip down the Buffalo becomes a shared memory full of fun, beauty and wonder.
From your canoe, spectacular river bluffs and clear green waters roll past like a panorama. Floating by sunny banks, you'll get closer than you dream to turtles, butterflies, herons, hawks and fish. And while you're out on Ozark hiking trails, you'll see even more wildlife, including plentiful deer and even elk.
A spectacular, up-close adventure on the Buffalo National River is available to everyone because at the right water levels, the river is easy to navigate. Anyone can do it with the right equipment and guidance. Providing that trusted support is why Buffalo River Outfitters has been popular for over 35 years as an authorized concessioner of the National Park Service.
But a float trip is only the first of many pleasures you'll find at Buffalo River Outfitters. Comfortable, clean cabins, a well-stocked store, helpful staff, plenty of canoes and kayaks, shuttle service, and fantastic nearby trails are just the beginning at this complete vacation destination on the Buffalo National River.
Into the Ozarks
As you make your way to Buffalo River Outfitters, you wind into the Ozark hills past quaint, tiny towns like Leslie, where you can stop at Serenity Farms Bakery for a still-warm cranberry and walnut loaf. A few more turns and the hillsides open out to the sweeping overlook of Devil's Backbone, with a picnic area and tasty espresso drinks to sip while you contemplate the view. From here, it's just a short drive to Buffalo River Outfitters, a large, log-cabin-style store surrounded by canoes and kayaks, perched high above the Tyler Bend area of the river.
Inside, the friendly staff will find out what you need and take care of you! Stock up on any basics such as waterproof bags, sun hats, maps, water bottles, hoodies or t-shirts—they've got you covered! And if you're lucky enough to be staying in the BRO cabins, you have a treat waiting.
Cabins that keep you coming back
Unmatched for quality in the area, tastefully decorated and clean, these upscale country cabins will have you wanting to move in and stay awhile. Gentle lighting, comfortable bedding and porches with swings and rockers will usher the peace of the woods into your heart and mind. Swaying on the swing with your morning coffee, listening to birdcalls, you slip out of the everyday world and into somewhere simpler and more serene. If you're here with romance in mind, three lovely, intimate luxury cabins offer stone fireplaces, jacuzzi tubs or walk-in showers as well as all other cabin amenities.
Maybe you have a lively group of friends or family here for adventure! BRO family cabins sleep up to 6 and feature full kitchens, fireplaces, and WiFi to keep everybody relaxed and entertained during downtime. Charcoal grills and firepits add to the fun for s'mores and ghost stories. And if you have up to 10 guests, two lodges have plenty of room for everyone. One lodge even has ample yard space for your horse trailer with easy access to the river for trail riding or boating! See lodging photos and individual amenities here.
Floating the Buffalo National River
On the waters of the Buffalo, anyone can have the adventure of a lifetime, safely, with equipment and guidance from Buffalo River Outfitters. Beginners may want to start with a simple float of two hours, though if you're up for it, you can also float for days and camp out on gravel bars! If you love fishing, the river is home to scores of species including channel catfish and smallmouth bass. Savor them pan-fried and piping hot over a campfire. Life jackets, paddles and shuttle service can all be provided so you have a one-way float down the river with your car waiting for you at the end.
The BRO staff is watching the weather for you and has years of experience in advising on when the water levels are right: high enough to float but low enough to be safe. You can call any time to get their best estimate based on projected weather conditions for the coming weeks.
Eat, Play, Love
Though floating is a joy that everyone should experience, more natural adventures are still in store! Try the incredible hiking: the closest trailhead includes the historic Cotter Homestead Trail and scenic river overlooks at Tyler Bend. Other nearby hikes include the Maumee Falls hike, which is part of the renowned Ozark Highlands Trail. After a good rain, you'll discover at least two large waterfalls and two smaller falls through breathtaking scenery. The Gilbert Railroad trail hike takes you down the old path of a historic railroad and close to the Buffalo riverbed. This hike is also scenic, but flat and easy for at least the first mile out, and a great choice for those who want to walk but need good accessibility. If you want to drive a little farther out, you can hike to area icons like Sam's Throne or Hawksbill Crag. The Buffalo area also offers more than 75 miles of designated equestrian trails and several drive-in horse campsites.
When you're ready to grab a bite, several area restaurants will make your mouth water or supply your lunch pail for your float trip. But with full kitchens in the cabins, you may just want to bring your own steaks and groceries for an unforgettable cookout or gourmet meal at the edge of the woods. And if you'd like a glass of wine, bring that too—the county is dry but guests are welcome to bring their own to enjoy on those peaceful porches.
If you're in the mood for a little arts and culture, check out a hidden gem only minutes away in Gilbert – the Buffalo River Art Gallery, featuring high-quality work by over 25 local artists. Located in a historic home, the art gallery offers lessons, weekend music on the patio, and lovely, serene grounds, where visitors are welcome to picnic surrounded by friendly chickens and resident white felines Picasso and Van Gogh.
In any season, Buffalo River Outfitters brings you to the threshold of the wilderness for natural adventure, beautiful scenery, wildlife watching, and pure relaxation and comfort. Couples, families, groups, and dogs are always welcome! Come find out why for over three decades, people have been choosing Buffalo River Outfitters to help make their cherished memories of the perfect vacation.