Buffalo National River Designated Important Bird Area
Audubon Arkansas has announced the designation of Important Bird Area (IBA) status for the Buffalo National River, a unit of the National Park System administered by the Department of the Interior.
"Important Bird Areas are sites that provide essential habitat for breeding, wintering, or migrating bird species," said Dr. Dan Scheiman, Bird Conservation Director for Audubon Arkansas in a recent press release. "Protecting these places gives us the greatest bang for our conservation buck." The IBA program is a global effort to identify the areas most important for long-term bird protection.
"Buffalo National River is home to approximately 200 bird species, providing critical habitat and an important stop for many along their migratory routes," said Emily Jones, senior southeast program manager for the National Parks Conservation Association. "Clean water is essential to our health, the health of our national parks and the health of native wildlife that call the Buffalo home. It takes all of us working together to protect the health of the national river."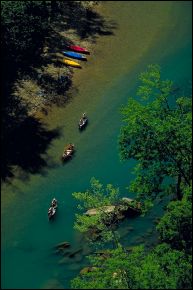 Park Superintendent Kevin Cheri said, "We have supported the Christmas Bird Count for decades, and the park often hosts researchers, as well. This designation focuses attention on the role of our parks as laboratories for species diversity, which are barometers of environmental health and change."
With the entire river corridor protected as public land, Buffalo National River is a critical link in a key block of public lands (some recognized previously by Audubon as IBAs) in the Arkansas Ozarks. Buffalo National River connects lands owned by The Nature Conservancy, Arkansas Game and Fish Commission, and U.S. Forest Service. "Taken as a whole, this public land provides the best opportunity to manage and protect a wide range of bird species, including many that are declining," commented Joe Neal, Field Trip Chair of the Northwestern Arkansas Audubon Society and coauthor of "Arkansas Birds."
C.D. Scott, wildlife biologist for Buffalo National River, pointed out that, "IBA designation is supported by bird observations made by Park Service staff, research scientists, and citizen scientists." Buffalo National River is important for a diversity of bird species, among them are Bald Eagle, Northern Bobwhite, Cerulean Warbler, Swainson's Warbler, and Louisiana Waterthrush.
"Arkansans can be proud of this designation," said Jack Stewart, local resident and Buffalo National River Partners board member. "Arkansans came together to protect the river in the 1950s, and it remains important for people and birds today." Mr. Stewart voluntarily included his property in the IBA boundary.
Buffalo National River, which runs through Newton, Searcy, Marion, and Baxter counties, became the first National River in the United States on March 1, 1972. It is one of the few remaining free-flowing rivers in the lower forty-eight states.
The press release lists these options for more information on Arkansas's IBA Program or the Buffalo National River: