Camden Daffodil Festival is March 6-7
One of the largest festivals in the state dedicated to daffodils takes place in Camden during the Camden Daffodil Festival. This year the festival is set for March 6-7. According to Amanda Wunnenburg, Camden Daffodil Festival Vice Chair, the festival will have garden tours, house tours, a Cemetery Walk (new characters are added yearly to this), an art show, a quilt show,  a vintage car show, a bike show, children's cultural activities, a steak Cook-off , Civil War re-enactors and encampment, and craft and food vendors.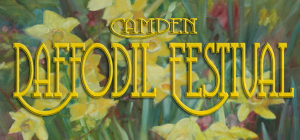 As to the impact of the winter weather on the flowers, Wunnenburg said the early birds (blooming daffodils) have bitten the snow but the "buds and new growth are reaching for the sky as the ground warms up and the snow melts. We consider the snow just additional watering for the soon-to-be flowers."
"Daffodil Festival organizers are hoping for beautiful, spring-like weather to welcome our visitors to Camden," added Wunnenburg. "The show will go on plans are in place no  matter the weather!"
The three showcase gardens during the festival include the Daniel's Japanese and Daffodil Gardens, Grace Hill, and the Beale Daffodil Farm. More details about the gardens can be found here.
Daffodil Junction, a big yellow-striped tent in the center of the festival at the intersection of Washington and Adams, will be the downtown focal point at the event this year. It will have festival information, a Guest Book, driving maps, and event tickets, "as well as friendly faces who would love to visit with you."
If you want to check out all the festivities, Festival Showcase tickets ($75.00 and  includes all events) are available prior to the festival at Four Seasons, which is located at 111 Hamilton Drive. Other ticket options are also available ( for instance individual garden tours are $7.00). A list of all ticket options can be found here.
"From the Guestbook, we know we attract visitors from around the state and across the U.S.," said Wunnenburg. "Even for those who don't  purchase event tickets, there is something to do. We offer free "drive-by" gardens to visit and a festival map that shows the locations of all venues."
More details about the festival can be found at their website here or their Facebook page here.