Camp, Hike and Bike Arkansas' Ozark Mountains this Fall
The scenic beauty of the Ozark-St. Francis National Forests is significantly enhanced in the fall when its 1.2-million acres turn into fiery seas of red, orange and yellow hues. Coupled with cooler temperatures, autumn is a perfect time to camp, hike and bike amid this postcard-perfect scene.
Other popular activities in the forests are horseback riding, floating, kayaking, boating, picnicking, swimming, hunting, fishing, four-wheeler riding, wildlife watching and photography. There are 200-plus camping and picnic sites, nine swimming beaches, 11 special interest areas, five wilderness areas, thousands of acres of lakes and streams, and more than 400 miles of trails. It's also home to Blanchard Springs Caverns.
You'll find plenty of developed and dispersed campsites as well as a few cabins managed by the forest service. Amenities vary from primitive sites with vault toilets and no showers to sites with bathhouses and picnic areas.
Located in central and northwest Arkansas and also along the Mississippi River in eastern Arkansas, the forests are perfect for one-day trips or extended vacations. Here are three recreation areas in North Central Arkansas that represent the variety of outdoor experiences the Ozark-St. Francis National Forests have to offer.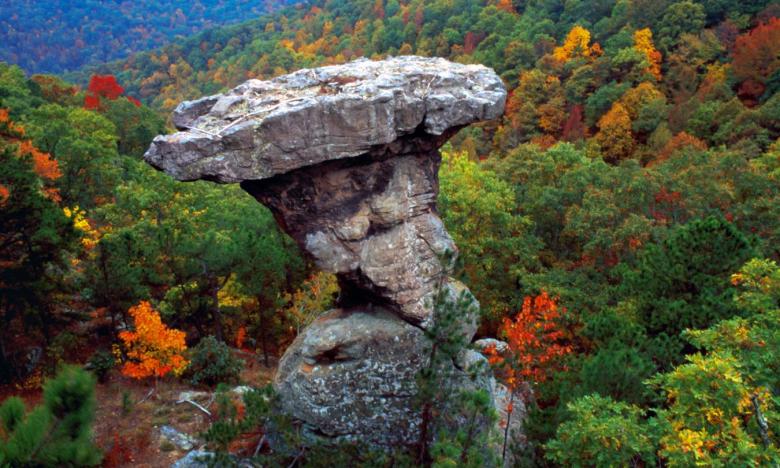 In addition to spectacular views, this scenic area offers a lesson in Arkansas geology. While hiking the trail, which is located at the top of the Illinois Bayou River Drainage, you will see layer upon layer of sediment that was deposited when the area was under water millions of years ago. After the water receded, the land raised to form a dome called the Ozark Plateau. Since that time, natural erosion has been occurring to form the Ozark Mountains. On the trail, you will see unique pedestal formations that were formed by weathering.
Camping - For those who like to "rough it," dispersed camping with a vault toilet is offered here. Dispersed camping means camping outside of a developed campground with no services and little to no facilities. The forest service website details the camping rules and regulations you need to know for this primitive experience.
Hiking - There are two hiking trails here. The hike to Pedestal Rocks is 2.2 miles and Kings Bluff is 1.7 miles. There are some steep sections, but the trails are easy to hike with plenty of resting places. While the namesake trail leads to the pedestals, Kings Bluff features a large flat bluff top with a waterfall that flows over the ledge. Use caution while visiting the bluffs.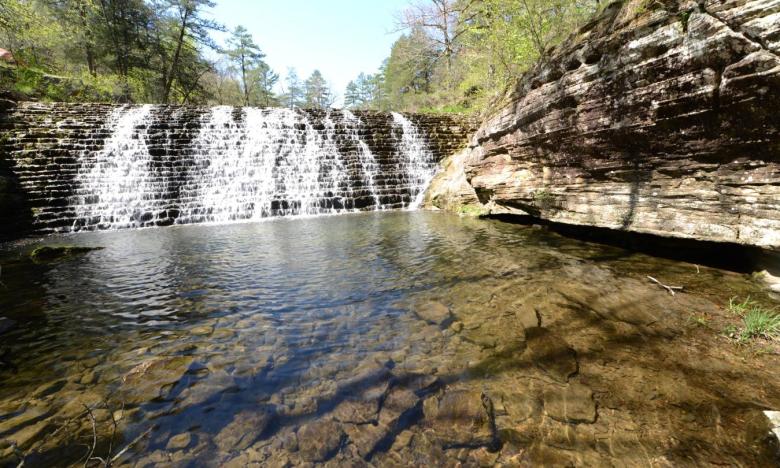 It doesn't get much more scenic than Gunner Pool Recreation Area, where you can splash in the creek and hike the wooded hillsides. Plus, Blanchard Springs Caverns is just minutes up the road. For fishing and floating fun, the White and Buffalo rivers border the east and west sides of this recreation district.
Wildflowers are abundant in spring and early summer while fall brings brilliant hues to the forest. Gunner Pool is a dammed-up section of a creek with steep sides. The historic dam was built by the Civilian Conservation Corps. Deer, squirrel, bear and deer are around, even if you don't see some of them. Look for bats eating their nightly snacks out by the bridge at nightfall.
Gunner Pool is open year-round unless inclement weather makes the road unsafe. *Note that the road down to the recreation area is a steep, winding, dirt road not recommended for large recreational vehicles. 
Camping - Twenty-seven shady and private campsites stretch along the scenic North Sycamore Creek. They have grills, tables, lantern poles and tent pads. There are no electrical or water hookups. No reservations; first-come, first-served. Water is turned off seasonally.
Hiking - You can access the Sylamore Hiking Trail from a trailhead located within the campground. "This 15-mile trail follows North Sylamore Creek from the town of Allison, through Blanchard and Gunner Pool campgrounds, to Barkshed Recreation Area. The North Sylamore Extension connects North Sylamore Hiking Trail to the Ozark Highlands Trail along the western side of the Sylamore District," according to the U.S. Forest Service website.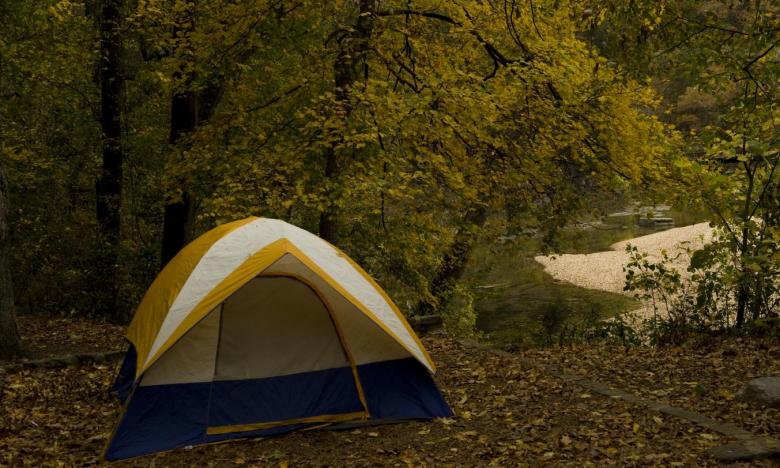 Just two miles from Gunner Pool amid classic Ozark Mountain topography is Blanchard Springs Recreation Area. Steep hillsides, hidden caverns, waterfalls and clear flowing streams make this a great place in every season.
Camping - Thirty-two campsites have grills, tables, lantern poles and tent pads, but no electrical hookups. Spots are shaded by yellow pines and are near picturesque rock bluffs. Two group camps are available by reservation only for a minimum of eight and a maximum of 50. The facility has restrooms with hot showers, drinking water and an RV sewage dump station.
Hiking/Biking - A trailhead connects the campground to the North Sylamore Creek Hiking Trail, which features beautiful fern beds and bluffs. Access to the Syllamo Mountain Bike Trail is just past campsite No. 14. It's a strenuous spur trail that goes uphill to the Jack's Branch Loop. Don't miss taking the easy paved trail that snakes through a lush landscape to the mouth of Blanchard Springs. Plus, Blanchard Springs Caverns has great walking tours too.