Caroling in the Caverns at Blanchard Springs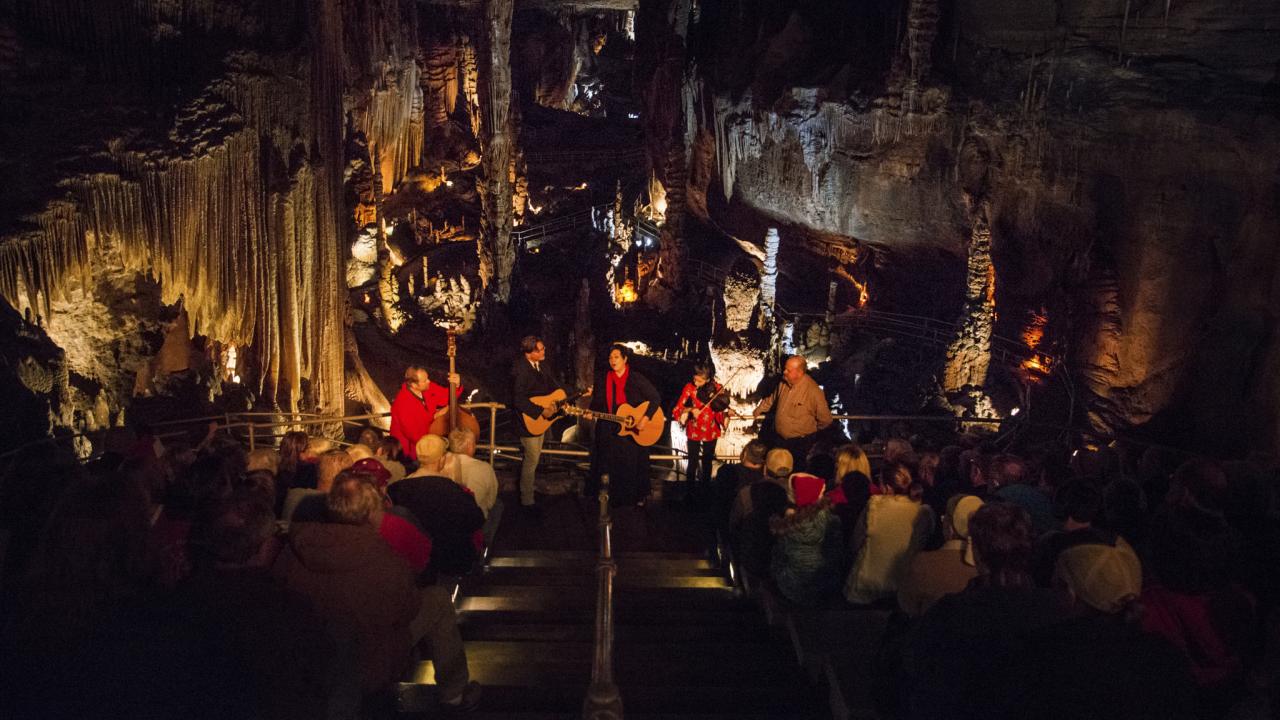 Ranked among the most beautiful underground discoveries of the 20th Century, Blanchard Springs Caverns is located deep in the Ozark National Forest, 15 miles north of Mountain View. Lighted walkways lead to stunning limestone formations and massive rooms, one as long as six football fields. It's in this room that the magic of the annual Caroling in the Caverns event happens.
The limestone cavern has excellent sound qualities. During the event, musicians and vocalists perform favorite old-time Christmas songs during this annual Caroling in the Caverns event, which takes place Fridays, Saturdays, and Sundays on Nov. 23 through Dec. 16. Admission is $20.
What better way to get in the holiday spirit than to hear caroling resounding through Blanchard Springs Caverns?
In addition to special events such as Caroling in the Caverns, you can also take guided walking tours through this active cavern system, featuring sparkling calcite formations, stalactites, stalagmites and columns. There are two different trails for viewing and a Wild Cave Tour option too. Ranked among the 10 most outstanding in North America, it's the only developed cave system operated by the U.S. Forest Service. For tour reservations, visit www.recreation.gov.
The Caverns are open seven days a week from mid-March through October (closed Mondays and Tuesdays November through mid-March). The Visitor Information Center, which is fully accessible and has a gift shop, books, maps and educational material, opens daily at 9:30 a.m. with the last tour of the day departing at 4:30 pm. Ticket information and tour reservations. 
Blanchard Springs Caverns is located in the small town of Fifty-Six, near Mountain View. For more information, visit the website www.yourplaceinthemountains.com, call 870-269-8068, or email [email protected]