Carry Me Home Art Exhibit at XNA
Travelers going through the Northwest Arkansas Regional Airport can now enjoy the artwork of Jeannie Stone of Russellville. Her thesis art show, Carry Me Home, is located on the concourse and features a dozen Arkansas landscape paintings.
The exhibit fulfills the requirements of the Master of Liberal Arts degree conferred to Stone by Arkansas Tech University.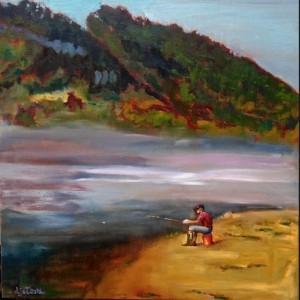 The works are rendered in oil, acrylic, and chalk and represent the topography of Northwest Arkansas, except for the Logan County landscape of Subiaco Academy and Benedictine Monastery. Other art pieces include Sam's Throne, Old Main Rising, Cotter Bridge, Beaver Lake, Boxley Baptist Church, Tres Amigos Hiking Hurricane Creek, Thorncrown Chapel, River Rocks on Buffalo River, Fishing at Buffalo Point, Glory Hole Falls, and the signature work Carry Me Home accompanied by an original poem, My Mountains, My Home.
Stone is the 2010 River Valley Arts Center's Visual Artist of the Year, a council member of the Arkansas Arts Council, and the winner of the J. Peterman National Talent Search. She paints in oil and watercolor and is known for her impressionistic landscapes that have been displayed in art shows across the country, including the prestigious Annual Delta Exhibition in Little Rock. Her works have been selected for inclusion of the I.O. Metro Fall 2015 campaign and will be featured in their online catalogue and in their stores throughout the Midwest and South.
The thesis exhibit will be on display for a year. Although the concourse is accessible only for ticketed travelers, those interested in viewing the works, but not traveling through XNA, may view the exhibit on the artist's website at www.jeanniestone.com. For more information, call 479-747-0210.