Castle Rogue's Manor Episode Rebroadcast on HGTV
If you missed Arkansas' Castle Rogue's Manor on HGTV this month, you have two more opportunities to catch the episode on "Home Strange Home" in December. It will feature a video tour of the castle, historical photos, and interviews with Smith Treuer, builder and designer, and Deborah Sederstrom, the chef.
It will air on HGTV's Home Strange Home show on Dec. 2 at 8 p.m. and 3 a.m. EST and Dec. 27 at 1 p.m. EST.
The television crew spent two full days filming the castle and grounds, located in Beaver, Arkansas near Eureka Springs. The 20,000-square-foot castle is situated on a towering limestone bluff on Table Rock Lake overlooking the small town of Beaver and the Beaver Bridge. The bridge is popular to photograph.
Treuer began work on Castle Rogue's Manor 20 years ago and says it's still a work in progress. He has never used any blue prints in construction of the building.
Castle Rogue's Manor offers private guided tours throughout the year and is available for group events and weddings. Call 800-250-5827 or 866-686-2847 for details.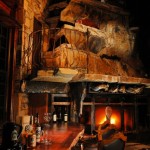 Hosted by Chuck Nice, "Home Strange Home" is a weekly Home & Garden TV (HGTV) program featuring video tours of unusual private homes throughout North America and interviews with their owners.